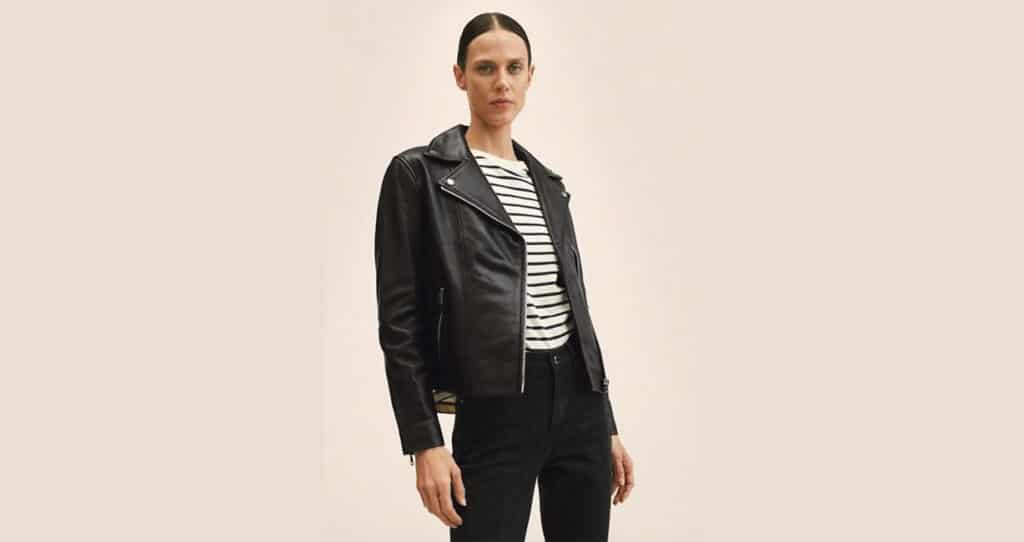 Most of us are still holding on to our sun-kissed skin…How lucky are we? Lots of moisturising and hydrating and heading into October, those tan lines are still very obvious. It's a bit like suddenly discovering that there is a bar extension when you thought you couldn't buy another drink, isn't it? Those warm sunny days have warmed our hearts and our minds, gradually nudging us towards shorter days and less light, easier-to-stomach when we have had an abundance of sunshine. The cooler days, especially the evenings, are calling out for fleece socks… ever-so-gently. A week can make a dramatic difference in what you can wear, especially as this is 'season changing' time so it really is time to get ready for some added heat…in clothes form.
Leather jackets have come into our stores in a delectable assortment but so many get this look so wrong! There, I've said it. There are a few golden rules when it comes to wearing a leather jacket. While they have been around for over a century, worn initially by pilots for warmth, now they add a touch of style and heat to your wardrobe but you must get the 'look' right. Cheap Faux leather may look similar to real leather but it lacks many of the features that make real leather such high-quality material, mainly it is not as warm (if at all) and not comfortable. There are so many types of real leather, some are softer than others so choose whichever you prefer and non-plastic, non-animal leather is also a wonderful option…the quality is remarkable and the price might be a tad higher but the feel-good factor is phenomenal, I can vouch for that! You can search for and choose between silicone-based leather, plant-based leather and lab-grown leather.
The leather jacket that has outsold all styles is the 'biker' jacket. It seems to be the length that suits most body shapes, individual preference dictates how much or how little detail is in tow.
Leather jackets are incredibly versatile so never feel the need to limit its use. Where people go very wrong is if they wear the wrong style of leather jacket with a more formal outfit or wear a formal/classic cut leather jacket with a casual outfit… 'fuddy duddy' is the word that springs to mind so be mindful of that, it is not a 'one style jacket suits all occasions'! There is a good chance that you have more leather items in your wardrobe than you realise. If you do, it's best to match your leathers for a more flattering look and if you are not sure about how they look together, go with your gut. A sleek leather dress with matching leather boots is a win but if you top it off with a leather jacket you have transitioned into 'leather over-kill' so opt for a fluffy jacket or something completely different.
Adding the right accessories that enhance your leather jacket is key to a chic look. If your biker jacket is on show then your accessories (sunglasses, hats, scarves, watches, bags) need to blend with it, not overtake it. Choose unobtrusive accessories to finish the look. On the other hand, if you are wearing a short blazer style leather or a collarless leather jacket, you can accessorise more dramatically.
How many of you take care of your leather? Leather jackets and bags and boots age really well, developing that much loved well-loved worn look over time. You do need to maintain it to let it reach this point. Spot clean any dirty areas and regular conditioning is a must. A damp cloth in a little soapy water will remove any first and grease and blot rather than rub the leather. It is imperative that you dry the leather quickly so make sure that you air it for as long as necessary. Dry cleaning a leather jacket is not the ideal way to clean it and the process should only be resorted to when heavily soiled because it removes the natural oils and the jacket can end up looking dehydrated and not as soft as before. Any stains or smells on the lining can be treated with a dilute baking soda mix (just a teaspoon in a little warm water) and air to dry completely. Mould can build up on leather so easily if dirt builds up on it so make sure to gently wipe down with a damp cloth at the start and end of a season. I hang my jackets to air dry from a velux window opened a fraction, it's a win-win, as the jackets get light and air and they are protected from rain or sun fade too.
Professionals recommend that you 'condition' your leather pieces once a year. Look for a lanolin-based leather care product. Lanolin is a natural waxy secretion, which comes from sheep and it will make your jacket, bag or boots lovely and soft. Never ever store leather in plastic, it needs to breathe. The last thing you want is to find your favourite pieces covered in mould! Unless you have bought top quality leather, also known as Full Grain Leather, leather or the finish or sealant on other grades of leather can peel if not stored properly. Cleaning with leather cleaners that contain solvents, or using a shoe or boot leather conditioner on a jacket or bag can also cause peeling. Believe it or not baby wipes can cause peeling too, even the 'sensitive' ones – says a lot doesn't it?
The dreaded 'squeaking' leather jacket can happen, even if it is top quality but the best solution is to just wear it around the house for a day or so and the 'wearing in' process will get rid of the squeaks!
Some manufacturers finish their leather products using cheap, unfiltered fish oil, which breaks down over time and releases an unpleasant fish smell. This is really difficult to treat and get rid off so if you get a whiff at all, even the tiniest hint of fish, then do NOT buy it. If Covid has robbed you of your sharp sense of smell, bring a friend along to test it out too before you buy.
For those of you who don't like leather, have never owned a leather jacket, nor will you ever buy one, then my apologies if you found this article rather tedious but I'm sure you wear leather shoes or boots or have leather bags or a leather purse.
I'm going to leave with two things to think about… and you just have to giggle at one of them because if you don't , then maybe you haven't lived at all!
'No one will take care of your belongings like you do. They don't know the lengths you took to purchase the things you own.'
'How ironic is Life? We spend so much money on expensive clothes, but the best moments in life are spent without clothes…'