Through the healing and balancing effect of acupuncture on body, mind and emotions one may begin to live, rather than merely survive.
Currently, the use of acupuncture is growing at an exponential rate globally. The World Health Organisation (WHO) supports its use in treatment alongside and for conditions such as cancer, arthritis, fertility, pain, migraine and many more. In fact, it is becoming a common topic of discussion amongst doctors and GPs, particularly in a peer to peer review setting, this includes doctor referrals.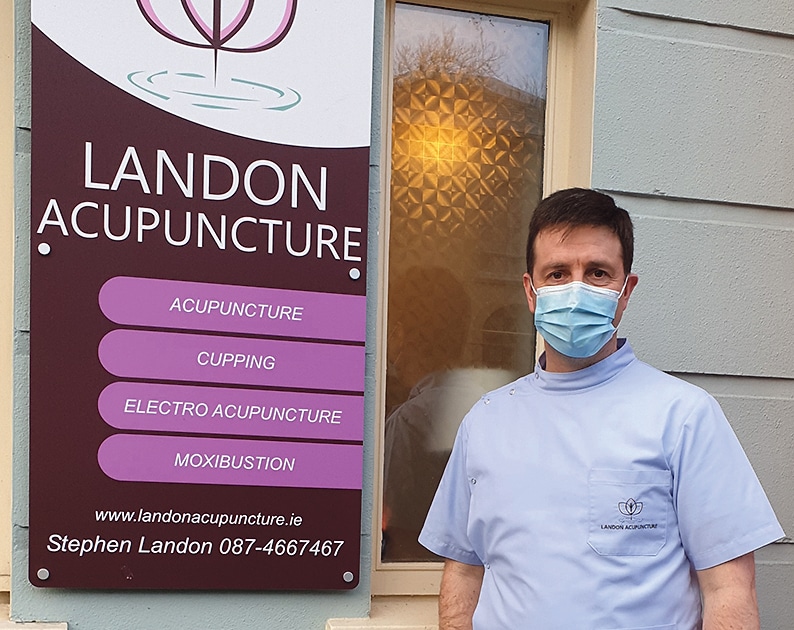 Experienced accupuncturist Stephen Landon is delighted to now be practicing from Fionnuisce Holistic Health Centre in Bandon, where he joined the other practitioners at the clinic in December 2020.
As well as traditional accupuncture, Stephen also offers Electro Acupuncture. "This is a fantastic treatment for knee osteoarthritis, rheumatoid arthritis, cartilage and ligament problems," he explains.
"Electro acupuncture is a very effective natural healing modality that can be used for many acute or chronic musculoskeletal problems."
He is also a practitioner of Traditional Chinese Medicine; TCM can be a productive component of an integrative health approach, which many people find to be beneficial to their mental and physical well-being.
"I provide an effective and customised treatment strategy for each patient. Whatever your health and wellness goals may be, I offer guidance and support with compassion."
With a few cold months still ahead of us, Stephen offers some quick advice: "Protect what is known in Traditional Chinese Medicine as your 'wind-gate'! This is one of the simplest and most effective ways to stay well in the colder months. Wear a scarf or fluff up your collar to keep the back of your neck and upper back covered.
"This region of the body is a particularly vulnerable area, where wind is known to enter. Wind is the cause of a hundred diseases in TCM. Essentially, something (a pathogen) is moving from outside your body to inside. If wind invades this area of the body, you often see symptoms such as dizziness, blurred vision, the common cold, flu, neck pain, migraine (with pain moving to different parts of the head) etc."
Stephen loves what he does, and feels very fortunate to now be working in West Cork. He looks forward to helping you thrive in a holistic, natural way.
You can get in touch by calling or whatsapping: 087 4667467 or visit
www.landonacupuncture.ie.