There is a reason the Finnish have been voted the happiest people in the world and it seems West Cork has cottoned on, with sauna-going now joining sea swimming in the new favourite pastime. A keen sea swimmer and sauna-goer herself, Mary O'Brien chats to sauna owner Donie Mc Auliffe and some of his regular customers about what makes The Balmy Barrel Sauna experience stand out from the crowd.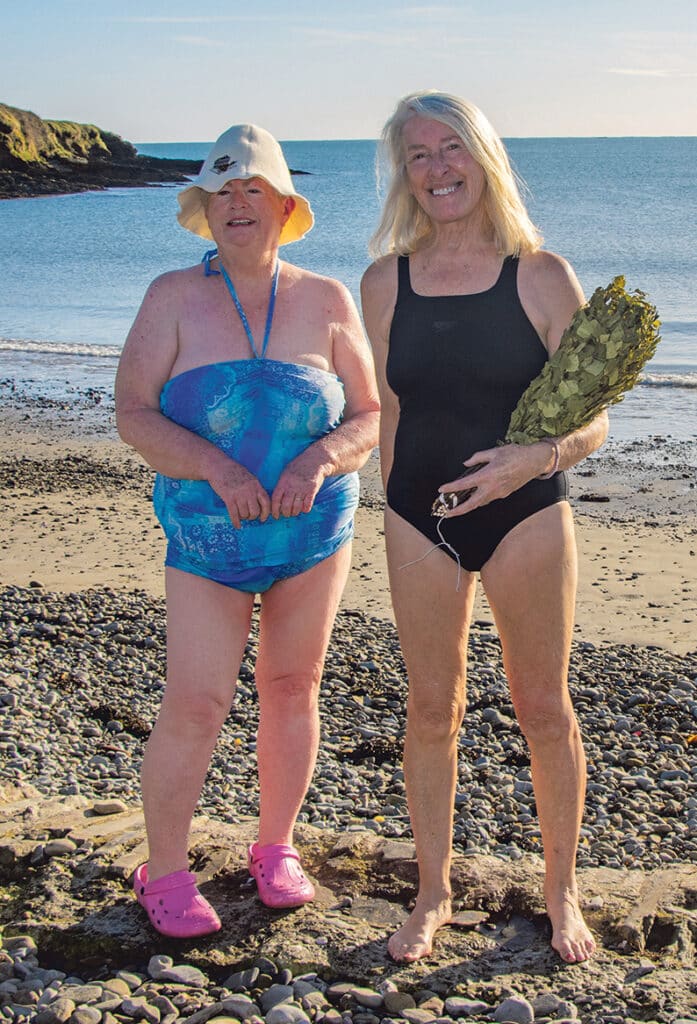 West Cork has found its happy place, a winter tonic, and it comes in the unlikely shape of a wooden barrel atop wheels. The Balmy Barrel Sauna is owned and run by Donie Mc Auliffe, whose 'grá' for conversation and music lends this sauna a personality the people of West Cork are finding irresistible. Aside from the health benefits, it's a hugely social space: Young and old sit companionably in the heated barrel, exchanging stories and banter and occasionally there's even song. It's a place where old friendships are rekindled and new ones made.
Sea swimming became a popular pastime for many in Ireland during the restrictions of Covid and with no sign of this abating and more and more people frequenting Irish waters all-year-round, it's not surprising that mobile saunas are now becoming a part of the West Cork landscape. Intrinsic to Finnish culture – it is estimated that there are almost three million saunas for a population of 5.5 million people – saunas are known to reduce stress and improve mood by causing a release of endorphins, the so-called happiness hormones.
The physical and mental benefits of taking a dip in the ocean are well-known, from better circulation and boosted immune system to raising the spirits. Combine this with the heat of a sauna (especially one where the 'craic' is known to be mighty) and you have an excellent treatment for pain and inflammation reduction, as well as managing stress, improving sleep, mood and boosting metabolism. As with sea swimming, research is now showing that regular sauna use could also reduce the risk of developing Alzheimer's disease or dementia over time.
Pat McSweeney has Huntington's disease and travels regularly from his home just outside Cork City to use The Balmy Barrel Sauna in West Cork. A rare inherited disease, Huntington's stops parts of the brain working properly over time. Pat was diagnosed 26 years ago. He uses the sauna at least once a week if he can make it, sometimes for as many as three hour-long sessions at a time, going back and forth between the icy-cold of the ocean and heat of the sauna and taking breaks in-between to rest and replenish fluids and electrolytes lost through sweating "I get great benefit from sauna use," he shares. "The hot and cold therapy helps to reduce the inflammation caused by my disease and the swelling in my hands. I also enjoy the social aspect of Donie's sauna; it's a very relaxed and easy atmosphere and there is always great banter with Donie. My sleep has improved too; I'm doing very well overall."
Sauna owner, Donie, has also personally found the sauna really beneficial for sleep. "I had insomnia for two years because of tinnitus (ringing in the ears) and now I sleep like a baby thankfully," he shares. "I also find it is a great pick-me-up in the winter and it's great for managing Seasonal Affective Disorder." Seasonal Affective Disorder (SAD) is a type of depression triggered by the change of seasons.
While not overly enthused at the beginning about the idea of sitting in an enclosed space with a group of strangers, local swimmer Patty Mullaney from Timoleague, says she is now addicted to the sauna experience. "I'd happily go along a few times a week to Donie's sauna on Broadstrand," she says. "It's a comforting space in which to unwind. We all sit in swim togs on our towels; it's far too hot for phones so we chat about nothing in particular, relax and meditate, before eventually, when it's too hot to bear, going off for a welcome cooling dip in the sea. Oddly enough the water never feels that cold, just refreshing, before it's back for another twenty minutes of heat.
"Donie is lovely; bright and cheerful, runs the sauna efficiently (he can even be persuaded to sing!). I always feel better after the sauna and head home in a relaxed state, not caring what the rest of the day may hold."
The Balmy Barrel Sauna has recently started doing full moon and also bioluminescence sauna sessions. There is always a special atmosphere at these nighttime gatherings, with the light of the full moon shining in through the panoramic window of the sauna, the sea turned a pale shimmering silver under its gaze. "Coming straight out of the sauna and jumping off a pier into the bioluminescence is just magic," shares Donie.
Susan O'Regan from Baltimore travelled to do the swim and sauna under a recent full moon at Broadstrand with a group of friends. Describing it as an "absolutely magical" experience, she says: "When I woke the next morning, I almost had to pinch myself to believe we actually did that, at night, in mid November!
"We alternated between the bracing temperature of the ocean and the comforting heat of the sauna where we could sit and watch the rolling sea sparkling in the moonlight. It was an amazing feeling of real wellbeing and pure joy at being alive!"
Originally from Monkstown, Donie's roots are in West Cork – his mother's people hail from Skibbereen and he spent a lot of his childhood here. While he was over a decade abroad living in Australia, Canada and the States and doing some travelling in Asia and Latin America in between, he says he always knew he'd end up in West Cork eventually.
"The one thing I've found that stands out about Ireland compared to other places is the ease of conversation here. You could have an hour-long conversation with a stranger you just bumped into while out walking, you don't really get that in other countries," he shares.
Attracted by the idea of having a business where people could commune and socialise without alcohol involved, when he came upon Ireland's first mobile sauna, the 'Bosca Beatha' in Garretstown some years back, Donie kept the idea in his back pocket until he was in a position to set up his own business. "As the saying goes 'everything is borrowed'" he says, "so I copied the concept and, with the help of John from the Luxury Hot Tubs business in Skibbereen, the sauna was designed and built, bolted on to a trailer and ready for road." Smiling he adds, "I recently did my Ancestry DNA test and it came back that I am one per cent Finnish, so no wonder I'm in the sauna business!"
After starting by giving out some free sauna sessions on Red Strand near Clonakilty to build up interest and establish a customer base, Donie has since brought The Balmy Barrel Sauna to Courtmacsherry, Schull and Ballylickey, where "it has been 'warmly' received if you'll excuse the pun," he laughs.
Since then, the sauna has become a part of the fabric of West Cork, weaving its spell on people from all walks of life and nationalities, young and old. "I really enjoy the social aspect of the sauna and how it can bring people together," says Donie. "Long lost friends have found each other during a session after not seeing each other for years.
"Once in Red Strand, a young lady and her mother and grandmother had the sauna all to themselves for an hour and when they came out they were absolutely buzzing, saying they haven't had a chat like that for years. It was very gratifying being able to facilitate three generations bonding like that."
Donie has a big interest in traditional Irish music and enjoys singing himself, so it's not surprising that from time to time a singsong breaks out in the sauna. After a Thursday evening session on Red Strand, it has become a tradition to go up to the music at O'Donovan's of Fisher's Cross afterwards. "There is a great gathering of musicians and singers there every Thursday; the atmosphere is very welcoming and anyone can join in," says Donie.
Research shows that saunas can alleviate muscle soreness and aid post work-out recovery so The Balmy Barrel is also a big hit with local sporting organisations, who use it for team bonding, as well as athletic recovery. Alan O'Shea, player/coach of the West Cork Football Championship winning St James' GAA club says, "It's a great resource to have on our doorstep, the lads benefit big time from it, and Donie is good craic as well."
Ballinascarthy Carbery title winning hurlers frequent the sauna after their championship matches too. Ricky O'Flynn, in his 21st year of adult hurling, says, "I need all the help I can get to recover after a game and the hot and cold therapy is perfect for winding down after a championship match."
Is it any wonder that famous local songwriter, Micheal O'Brien, the Bard of Butlerstown, has already penned a song about The Balmy Barrel, where come rain, hail, or shine, there is known to be never a dull moment!
"I go every weekend and it nourishes me on so many levels. It allows me to fully embrace the elements any time of the year. No matter if it's glorious sunshine or torrential rain… it's always a wonderful experience," says Lisa Brinkmann. "It's a great space to socialise and get to know new people too."
"We go to the sauna on Red Strand most weeks," says Greg Bradley. "It's a great location, brilliant to have such a beach and service at hand. We enjoy the chats and the craic in the sauna as well. It's great fun all around."
The Balmy Barrel Sauna is also available for private hire for birthday parties, weddings and other special occasions.
Regular locations include: Broadstrand, Courtmacsherry on Friday morning and afternoon; Dereenatra Pier in Schull on Friday evening; Red Strand, Ardfield on Thursday evening, Saturday and Sunday.
Over the Christmas holiday season, Donie is planning on touring West Cork and visiting Schull, Ballylickey and Kilcrohane Pier with The Balmy Barrel Sauna.
Keep an eye on Instagram and Facebook for updates: Instagram: @westcorksauna. Facebook: West Cork Sauna.
For more information or to make a booking message Donie through WhatsApp on 085 1013648.