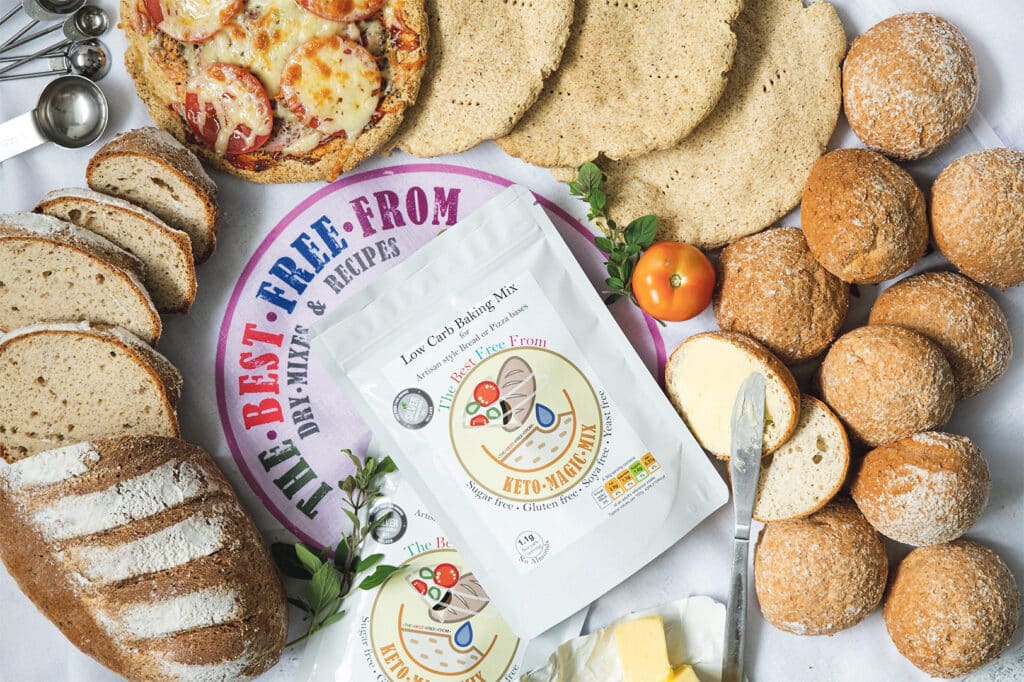 I'm enjoying a day off at home today, and one of the things I'm doing is making some bread. But I'm not making ordinary bread – I'm making a super-seedy low carb loaf that is tasty and nourishing, and best of all, easy to make! 
I love bread, toast, and actually most baked treats – but I know that my body needs less carbs, and less sugar. It's not just about weight, it's also about energy and sleep – I sleep better and have more sustained energy when I eat more protein and less carbs. I also know that blood-sugar imbalance – which can easily lead to Metabolic Syndrome if not taken care of – can in turn lead to chronic diseases such as cancer, diabetes-type 2, heart disease, dementia and many other serious longterm conditions. So making dietary changes to balance my blood sugar makes a lot of sense.
However, I know I'm in a fortunate position – eating low carb isn't life or death for me. Whereas for many people, it's essential for their health. If you are diabetic, or suffer from epilepsy, or are coeliac; reducing carbs or avoiding gluten can be a matter of survival. But it's not always easy in a country obsessed with bread and pasta.
Thankfully, we recently met Timea from The Best Free From – a small company based in Castlerea in Roscommon making the BEST low carb baking mixes you will ever taste. We stock all eight of her mixes in Organico – she has a carrot cake mix, a brownie mix, a versatile sweet mix and many different savoury mixes, including the super-seedy bread, which I'm making right now. They are all easy to make at home, even for pretty basic bakers like me. And they suit people who have diabetes, coeliac disease, are gluten and dairy intolerant, and anyone who wants to eat a low carb, keto or low sugar diet. That's a pretty impressive claim – and it might leave you wondering what is actually in the mixes!
Timea started her business out of necessity. Her own health had deteriorated and she found going off sugar and carbs completely was the only way to become fit and healthy again. And then through sharing her baking experiments with friends and family she found many others who also needed to make dietary changes but didn't find it easy, and so she researched and tested and eventually came up with a range of high quality, easy-to-follow mixes that everyone loves, not just the people who need them.
What we love about Timea's mixes is that she never compromises on the quality of her ingredients. She uses whole foods and healthy fibres and sugar alternatives, not the cheaper over-processed de-glutenised wheat that many companies use. The Seedy Bread mix I love is made from almond flour, sunflower seeds, oat fibre, chia seeds, flax seeds, and psyllium husk powder as well as baking powder and salt – all good, healthy ingredients.
In general (unless we have a very active physical life or a very healthy diet) we get too much sugar and carbohydrates in our diet in Ireland, so reducing our intake of both can be a very positive move. For many people with specific health concerns, such a reduction can be life changing. For example, Keto and Low Carb programmes, which focus on burning fat and protein rather than carbohydrates for energy, can have amazing health outcomes for many people.
The issue with carbohydrates is simply that they are not nutrient dense. They fill us up, and feel good to eat, but they don't contain enough vitamins and minerals, healthy fats or other micronutrients to keep us healthy or sustained. So we eat more and more. This can often lead to a situation where we are overfed but under-nourished, which can lead to metabolic syndrome and diabetes, excess weight and other health long-term problems.
Reducing carbs and increasing nutrient dense foods makes a lot of sense, but it can be so hard to do. Bread is so convenient! An easy way to do this is by having low carb breads to hand – which is where Timea's mixes come into their own.
If this subject interests you and you want to try making your own Low Carb breads and cakes, pop in and have a look at the range. We think it's really impressive, and the feedback from our customers is really good so far – the instructions are easy to follow, and the results are tasty and healthy.
In other news…
On Thursday, December 8, we have 10pc off Instore (for our online customers it's on December 1). Our last guaranteed shipping day for online orders before Christmas is December 14.
Organico Shop Deli & Bakery is open from 9am-6.30pm, Monday – Saturday, on Glengarriff Road in Bantry. Call 027 51391; email info@organico.ie and buy online on www.organico.ie.