Time passes slowly when you're enjoying a freshly brewed coffee while watching the world go by from behind the handsome glass window that frames the front of Revel, Clonakilty's friendly and relaxed coffee bar and concept store. For Revel owners Aisling O'Leary and Forbes Kelly however, it's been a whirlwind of a first year. Not ones to waste time, especially when they feel they're on to a good thing, the couple, who wed just prior to opening the store, have married, opened a business and are looking forward to welcoming their baby girl to the family in June, all since they first laid eyes on each other back in June 2020. It all started over a cup of coffee of course…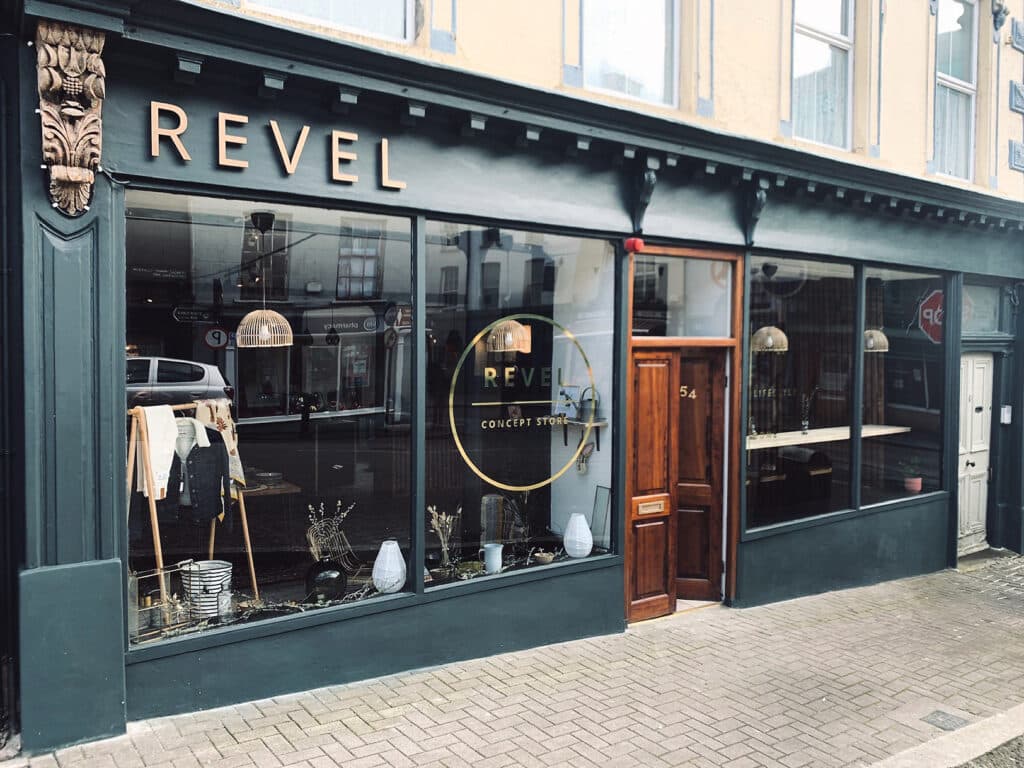 Forbes was running Revel Culture Coffee from a converted caravan outside Quill's in Glengarriff at the time. Introduced by Aisling's sister, the pair felt a connection on their first date. "We were both very honest with each other about our hopes, dreams and feelings and held nothing back. I described my vision for a concept store and we discovered it was a shared dream," says Aisling.
Forbes sold his business in Glengarriff and two days after getting married – in a surprise ceremony in Aisling's parents' polytunnel in ShannonVale – the couple viewed the premises on McCurtain Hill in Clonakilty.
After two hard months refurbishing the premises with the unwavering support of Aisling's brother, the dream became a reality, as the couple opened the door to Revel on March 16, 2022.
"It just goes to show that if you put your heart and soul into something it can work," says Forbes.
Everchanging, like their life story, Revel reflects the passions of both Aisling and Forbes: The beautiful lifestyle items on one side of the store, which have grown to include almost 40 brands – a mix of interiors, clothing, skincare and more – are influenced by Aisling's time spent living and working in retail in the Netherlands and her passion for supporting Irish businesses like Petal to Petal and Wild Wave. The coffee, tried and tested by Forbes for over six years in Glengarriff, is the renowned Golden Bean from artisan coffee roaster Marc Kingston in Shanagarry. To accompany such quality beans, the milk could only be from West Cork family farm Gloun Cross Dairy. The mouthwatering cakes are from Alchemy bakery in Cork.
With ambient background music and always a friendly face behind the counter, there's a very inclusive and homely vibe to this coffee bar. You're also welcome to bring your dog along and canine regulars never leave without a treat! It's easy to see why Revel has been likened to 'Cheers', the affable Boston bar where the regulars share their experiences or lives with each other.
It's a family affair. Occasionally the couple's dog Polar will come for a visit and their two boys Mink and Riley love hanging out in the back space of the store after school or helping out at the cash register.
"Something as easy as giving someone a smile can make a person's day," says Aisling. 'And that's what Revel is about…we want everyone to feel like they're coming to visit a friend!"
While juggling the commitments of work and family have been challenging, Aisling and Forbes are lucky to have a huge network of support from family and friends and life is certainly never boring.
"I actually get a kick out of problem solving," says Forbes. "I don't think anything phases me anymore."
Now with their first anniversary approaching, there is a celebratory feel in the air.
"The support from the local community over the past year has been exceptional," share the couple. "We're so proud of Revel and thankful to all our customers. We have loved every minute of getting to know you all!"
Aisling and Forbes are inviting everyone to celebrate with them on Thursday, March 16 from noon onwards. There will be coffee and fun with music from DJ Ian Richards.