Born on the banks of the Nile river in Uganda during a conversation between Cork man Colin Wong and Scottish native Jamie Stevenson-Hamilton, Kenmare's Emerald Outdoors is now heading into its seventh summer. The successful kayaking business offers morning, afternoon and night trips on Kenmare Bay.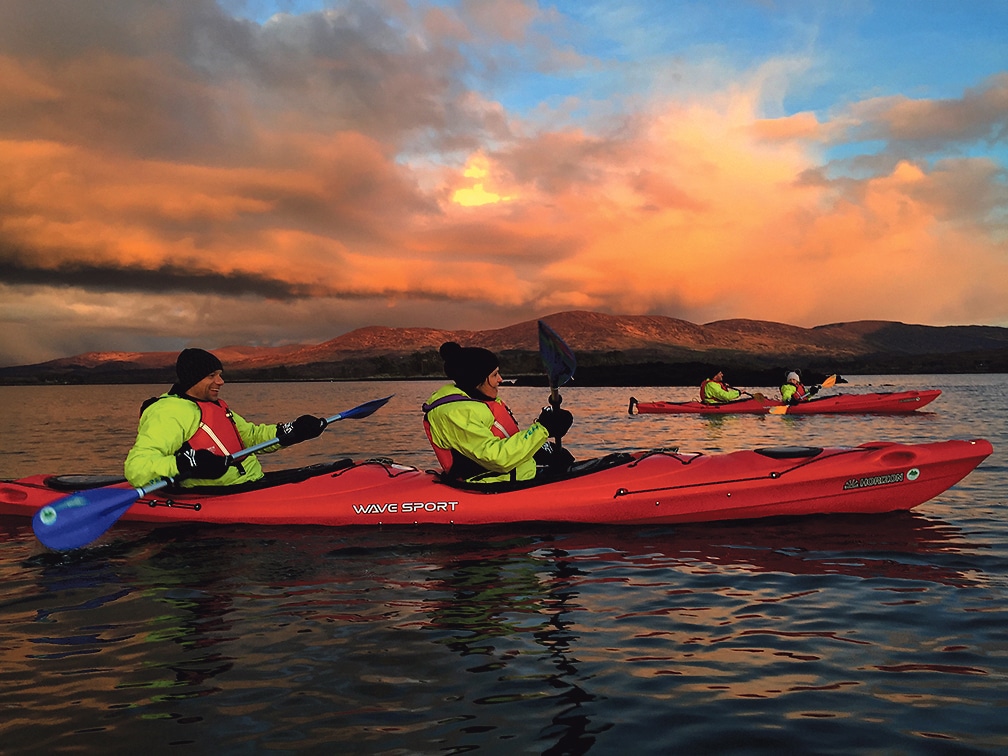 Boasting 30 years of guiding and coaching experience between them, working across Africa and Asia, a shared passion for kayaking and a 14-year friendship, the duo have designed their kayaking experiences to be as accessible as possible to everyone.
"We don't require people to be able to swim, nor do we put you in an uncomfortable wetsuit; instead we provide waterproof protective clothing and kayaks that just want to stay upright," they explain.
"Too many people have a negative view of kayaking because of experiences when they were younger being forced to turn their kayak upside down in cold water. We keep you dry and comfortable instead. In fact one of our guests joined us for her first ever kayaking experience at the age of 92 (at night), that was one of our favourite moments since we started the tours."
Emerald Outdoor's most popular tour is the Night trip, paddling through the sunset into a world of bioluminescence.
"It really does have to be seen to be believed!" says Jamie. "But some of our favourite moments are the still mornings out on Kenmare Bay when the seals and the birds are waking up and coming to say hello."
When starting the business the kayakers were looking for 'a place'. "We didn't know it was Kenmare until we saw it and from that moment on there was no turning back," they share.
"Kenmare is a very special place, with mountains, rivers, lakes and the sea all so close together there is no better place for somebody who loves the outdoors! Combine that with welcoming nature of the town and the incredible restaurants, accommodation and shops and we never looked back."
Both men have now bought houses in the area and Colin has started a family. Kenmare is home.
Colin and Jamie have both worked extensively in the world of whitewater kayaking, coaching everyone from absolute beginners all the way to kayak professionals. Colin was also part of a team that completed the first ever traverse of the Arabic gulf covering 2500km from Kuwait to Oman by sea kayak. He also founded the Irish Whitewater Racing league and spends the winters training and qualifying kayak instructors with Canoeing Ireland qualifications.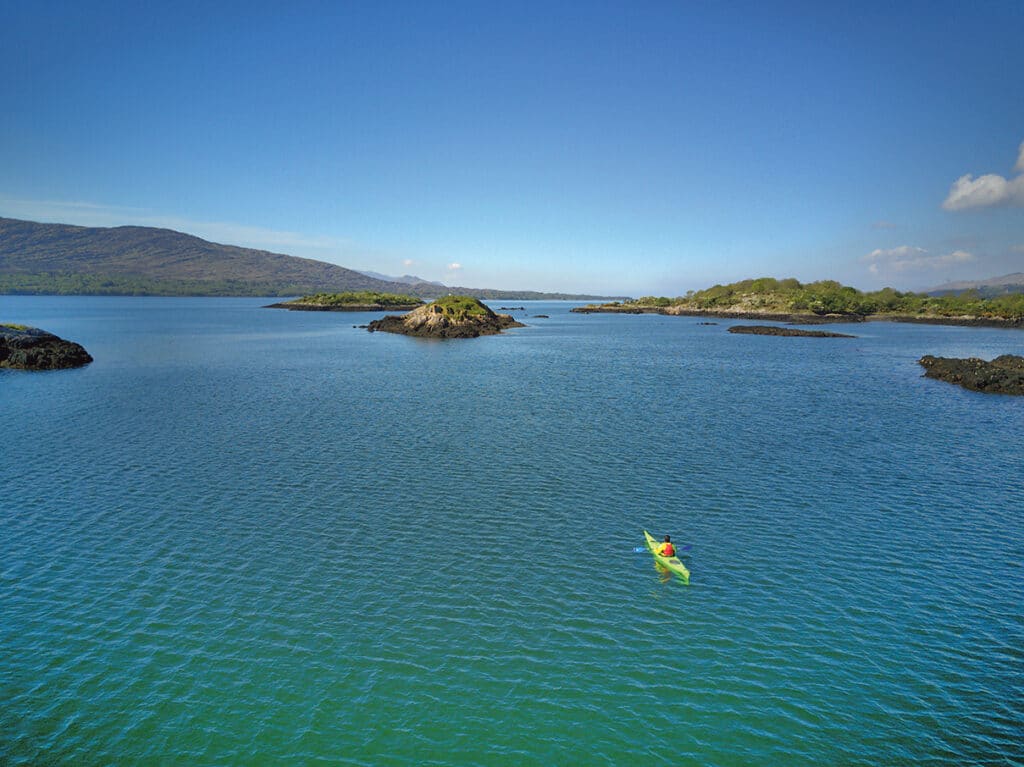 While they have both travelled extensively with kayaking, one of their favourite things to do is spend the day on a mission to a remote island off the Irish coastline in a kayak.
"There is nothing that can beat the sense of accomplishment when you get back from a mission to the Skelligs or the Fastnet and the views that you experience along the way are as spectacular as anything either of us has seen across the world.
"We love every moment of it, even the wet and windy days. There is a real pleasure to being out on the water in the rain, it is an isolating experience where you find yourself in your own little world with just the pitter patter of raindrops for company."
While the wind can make things adventurous and can be fun, it is also the only reason they ever cancel a kayak tour.
"Safety first!" they agree.
For the most part their vision is shared but when an agreement can't be reached on something, the friends take it down to a game of FIFA on the Xbox with the winner getting their way!
Continuously striving to improve their offering and, as a result, welcoming a huge number of clients back time and time again, Jamie and Colin's main goal is to get more people from the local area interested in progressing their own kayaking skills.
"It is a wonderful sport that has led both of us on a lifetime of adventures and we would love to share that passion with others so that they can start a new adventure for themselves."
Emerald Outdoors,
P: 0830317011,
E: info@emeraldoutdoors.ie
www.emeraldoutdoors.ie