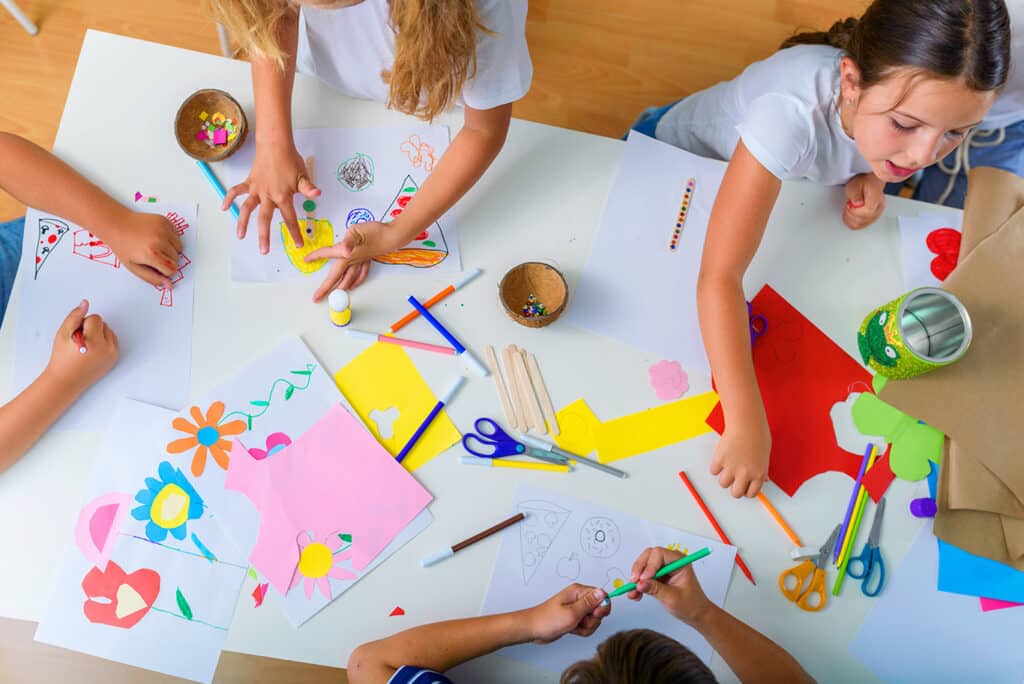 A fun and relaxing place to build on your artistic skills, Rita's Clay House was set up over 20 years ago to primarily provide pottery classes to both children and adults. Shortly afterwards summer camps were introduced for primary school age groups; initially over two weeks per summer but this increased to six weeks due to demand. Two of these six weeks are now designated for teenagers. Many of the participants to these camps return each year, with one child saying "It is so lovely seeing so many familiar faces".
A qualified and awarded art teacher (MA in Art Education), Rita has extensive experience working with all age groups from pre-schoolers to retired community groups.
At the request of the children and their parents evening art classes were also introduced. This past year, art classes started mid September. Teenagers join Rita on Mondays and Tuesdays with the younger school age groups attending on Thursdays and Fridays. Having two evenings running for each age group has the added advantage for those attending that if they miss an evening due to, for example a match scheduled or feeling unwell, they can make up the time lost at the other evening's class. Classes follow the same schedule as the school term.
For all those who attend, be it camps or classes, all materials are provided, so you just need to bring yourself along.
Rita's Clay House is located about three miles outside of Clonakilty town towards Rathbarry and one-and-a-half miles from Lisavaird.
Back in 1991 when Rita first arrived in Clonakilty and set up her pottery business she knew no-one locally. Apprehensive, but wanting to share her passion for pottery and also get to know people from the community, she decided to give evening classes in the local Community College. And thus the seed for the love of teaching was planted.
From there Rita was offered hours in the school teaching pottery to transition year students. After doing this for a number of years, she felt it was time to go back to college to undergo a teaching training course. Once qualified, she started teaching art in Sacred Heart Secondary School and also increasing her hours in Clonakilty Community College. Loving every minute of her teaching, she decided to undergo yet another course, an MA in Education. This course was done part-time over two years, "I always believe it's so important to keep upskilling," she says. "The demands in education are always changing and we need to constantly aim to improve how we go about doing things."
Most of Rita's teaching now occurs in the studio but prior to Covid she spent many weeks working in conjunction with the Craft and Design Council of Ireland running CRAFTed programmes in primary schools. Rita also worked with numerous Active Retirement and Community groups and from time to time the Irish Wheelchair Association along with various other groups too.
Right now she is getting ready for summer camps, which will begin on the final week of June and run for six weeks. Camps give the participants the opportunity to explore and gain knowledge in the process of Batik, Screen Printing, Pottery and Silk painting. There is always one or two other crafts too but Rita keeps that a surprise especially for all those returning each year.
If you would like to see some of the work done in previous years, you can do so by visiting Rita's Clay House Facebook page and scroll down along to see the amazing work created by the participants.
Rita can't wait to be joined by familiar and new faces once again this summer. If you think you might be interested, please do not hesitate to make contact with Rita for any information that you may require.
Call Rita on 023 8840703
or 086 107 2347
www.ritasclayhouse.com