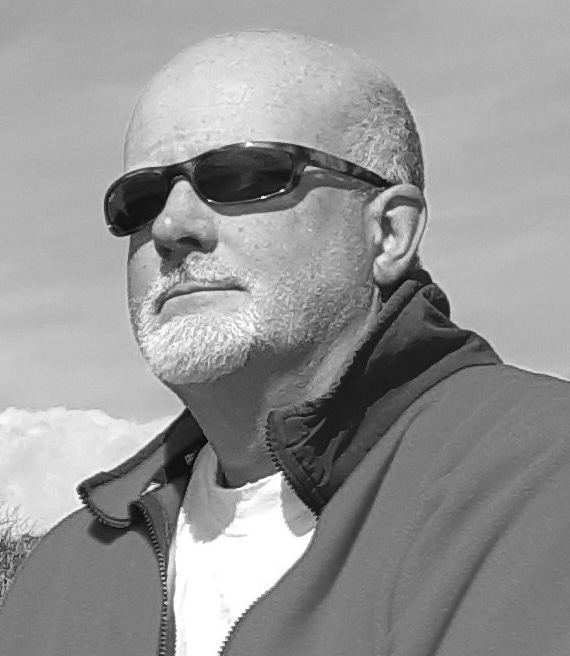 The DNA of West Cork People
Mark Grace is a genetic genealogist and family historian at Ballynoe House, Ardfield, Co. Cork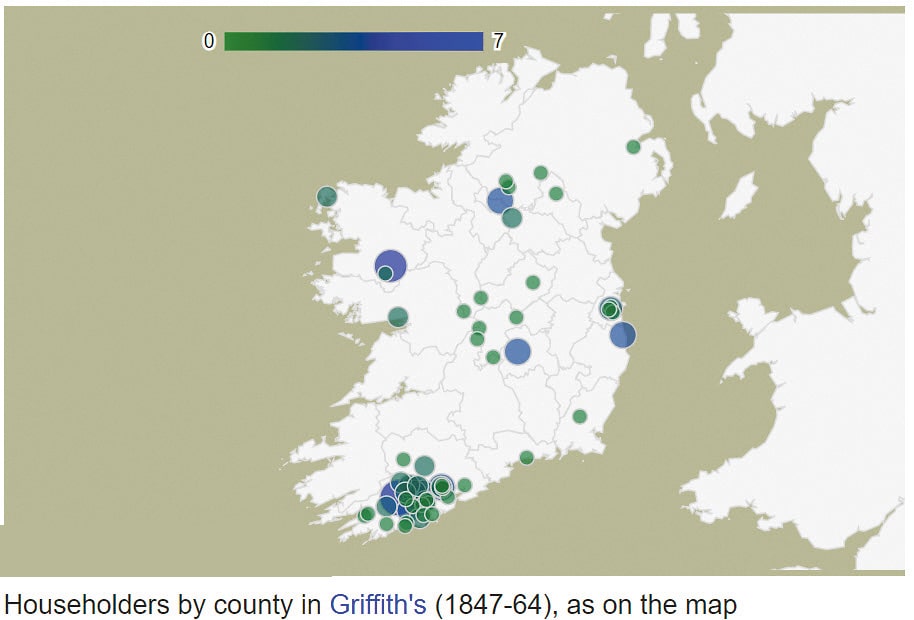 Many readers will have some connection to the Good family in West Cork. They were part of the C16th and C17th English settlement of Ireland and primarily settled in West Cork. Most have retained their Anglican roots and their history is recorded in Church of Ireland records. I have been using DNA matching to try to connect my wife's Good ancestry with the wider families in the area. It is also a good place to start, as it is an illustration of what might be achievable in exploring your own West Cork ancestry using data sources and DNA, as well as highlighting some of the challenges encountered. It is also the story that starts in the village Rathbarry, closest to home in Ardfield.
The distribution map illustrates that by the middle of the C19th century, the Good family were well established. Of 113 householders recorded in the Valuation of Ireland or Griffith's Valuation, over sixty percent were in County Cork; the majority in West Cork, especially the Bandon Registration, District, which includes Enniskean and Ballineen.
Towards the end of 2021, we were all required to update the taxable value of our homes for LPT (Local Property Tax). Between 1847 and 1864, Sir Richard Griffith, provided 301 volumes for property taxation in Ireland, detailing every building and field in terms of annual income. Today, researchers are very appreciative of John Grenham's efforts in providing details (johngrenham.com), such as this surname map providing an excellent overview.
Before General Registration In Ireland in 1864 (BMD: births, marriages, and deaths), earlier Good ancestry is reliant on Church of Ireland records, few of which are available online. Those from 1864 can be found for free on irishgenealogy.ie, as can much earlier Catholic baptism and marriages, so anyone in West Cork should be able to build their family tree on paper back 150 years without too many problems.
This Good story starts in Rathbarry. While it is unknown if there are any surviving estate papers to support the church records, three children of labourer Thomas Good (my wife's three times great grandfather, based on three marriage records) appear to be employed at Castlefreke. Research is naturally limited in terms of DNA detail, as it is based on only two shared DNA datasets who have a proven-on-paper connection to Thomas. The origins of Thomas, in terms of wider West Cork families is unclear. There are DNA matches to Good descendants from late C18th Murragh, Bandon and Kilshanning by Mallow. According to some Good family descendants, the Kilshanning branch sourced the Goods who settled round Enniskean (especially the townland of Phale, many of whom later emigrated). There is no burial record for Thomas, so he may not have been a Rathbarry resident like his children.
The story of my wife's two times great grandfather John Good is well documented, except for his birth, which was around 1843. He was recorded on marriage in 1865 at Kinneigh as the gamekeeper at Castlefreke. He married Hannah Maria Shorten (daughter of Paul, farmer, of Moneygaff West). The Shorten family has similar English origins to the Goods. West Cork researchers will know of multiple marriages between the two families. John and Hannah had ten children of whom some history is known, which includes my wife's great grandmother Gertrude Hannah Good (1882-1923). Sometime before 1874, John moved to Ballineen where the family ran the local Post Office and shop. This continued into the early C20th. Both John and Hannah are recorded as being buried at the church in Ballymoney. The lack of other Goods buried there suggest that this branch of the family had not necessarily returned to their origins.
Gertrude, or Gertie, as she was known to the family, seems to have been born in Manhattan and certainly spent a lot of her time in the US. At the time of her marriage to saloon bar owner Daniel O'Connell in Wilmington, Delaware in 1899, she was living in Philadelphia. Perhaps prompted by the loss of their first three children in infancy, the couple sold up their saloon business and set sail in 1902 aboard the SS Etruria, settling in Ballydehob. The O'Connell family (who originate from the area west of Macroom) are another story, but the couple are still remembered on festival days in Ballydehob town at the location of their poultry shop known as 'DG O'Connell'; the 'G' believed to be for Gertie, to distinguish them from another shop of the same name. Gertie is remembered in stories from Ballydehob as 'the American Woman' despite her West Cork heritage.
The story of John's brother, William Good is similar, in that he was indicated as a shepherd at Castlefreke at the time of his marriage in 1862 at Kilmalooda (Ballinascarthy) to Frances Ford. His connection to John is proven by DNA and his father's occupation on his marriage certificate. John was a marriage witness (as was William at John's marriage). The couple had eight children. Around the time John moved away from Castlefreke, and perhaps for reasons of changes happening on the estate at the time, William temporarily moved to Timoleague in the early 1870s where he ran a pub. Around 1873, he became a Land Manager for an estate at Brinny (Bandon) before relocating to an estate in Tralee. The DNA proof for this connection comes through one daughter, Elizabeth Georgina Good (1875) who married John Francis Ross in Tralee in 1904.
The story of John's sister Anne is unproven by DNA and has an uncertain history. She appears to have been born about 1832. She married Richard Lane (a farmer from Leighmoney, east of Bandon) in Rathbarry church in 1862. William witnessed. Her occupation was a dressmaker but it is unknown if she was directly connected to the Rathbarry estate. Her father's details match that of her two brothers. No children have been found to the couple and it is unclear what happened to Richard. The 1901 and 1911 census in Clonakilty provide some possible clues in that a widow Anne Lane, dressmaker, is living in Bank Street (now Kent Street) next to the Methodist church. On one census a sister, Jane Good, some 21 years her junior was living with her, which implies her father, Thomas Good was still alive around 1852 and that there may be many other siblings to be found.
The DNA trail is currently cold and awaits additional matches that may indicate which Thomas Good, labourer, is the patriarch of this family, and how he may connect to the others in the region. Access to Church of Ireland records and forensic analysis of possible trees is required. Like many West Cork families, the Goods have many similar-named couples and individuals, so it is easy to take a wrong turn. Many trees on websites, such as Ancestry, have trees copied by users without due diligence. The algorithms tying DNA matches use trees so if the majority are copied and wrong, then all resultant matches must be reviewed carefully. This is another challenging aspect of proving West Cork connections.
In forthcoming articles, I will present updates on other ongoing West Cork family studies that are supported by DNA, which will include the Lowneys (of Beara, Clonakilty and Wexford), Sullivans (of Beara and Whiddy Island), Mennis, Donovan (Dunmanway and Clonakilty), Fitzpatrick (greater Rosscarbery), and the O'Neills (of Reenroe, Kilgarriffe (Clonakilty). If you have DNA tested, are connected to these families, and would like to be included in the DNA modelling, contact me for more information and consider sharing your DNA file.
I would like to thank readers who have reached out in response to my previous articles in this new feature. It is interesting to learn about how your interest in this subject has resulted in ordering DNA test kits, picking up suspended research, or looking into understanding more about the detail of your initial DNA test results. While all observations and opinions expressed here are entirely my own, feedback is appreciated. Do you have a DNA story of your own that you would like to share even anonymously? Has your experience been positive?
Questions and issues that can be answered as part of future articles can be emailed to DNAmatchingprojects@gmail.com or follow the West Cork DNA projects on Facebook 'My Irish Genealogy DNA'.