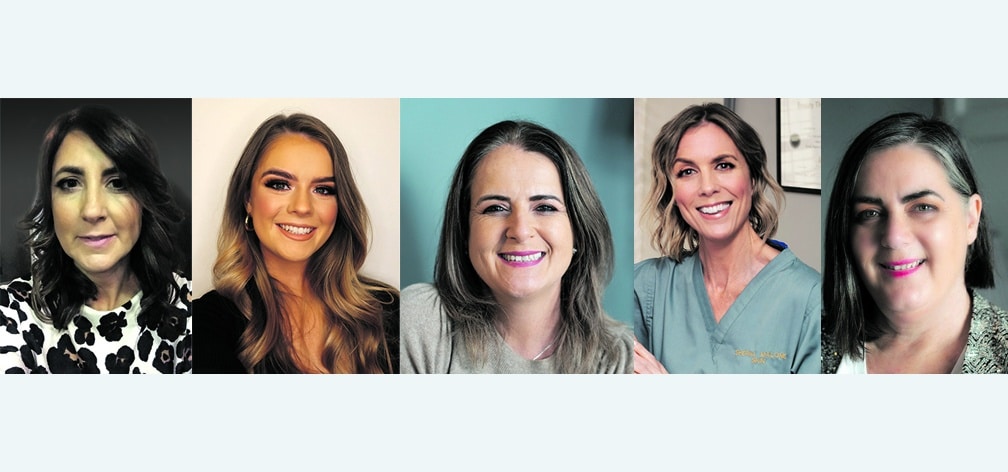 On Ashe Street, in the very centre of Clonakilty, is a beauty emporium for the women of West Cork, a place where clients can go to have their nails, hair, makeup, brows and skin taken care of by experts, all under one roof. In a bustling town centre of cafes, shops and boutiques, and with two-hour free street parking and large free carparks nearby, the location is ideal for both locals and those travelling from further afield.
Having purchased the beautiful building at 42 Ashe Street a number of years ago, Claire O'Neill decided to open her nail and beauty business, Nail Boutique, five years ago and has since seen it go from strength to strength.
However, Claire also saw a gap in the market for high-end experts to collectively deliver high-end treatments to people in West Cork and beyond and invited four other businesswomen to join her in what is collectively known as @42; they are Sherna Malone, Olive O'Sullivan, Triona Lynch and Niamh Butler.
"We are all women in business together and we support each other," Claire explains. "Although our services vary within the industry we have an interest and understanding of each person's profession. Depending on what our client is looking for, we are able to inform and direct them to the appropriate person."
Olive O'Sullivan explains why it was ideal for her to join the other experts under one umbrella in Clonakilty town centre: "Indeed it is a privilege for me to work alongside other women in business who share the same vision as I do. Prior to this I had eight clinics in East and West Cork, three in Cork City centre and one in Kerry. It was time to settle in one place. Having spoken to my cancer chemotherapy clients, they preferred the soft decor of @42; it is a pleasant and much needed break away from clinical and hospital settings but still a place where sterility and high infection control standards are not compromised."
Sherna Malone says that to work alongside other industry professionals and experts in their field is hugely advantageous, not only for her own clients but for herself too. "There's the interaction and the support element, by raising each other up and channelling the power of collaboration, collectively we have impact."
Triona Lynch – Hair by Triona
Since opening her salon in 2017, Triona has put a lot of hard work into building her business but says it has been an exiting time for her. "I love doing hair and meeting people, my clients are amazing. Running a business can drag me away from the creative side of the job sometimes but if asked 'Would I do it all over again' the answer is definitely 'Yes'! I love that my salon is in the centre of town. Ashe Street is a fabulous street with lovely shops, cafés and friendly people."
Hair by Triona is known for its colour services and great range of aftercare products. "We use Matrix and Milkshake hair colour," Triona explains. "We feel it's better to have two ranges to keep everyone happy. If one doesn't suit a client we can choose the other. Both Matrix and Milkshake have shampoo and conditioners to suit everyone with the colour care shampoo and conditioners being best sellers. Milkshakes purple shampoo for blonde hair also flies off the shelf."
As well as running her busy salon, Triona is a firm believer in the importance of education and started teaching in Clonakilty Hairdressing College 15 years ago. She now teaches one day a week in McEgan Hairdressing College in Macroom.
Everyone wants healthy looking hair but a healthy scalp is just as important as good products Triona maintains: "A good diet, plenty of water, not too much alcohol and plenty of exercise will make everything look great from the inside to outside."
Unfortunately due to the Covid pandemic hair salons have to adhere to the two meter rule so salons are working at half capacity at Level 3. "I have seven sections in my salon but can only use four of them so we can't do the volume of clients we normally would do. So my advice is book your next appointment before you leave the salon otherwise you could be disappointed. We would love to fit everyone in but it's difficult. I wish their were 10 days in the week for December!
"We all look forward to this pandemic to be over, until then we will keep our clients safe by wearing our masks, clean sterile gowns and towels for each and every client. Our clients safety is our top priority."
Book: 023 885 8870
Niamh Butler – Niamh Butler, Makeup & Beauty
Highly qualified Niamh first trained as a professional makeup artist with Vanity X Make up Academy in Cork, where she studied theatrical, media and bridal make up, before training as a beautician with Foxy Training.
"I fell in love with doing nails and felt like it went hand-in-hand with makeup. I was then lucky enough to get work experience in Nail Boutique with Claire, who allowed me to continue doing both and to build my experience and personal clientele. I used the opportunity of lockdown to up-skill with online courses in nail art and I plan to continue to expand my skills and services."
Niamh now offers acrylic nails and gel polish with nail art, makeup for occasions like photo shoots, weddings and parties, eyebrow shaping/tinting and facial waxing.
She feels her creativity sets her service apart, "I can give my client a unique set of nails of their choice every set! In makeup artistry I have been trained to do from natural (but photoready) makeup to very extreme makeup, such as drag and theatre, so I have the skills to cater for every occasion and every individual."
Niamh appreciates the ability of @42 practitioners to refer clients to each other: "For special occasions such as debs, weddings or graduation it's so convenient and time-saving for the clients to have their makeup artist and hairdresser under the same roof with their facials, nails, eyebrows and tan having been done by the other businesses here beforehand."
Book: 087 1735028
Instagram and Facebook:
Niamhbutlermakeup&beauty
Claire O'Neill – Nail Boutique
Claire welcomes a broad range of customers in to her plush and elegant salon every day – busy mothers, professional women or anyone looking to treat themselves to a personal care and wellbeing session.
With over 20 years experience in the beauty industry, Claire guarantees that her client's wishes and requirements are her top priority. "We provide one-to-one, undivided attention to each client. We aim to make everyone feel relaxed and comfortable from the moment they enter the salon and offer flexible opening hours to suit our clients needs."
Most of her clients regularly avail of nail treatments such as manicures, gel polish and nail extensions, as well as the variety of other beauty treatments on offer such as eyelash and eyebrow tinting, face/body waxing and spray tans, but she also caters for wedding parties preparing for their big day: "Every bride that comes to 42 need look no further!"
Claire has recently trained in Machine Brows, a semi-permanent makeup for brows that lasts approximately 12-18 months and compliments the services that Olive O'Sullivan offers. "This is a good option for clients who like a more solid, filled-in brow and also suits people with very oily complexions who do not retain microblading hair strokes well. I also plan to train in permanent eyeliner and lipliner in 2021."
Claire offers this advice for readers: "Start early with maintenance and prevention, it will pay off. Disastrous home beauty and nail treatments are sometimes hard to rectify so always seek advice from a professional beforehand. We are there to help and are very happy to advise you."
Book: 086 8336580
Sherna Malone – Facialist, Beauty & Skincare Expert,
Beauty Columnist
Before moving to West Cork six years ago, Sherna managed and taught in her family business, the Bronwyn Conroy Beauty school in Dublin. Now based in Clonakilty, she offers a variety of services including skincare consultations, facial treatments, and masterclasses for adults, teens, and tweens. Sherna is also the Beauty Columnist for the West Cork People.
Sherna knows that skincare can be a confounding space for most people: "The advice out there is often conflicting and overwhelming. To exfoliate or not to exfoliate? Micellar water or a cleansing lotion? A drop of serum? What about face masks? What sets me apart is my years of experience in the beauty industry and my understanding and knowledge of skin, what works and what doesn't, what ingredients will have a positive impact on someone's skin health. For me, it's all about delivering exceptional results and I do that with my skincare consultations and proven, efficacious treatments like AlumierMd Skin Peels, Murad Facials, Micro Needling and LED Phototherapy."
When a client goes to Sherna with their skincare concerns, they have often been bombarded by the vast array of products on the market and don't know where to start, or they feel they are not getting the results they're looking for from their current skincare. "Ultimately, they are looking to see a change in their skin health, and I can help them with that. So, whether it's a skincare consultation or a skin treatment with me, they will be well on their way to achieving their skin goals.
Sherna's clients are all ages, with many different skin concerns such as skin ageing, acne, rosacea, and pigmentation. "While it's mostly women, more and more male clients are coming in for treatments and investing in their skin health, which is great to see. I've also had clients travel from Cork City and even further afield. Word of mouth counts for a big percentage of my business which is fantastic."
Sherna explains that a common mistake she identifies during consultations is the overuse of products, and not necessarily the right products for the client's skin. "It's also very important to manage client expectations, consistency is key – people sometimes start with great intentions, but you need to stick with it, using homecare products consistently and as directed, will achieve optimal results. Likewise, with treatments, while one treatment can provide the immediate effect of bright and radiant skin; repeated treatments will give progressive and more significant results in treating textural issues, fine lines and inflamed acne."
And her number one tip? "Wear a broad-spectrum SPF daily – your skin will thank you."
Sherna is busy planning for next year. Following the success of her sold out 'Style & Skincare' online events with 'The Style Bob' in November, she will be looking at other dates for 2021 along with holding more masterclasses for tweens, teens and adults.
Book: 086 1451551
shernamalone.ie
Olive O'Sullivan – Browtique Cork
Olive has been a qualified nurse/midwife for four decades and qualified in eyebrow services such as threading and tinting 15 years ago. She then trained in microblading and discovered a niche market for women who had lost their eyebrows due to illness, chemotherapy, hormonal issues (postnatal, thyroid, menopause), Alopecia, Trichotillomania or who had simply over-plucked eyebrows. Olive now works on eyebrow restoration six days a week is the only nurse in Ireland that is also a microblader!
Olive says that eyebrows frame our face and we don't realise how important they are until they are gone, "A problem I can help with. When a client looks good, they feel good. The transformation in confidence is clearly visible."
Microblading is eyebrow restoration by a safe, painless, semi-permanent and natural method of tattoo. A very natural looking hair stroke technique is used to implant tiny, realistic hair strokes just under the epidermis of the skin, creating new eyebrows.
The bulk of Browtique Cork's clients are or have been cancer patients. Olive explains that chemotherapy causes a patient to lose their eyebrow hair: "It may not happen right away, but it does happen. Drawing on brows daily is a chore, eye pencils can be accidentally wiped off and brow wigs unfortunately slip. Without eyebrows you may look sicker than you feel. Mothers of children note that whilst they can be reassured that treatment is going well, their antennae are up because 'mom doesn't like quite right'.
"We have won the confidence of Cork City oncologists and they now send their clients to us as pre-chemo prep so that we can capture the existing brow shape before it's lost. As I am a qualified nurse, we are also covered to treat client during chemotherapy, something other microbladers are unable to do. We are the only Microblader to be Laya Healthcare Approved for cancer chemotherapy clients and clients without medical insurance can claim 20 per cent back from Revenue."
Olive also sees people who are just looking for a bit more definition in the brow area. "Good eyebrows knock 10 years off your age, and microblading is cheaper and less invasive than a facelift!"
Microblading entails three appointments, 30-50 days apart, with an annual colour boost to keep the look fresh. "We take the process gently and can add to each step to get you your preferred eyebrow.
"The one piece of advice I would give clients who are curious about microblading, is to book in for a consultation. It's an ideal way for cautious clients to meet me, have a facial measurement done, a prospective eyebrow shape drawn on, a patch test and leave without feeling compelled to book in for any treatment. Gift vouchers are from our website, Instagram link or by calling us. This gives the nudge to the special someone to just go ahead and book in."
Book: 021 4193011
www.browtiquecork.com