Citizens Information provides an independent, information, advice and advocacy service in West Cork. It is part of South Munster Citizens Information Service, which covers Cork and Kerry. Anne O'Donovan, Manager of West Cork Citizens Information in Bantry, joined the team in 2004. As the first paid employee, she was recruited to develop the West Cork service. Initially volunteer-led, Citizens Information in Bantry has seen queries increase over the years from 2,000 per annum to almost 20,000 in 2021.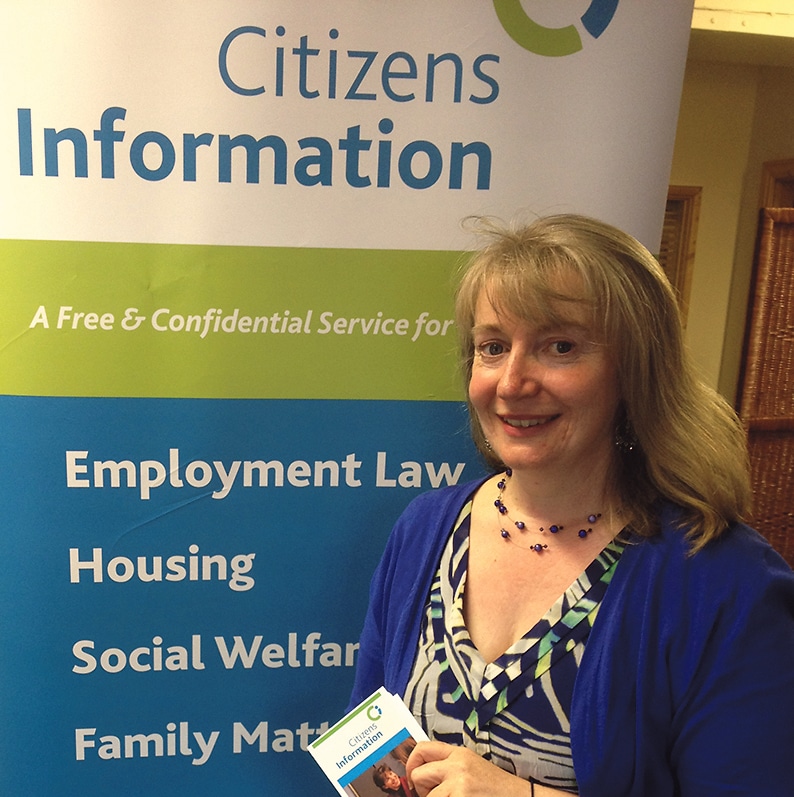 With offices in Bantry and Macroom, pre-pandemic, Citizens Information also facilitated weekly outreach services in Bandon, Clonakilty and Dunmanway, as well as a fortnightly service in Castletownbere.
Responsible for the development and delivery of the service in West Cork, Anne describes her role as manager "varied with never a dull moment".
The Kilcrohane native loves working for an organisation that makes a real difference to the lives of people and is a trusted source of information for the people of West Cork. "Because we deal with such a wide range of issues, we are in a position to 'join the dots for people' and help them to navigate their way through the system," she says.
"Sometimes people find themselves faced with unexpected issues and feel they are at a crossroads in their life without a compass. Our staff are here to provide that compass by ensuring they have the knowledge about their rights and entitlements. They are able to inform them of their options and empower them to make informed decisions."
A key part of Anne's role is supporting and mentoring staff and making sure that they have the necessary resources and training to carry out their role, while she also networks with other agencies in West Cork to ensure that Citizens Information maximises its resources for the benefit of its clients.
As part of the regional management team, Anne is involved in the strategic development of Citizens Information Service in Cork and Kerry along with the other area managers and the regional manager, who is based in Cork City.
One of the more skilled and challenging parts of the service provided by the agency is its representational advocacy service; this is where it supports clients with social welfare appeals and employment rights appeals.
Despite reduced staffing and restrictions due to the pandemic, Citizens Information has adapted and continues to deliver information, advice and advocacy to the community.
Of course with the pandemic came a whole new range of issues for Citizens Information to deal with.
"Initially there were a lot of queries from people who had lost their employment or had their hours reduced due to the pandemic," shares Anne. "There were queries from people about working from home or people who had to self-isolate. In addition, we were dealing with queries from employers in relation to the supports for businesses."
More recently, the Citizens Information team has been dealing with queries about Covid vaccinations and rights of employees in relation to same, as well as queries about travel and documentation required.
"Unfortunately, we also have increased calls from people who have been laid off work or are being made redundant as a consequence of the pandemic," says Anne. "There are also queries from people in relation to renewing their driving licence and Public Service Cards – all regular occurrences which were complicated as a result of the pandemic. In tandem with the pandemic related queries, we are also dealing with the other on-going queries which people have in relation to their own regular life-events."
Almost half of queries to Citizens Information relate to social welfare. "These include queries re state pensions, supports for carers, supports for job-seekers and families on low income. We also deal with employment rights, housing issues, consumer issues and immigration," explains Anne.
While there is a great emphasis on training at Citizens Information, excellent communication and the ability to interpret information and present it to client in an understandable and usable way are some of the most essential skills that make a good Information Officer.
"Our Information Officers need to be able to put clients at ease, deal with them in a confidential manner and be empathetic and non-judgemental," explains Anne.
She continues, "A willingness to go the extra mile and persistence in finding solutions is a great asset as sometimes finding the correct information can be difficult."
The Citizens Information Manager puts great emphasis on providing a non-judgemental, confidential space for clients. "Sometimes clients contact us and they may be in a difficult situation. When they speak with us, it may be the first time that they have spoken to anyone about their particular issue or concern. As a result, the client may be upset. Our staff listen to the client and give them an opportunity to tell their story."
Anne's own career story, aside from a brief stint teaching, has always been in the not-for-profit sector. The Kilcrohane native started out as a full-time residential volunteer with Cork Simon Community, living and working with homeless people in Cork City. "I volunteered originally for three months during the summer holidays and stayed 14 months because it was such a fantastic experience," she shares. "I learned more there than I did in the four years I had previously spent in UCC and made friendships that have lasted to this day."
Anne then moved to London where she worked as part of a team setting up a resettlement hostel in King's Cross area in central London for homeless people with alcohol and mental health issues. She had risen to the role of manager before leaving to move to Dublin to work as Recruitment Co-ordinator with the Simon Community of Ireland in their National Office.
Prior to moving back to West Cork, Anne was co-ordinator of two information Services, Centrecare and Emigrant Advice, both based in Dublin inner-city.