Just in time for Christmas, 'Pretty Interesting History' has launched the latest in a series of whimsical visual anthologies of Irish women's social history – 'The Curious Lady's Guide to Marriage'. The writer, designer and illustrator behind these humourous historical guides is Jenny Dempsey, a self-proclaimed history obsessive and talented graphic designer, who through her beautiful illustrations and fetish for time travel, gives an interesting and accessible insight into the past.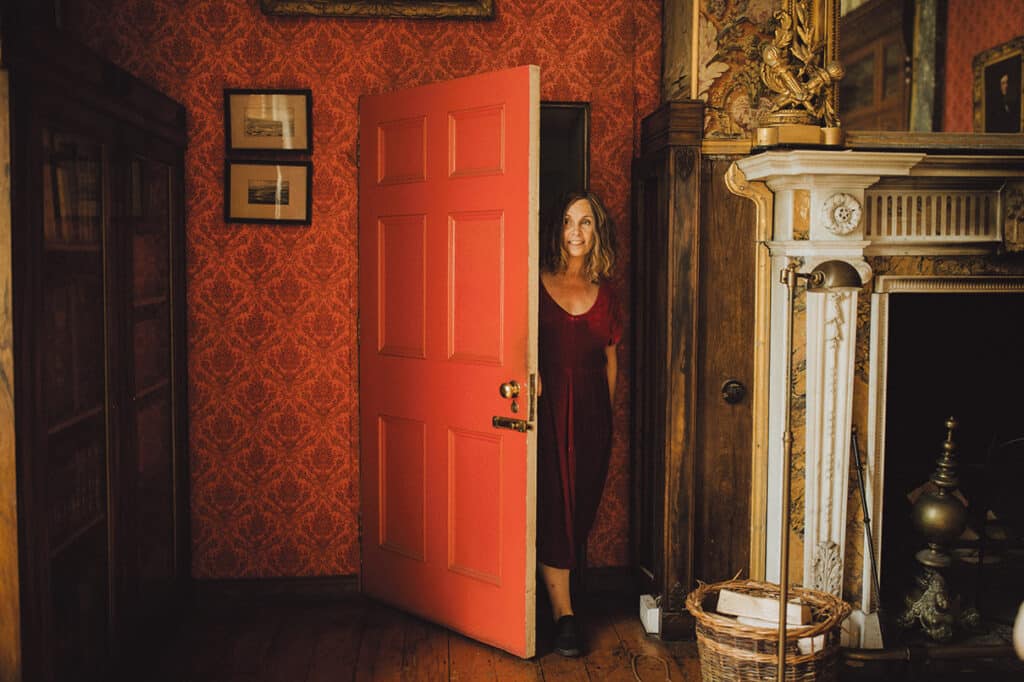 'The Curious Lady's Guide to Marriage' explains how to find a man, how to live with a man, and where to turn if you don't actually want a man! From 'How to wear the latest, flimsy, see-through dresses without contracting consumption' to 'Alternative life choices for spinsters' each of the 90 pages is a fascinating mixture of gentle humour, quirky drawings and historical fact.
A native of Co Wicklow, Jenny lives in Bantry with her daughter. Jenny talks to Mary O'Brien about her fascination with the past, how it influences her work and daily life and how some of the Christmas traditions we take for granted today actually came to pass.
Jenny Dempsey describes her work as "making children's books for adults. I use lots of illustrations and include little snippets and fake newspaper cuttings for people to discover." Her penchant for time travelling means that family outings usually end up at some museum and when someone makes a remark – about anything – she finds herself replying with phrases like 'funny you should mention that because in the past they did it this way…'
"When I visit an old house or heritage site," says Jenny "I find myself imagining how life was like for the women who lived there. What did they laugh about, cry about, rage and roar about…. I'm not a historian, but I decided to find the answers."
The "relatedness of everything" is what she finds fascinating in her research for the guides. She explains: "For example the French Revolution in 1789, which created the French republic, created an interest in the fashion styles of the ancient republics of Greece and Rome, which is why the Regency fashions some years later favoured, white, flowing muslin gowns. This rise of Napoleon and Britain's subsequent war created great prosperity in Cork where the merchants stocked the ships and clothed the navy. The war also needed men to fight so the British government had to relax their ban on Catholics entering the forces. This was a step forward for Catholic Emancipation…and so on."
Even more intriguing is the tale Jenny shares of Lady Cathcart. "Aged 53, this rich English lady married a 35-year-old Irish man. Perhaps she thought he loved her, but he loved her riches more and demanded she hand them over. She refused and hid her jewels in her wig and petticoats. He locked her in the attic where she spent 22 years trying to keep sane by recording her thoughts by pricking them on the wallpaper with a pin. Eventually she broke down and told her wretched husband that her papers were in a locked box. He forced the lock, injured his hand, got lockjaw and died. She was released aged 75 and enjoyed life to the full until she died at age 98."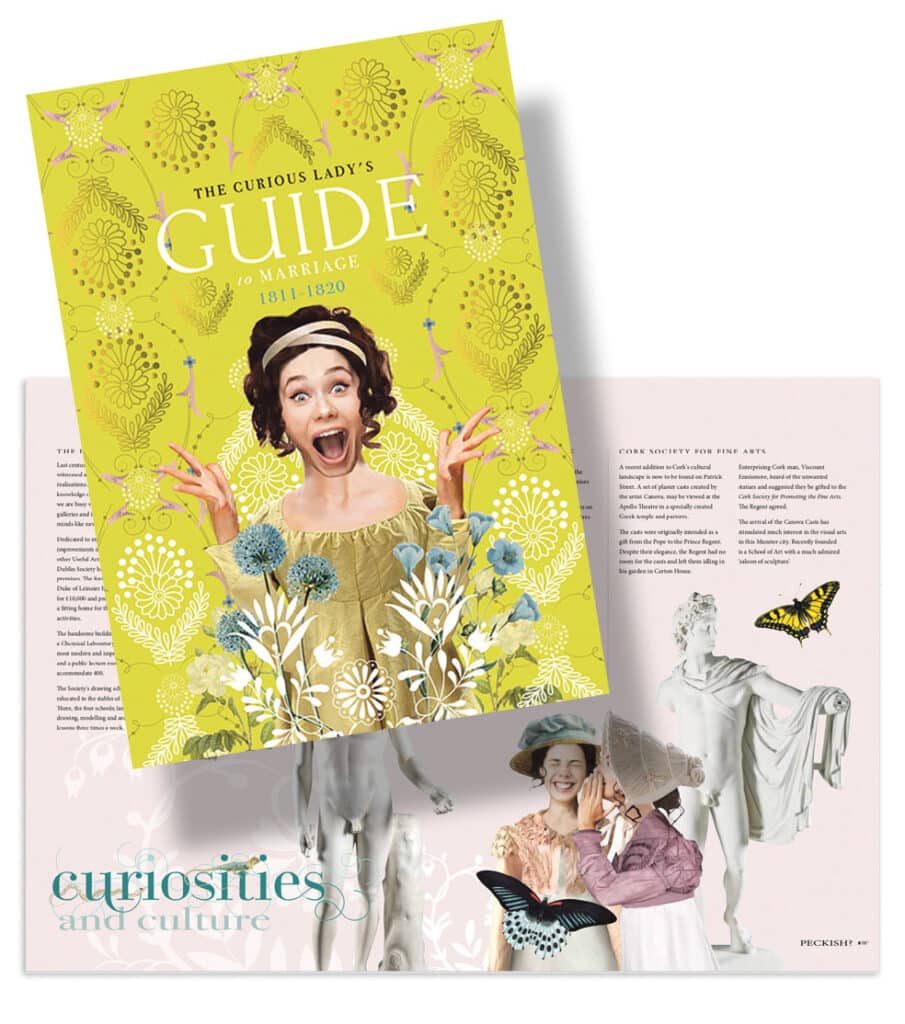 Grateful that all of her family members, especially her mum who is in her 70s, have remained safe and well during this pandemic, Jenny is hoping that she'll get to see them this Christmas if the restrictions are lifted.
"I don't celebrate Christmas very well at the best of times," she laughs. "Usually I have three Christmases. One with my family in Wicklow, which is my mum, my brother, his wife and their four loud, exuberant boys. This usually takes place in early December so it's not very Christmassy and it is dominating by excited shouting.
"The second Christmas is with my daughter and her father. We come together for gift giving and a meal on Christmas day. None of us like turkey, no one believes in Santa and we don't go to mass, so that's not very Christmassy either.
"The third Christmas is the one in my imagination. The idealised Christmas where my house is bigger, I am thinner, Bing Crosbie is making eggnog and all the decorations are exquisite twinkling 19th century glass from Bavaria."
Jenny feels it's probably about time she instigates some Christmas traditions herself. "I heard Jeffrey Archer on the radio recently who gives a famous champagne and shepherd's pie party every year. That mix of posh and poor sounds good. I might borrow that for Christmas Eve," she says with a smile.
Jenny's research into how some Christmas traditions have come to pass has unearthed some interesting facts. "Holly and Ivy are often linked together at Christmas; this goes back to the idea of the holly (male) and ivy (female) being burnt together at the pagan festival of Bealtaine," explains Jenny. "I have heard that the idea was to bring some life, something 'growing' into the homes as a sign to remind us all in the dead of winter that spring is on the way."
"For some reason the idea of greenery caught on in a huge way in Germany. Not for them a mere sprig or two of holly – the Germans were cutting branches off trees and hefting them into their homes. So much so that in Strasbourg at the end of the 15th century a law was passed banning the seasonal cutting of pine branches. But the tradition conditioned and 1603 the first indoor decorated tree was recorded.
It took a few hundred years for the idea to catch on in Britain and Ireland. Queen Victoria and her German husband, Albert, had one for the first time in 1840, and in 1848 an illustration of their family around a tree popularised this German tradition. If the Queen did it, then everyone wanted to do it.
"Holly and ivy were popular decorations in Ireland too. But a tradition that I have only heard of here is one where at midnight on Christmas Eve too, farm animals were believed to have had the power of human speech, but a terrible fate also awaited those who spied on them."
The Bantry House Collection has two charming books, which mention Christmas in the big house. One is written by Rachel Shelswell White when she was about nine or ten. She writes the little book in the voice of her beloved pet dog, Kerry. "Kerry tells how her mistress (Rachel) hung up holly and she (Kerry) ate the berries. Kerry watches as Rachel and her sister pin stockings at the end of their beds and the next morning joins the girls while they open their presents but soon gets bored and hides under the bed eating their slippers. Kerry says she was frightened by the loud noise of the crackers but had fun sneaking out of bed, pulling a box of sweets off a table and chewing the lot all up."
The other book is written by the third housemaid – a local girl of 16 by the name of Nora O'Connor. "She was dazzled by the big house and the splendor," explains Jenny. "She writes of a Christmas ball where the orchestra came from Cork city. Ice cream was served to the guests – which also came all the way from the city. Nora got to taste ice cream for the first time. She tells us that the dresses of the ladies 'were something to behold. Jewels sparkling on everyone but none could hold a candle to our mistress'. Nora then tells us that the servants had a Christmas ball too. Also held in the grand ballroom. They invited all their friends, a supper was served, and she got a new dress for the occasion. Both books were produced from actual diaries and you can get a copy through the current owner Brigitte Shelswell White (contact through Bantry House facebook page)."
The twelfth and final day of Christmas, January 6, was known in Ireland as Nollaig na mBan or Women's Christmas or Little Christmas. "As a reward for their hard work over the Christmas season, it was a day off from all house work for women and traditional roles were supposed to be reversed in the home: men did the women's work in the house while women rested and gathered together informally," explains Jenny.
Women's Christmas on January 6 was mainly observed in the Western and South Western parts of Ireland. By the mid 20th century, the tradition of Nollaig na mBan had largely died out. It seems now to be coming back with a bang with groups of women enjoying nights out in restaurants and pubs.
Dr Marion McGarry, an Irish art historian, writes of some customs around Little Christmas, one of which in particular Jenny found intriguing. "Weird and unpleasant is the habit of some mothers who rubbed the tail of a herring across the eyes of their children to give immunity against disease for the rest of the year," she shares.
"Rather more welcome was the belief was that all the well water in Ireland was said to turn into wine at midnight on Little Christmas.
"If the lockdown continues we might all be gathering around the country's wells watching out for the moment when the water turns to wine….
Mine's a merlot go raibh maith agat."
For more information on Jenny's guides go to www.prettyinterestinghistory.com