When a global pandemic was announced in March, Global Shares was already fully set up for remote working with a fully flexible workforce. The company's offices in Clonakilty, Cork city and elsewhere have started to reopen now and a detailed Return To Workplace Plan has been put in place. With the company expanding across all departments, there has never been a more exciting time to work at Global Shares. West Cork People finds out more about this forward-thinking and successful employee-owned company, which calls Clonakilty home after taking on the world from there and enjoying huge success since its inception in 2005.

Global Shares is an employee-owned company. Explain
An employee owned company is where staff are either given or offered the option to buy shares in the company, meaning they have a stake in the future success of the company. By owning shares, when the company does well, employees do well. There's lots of research that shows when employees own shares, they start to behave like owners – they have 'skin in the game', so to speak. They are more motivated to work harder and work together towards the company's overall goals.
Statistically, employee-owned companies outperform others in terms of productivity, growth, profitability and employee retention. There's also improved culture – a 'we're all in this together' mentality that really creates a spark and positive workplace. Global Shares is a private, independent, significantly employee-owned company – meaning a significant proportion of the company is owned by its employees.
Employee ownership is also Global Shares' core business. Its fintech solutions help companies of all sizes across the world manage their employee share plans simply and seamlessly.
Describe the personality of the company?
During our recent rebrand, we actually spent a lot of time discussing this topic and really examining ourselves and establishing who we are as a company. We wrote our core values and re-wrote our vision and mission statements. It was fantastic to be able to do this in collaboration with our new HR Director, Stephen Tabb, to set out what is important to us as a company, reset our goals and work towards achieving them together. What emerged from that process is that people are at the heart of who we are and what we do.
Our staff, our clients, our partners and our community – nothing would be possible without the people behind it all, so that is central to who we are. We also established the 'Global Cares' initiative, which is the company's new wellbeing programme. It focuses on employees' emotional, mental, physical and social wellbeing and there are huge supports in place to support our employees, professionally and otherwise.
We would say that for anyone who doesn't know Global Shares but who knows Clonakilty or West Cork in general – Global Shares is almost like a microcosm of that. It's forward thinking, diverse, vibrant, friendly and always wants to be a step ahead.
Probably the best way to sum up the personality is the company's core values:
• People: We care about our people
• Bravery: We dare to do things differently
• Global: We are one global network
• Integrity: We are committed to professional integrity
• Service: We are client focused.
As for what a day in the office is like – we're a hugely diverse company with lots of great characters and an appreciation that playing pool is an important way to communicate and get away from the computer screen for a while. Global Shares is a regulated company so it's very professional. A place where, with hard graft in the right role, there is no limit to the opportunities. It's fast moving, diverse and massively ambitious.
A recent senior new joiner in London described it as "an extremely forward-thinking, highly motivated, tech and service orientated company, with great people at its core".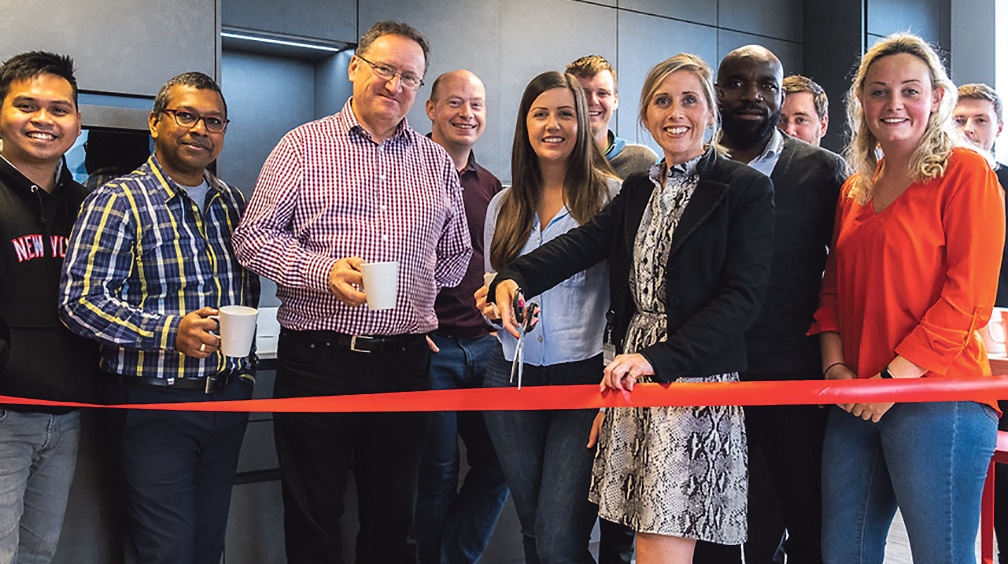 How easy was the transition for employees from working in the office to at home?
But for Global Shares employees, and for the rest of the world, life is not normal, or even very recognisable at the moment. One day we were an organisation that was 100 per cent office based. The next we were fully remote. Working from home has advantages, sure, but it also has a lot of challenges. Even experienced remote workers are facing new challenges with schools being closed, as well the natural stresses associated with being in the middle of a global pandemic! But we've worked really hard to make sure that employees are supported as much as possible. Communication has been critical during this time. The technology took care of itself but the HR and management team really stepped up, with a notable increase in communication, sharing helpful information, being flexible, empathetic. Staff have responded really well to that. There have been online mindfulness sessions, online exercise classes with Ian O'Driscoll who runs the gym at Global Shares, counselling is available for anyone who needs it and there have been socially distanced team walks as well.
As we've got two offices in China, we were dealing with the fallout from COVID-19 from the outset. We knew what was happening on the ground over there and our staff in Beijing and Hong Kong were impacted much earlier than the rest of the world. But that gave us time to prepare and put best practices in place in our other locations and when the time came, we were all ready, educated and a little bit more at ease about it.
Our offices in Clonakilty, Cork and elsewhere have started to reopen now and a detailed Return To Workplace Plan has been put in place with fever screening cameras, 2m distance between desks, sanitisers, masks and one-way systems. We are ready to transition back to the office when the time is right.
From an infrastructure perspective the transition was as easy as getting up from the desk with your laptop, walking out the door and logging in at home. We've got a great IT team to take care of the strict security protocols, VPNs, cloud-based hosting and hardware that protects our data from attack and have weathered many storms in the past (the Beast from the East snowstorm, Storm Ophelia, etc.) from the safety of our homes while our business continued as normal, uninterrupted.
Is the workforce at Global Shares very diverse? What benefits does that bring with it?
With 25-plus nationalities, it's a melting pot of culture and diversity. Forty-two per cent of employees are female. Employees in Clonakilty come from countries including India, Philippines, Brazil, Portugal, Spain, Poland, the UK, Canada and more. When we made the decision to write a global software platform from scratch, it was difficult to find developers in Ireland so we hired developers from all over the world, who laid the foundation for the diverse multi-cultural workforce that exists today. It's something that everyone really enjoys about working at Global Shares.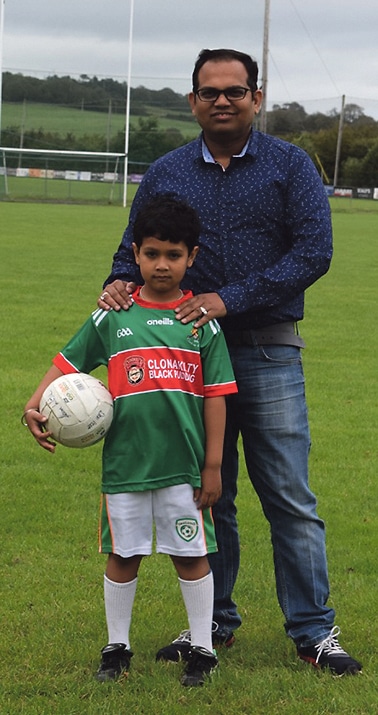 Does Global Shares offer any type of assistance/support to employees relocating to Clonakilty from other countries?
We have helped many of our team members move here to Clonakilty to join Global Shares and start a new life in West Cork. We support candidates with flights and visas prior to arrival and then also support them with accommodation, transport and local information while they find their new homes.
Is the company involved in any local groups or activities? Explain why this is important to Global Shares.
Global Shares has been involved in many local charity fundraisers – from walks to swims to golf tournaments and more. We love supporting the local community in any way we can – be it getting all our printing done at Walsh's, buying furniture from Tom Sheehy's or getting our lunches from Beano and Ginger. Clonakilty is central to our community and we love being based here. We have big plans to be even more involved in some exciting projects coming up.
What kind of support is in place for employees working from home?
Now more than ever we are championing our employee wellness initiatives. We have a very active wellness programme called 'Global Cares', which we use to support our employees during these difficult pandemic times.
While working from home we've enjoyed online mindfulness sessions every Wednesday (drop everything and meditate), free lunchtime HIIT sessions, parenting advice webinars, nutrition talks, leadership training, a 'Work at Home with Your Dog Day' and much more. In addition, all our employees have access to our Employee Assistance Programme – a confidential counselling service that provides support to our employees and their families.
Has the pandemic driven any other changes/developments in the company?
We thankfully haven't been negatively impacted by the pandemic in the way that some industries such has tourism, the airline industry etc have been. We have been lucky enough to be in a good place to meet our targets for this year but of course the many restrictions that have been in place have impacted us in one way or another. We had a fabulous Clonakilty client event that we had to cancel, where clients were going to come and stay in Inchydoney, go to Clonakility Distillery for gin-making classes, go whale watching, listen to trad in DeBarra's etc – all that had to be called off. And our sales team aren't currently flying all over the world meeting people and selling, so there's more of a lean towards digital and virtual events. Our AGM will also be held virtually for the first time ever.
Is having a base in West Cork important to Global Shares? Explain.
One hundred per cent. Clonakilty is our home, it's where we were founded in 2005, and it's part of our success. We set out to write a global technology platform in West Cork and take on the world from here. We export 98 per cent of our software and last year we opened seven new offices in places like Nashville, Barcelona, Lisbon, Tokyo and Miyazaki. We've done all of this from Clonakilty and are extremely proud to have our roots here. We are delighted to provide employment opportunities for so many locals within our community and to welcome so many people to live in Clonakilty with their families enjoy the amazing work-life balance.
As it has grown, Global Shares has given a huge boost to the local economy, creating permanent high-skilled roles such as software engineers, share plan analysts, trading specialists, multi-lingual service desk analysts and more, as well as given staff the opportunity to transfer within its global network of overseas offices.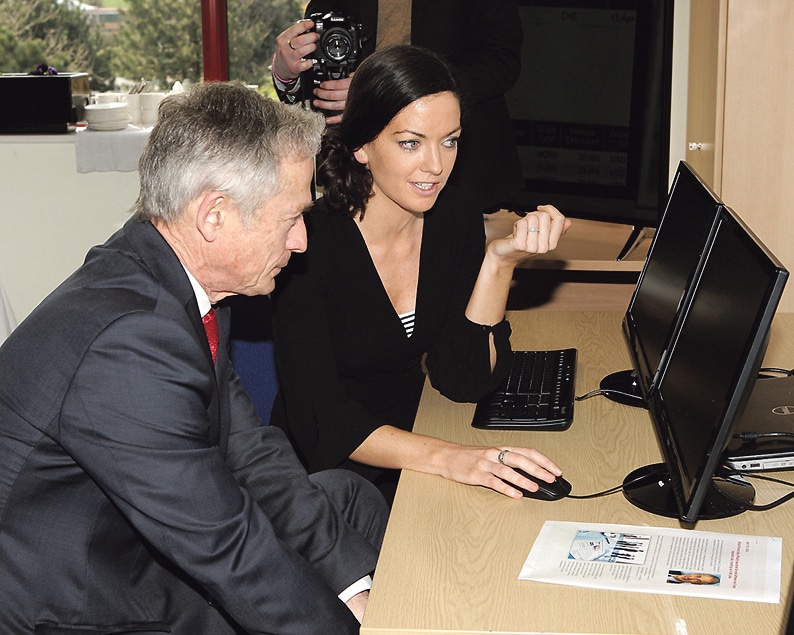 Global Shares has grown substantially in the past five years. What has driven this growth and how is the company planning on developing further?
A decade ago Global Shares was a service only company and this wasn't a great model for scaling and growth. We were using other companies' software to manage share plans for global businesses, but not one of those pieces of software was good enough and it wasn't a productive way to operate. It was then that we made the decision to change from a service company to a fintech company. We set ourselves a mission: build our own software and to become the global software provider for the share plan administration industry. We had to build it from scratch and that was a huge challenge but it's what has led to our success today. We also became regulated, so this made it possible for us to compete with the likes of Morgan Stanley, Merrill Lynch, UBS and others on the global stage. The challenge was for Global Shares to succeed in developing a global platform, where the large multi-national banks had failed.
Employee numbers have risen from 68 in 2015 to 360 today: 202 staff are based in Cork – 165 at our Clonakilty Headquarters, and 37 at our new Cork City office on Penrose Wharf.
Global Shares has now fully completed its transition from a small startup in Clonakilty to become a global fintech leader for employee ownership and share dealing solutions. We are on course to reach a 'unicorn' valuation in excess of $1Bn by 2024. Also, we are 2020 Finalists in the prestigious EY Entrepreneur of The Year Programme and we have some exciting announcements coming very soon.
What type of Government investment, infrastructure, connectivity etc. would Global Shares like to see in West Cork that would benefit companies such as them and increase employment in the area?
Having proper broadband in place for people working from home in West Cork is probably the number one thing. With proper speeds, there are no limits to what employees can do from home. Some of the more rural areas of West Cork don't have adequate connectivity, which means some staff have had to work from the office to complete certain tasks that require bandwidth. Of course the pandemic will (hopefully!) go away at some stage and we'll be returning to our offices, but having that flexibility is key.
As well as this, as we grow and expand, one of the things that people who are moving to Clonakilty have struggled with, is the lack of housing in the area. This is something that we'd love for the Government to look at and invest in.
Why would I want to work at Global Shares?
We are a Clonakilty company with a global reach. There has never been a more exciting time to work with Global Shares. We are enjoying huge global success and expanding across all departments. Career advancement opportunities are many, with the potential for professional growth ever present due to our hyper growth phase. As an employee centric organisation we recognise our success would not be possible without our talented and valuable team of employees. We have a relaxed and friendly working environment. Pool tournaments, 'Bring your Dog to Work' days, and Friday Nibbles 'Fribbles' are all part of our day to day here in Global Shares. 
……………………………………………………………………………………………………………………………….
Canadian born Colleen McDonagh lives in Clonakilty and is a Settlements and Partner Relationship Manager with Global Shares. She has been working remotely since March.
Originally from Ontario, Colleen grew up in what, by Canadian standards, would be considered the small town of North Bay (pop. 60k), which lies 3.5 hours north of Toronto. At the age of 18 she relocated to Toronto to study interior design before working a variety of fast paced roles in design, project management and administration.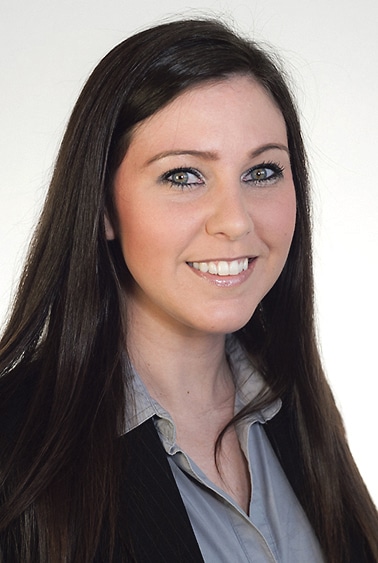 In 2016 Colleen, and her now husband, decided to move to Ireland and she joined Global Shares to work on the US Operations team, before moving to the Reconciliation Department and then into her current position as Settlements and Partner Relationship Manager.
Colleen would describe her role as multi-faceted: "Part of my work in Settlements is to oversee and ensure all cash and shares settle as instructed on the back of a trade, share transfer, or client event.
"The busier side of the role is the Partner Management where my responsibilities include new partner onboarding, developing key relationships with all partners, client account openings etc. The position allows me to work closely with most departments across the business and every day is different.
"I've also been involved in a wide range of projects including the migration of our banking provider, custodian changeovers and our new US License."
When asked what she enjoys most about working in Global Shares, Colleen says number one has to be her colleagues whom she describes as "consistently spectacular!" She also really appreciates the ability to transfer to different departments without leaving the company. "The work is always challenging and I continue to learn and grow every day. I strive for greatness!"
She also thoroughly enjoys living in West Cork. "Moving to Clonakilty from a place like Toronto was a huge change – in every way! There is a sense of community that provides a feeling of security and support that a big city could never offer. Before the current situation there was always so many events happening around Clonakilty and West Cork that we enjoyed like parades, festivals and markets. The things I miss about Canada are mainly family…. And a reliable public transit system. Toronto is brilliant in that way as you have your pick of subways, streetcars, Uber and more."
Working remotely since March, Colleen is discovering there are many advantages to it. "My husband is in the construction industry so he was only home for the mandatory six-week lockdown. Other than that I've had the place to myself, so I work in our open plan kitchen/living room, which has tons of natural light. I am also facing our patio so when the sun is shining I'm able to leave the door wide open; it somewhat feels like I'm working outside or I can also just step outside for some sun while the kettle boils. I did have to go into the office to get my computer chair though – sitting on a dining room chair was not great!
"Other benefits are a quiet working environment, no dress code and that by not commuting I'm saving money on diesel and contributing little less pollution."
She finds her main challenge is switching off and walking away, even for simple things like breaks or lunch. "I am always tempted to log on and get more done and out of the way before facing into another day. With the peace and quiet at home I find myself forgetting to stop. When I do, it is for house stuff such as cleaning, laundry or taking out the recycling. We got chickens during the lockdown so I also go out to collect the eggs. Doing these little things and having the small day-day jobs done has allowed more 'me' and 'us' time when I do switch off, which has provided a little more work-life balance.
"And I do miss the social aspect of working in the office."
Going forward Colleen thinks she would enjoy a mix of working from home and going into the office. "I think there are huge benefits for most people who can work from home from a cost and environmental perspective – for both employee and employer!"