During lockdown most of us experienced the challenges and also the benefits of remote working. Covid has in fact accelerated us ten years forward in the space of a few months removing many of the barriers we thought existed to flexible working solutions like working from home.
In 2018 the Grow Remote movement estimated that around 216,000 people were working remotely in Ireland. This is now an upwardly advancing figure. Employees are enjoying the time saved in removing the daily commute and employers are reaping the financial benefits, seeing increased productivity in their workforce and massive savings on overheads. It's a win-win situation, particularly if you live in West Cork and the view from your work window now takes in green fields or the blue of the Atlantic. It's also the reason that Karen O'Reilly of Employflex set up her recruitment business in Clonakilty five years ago.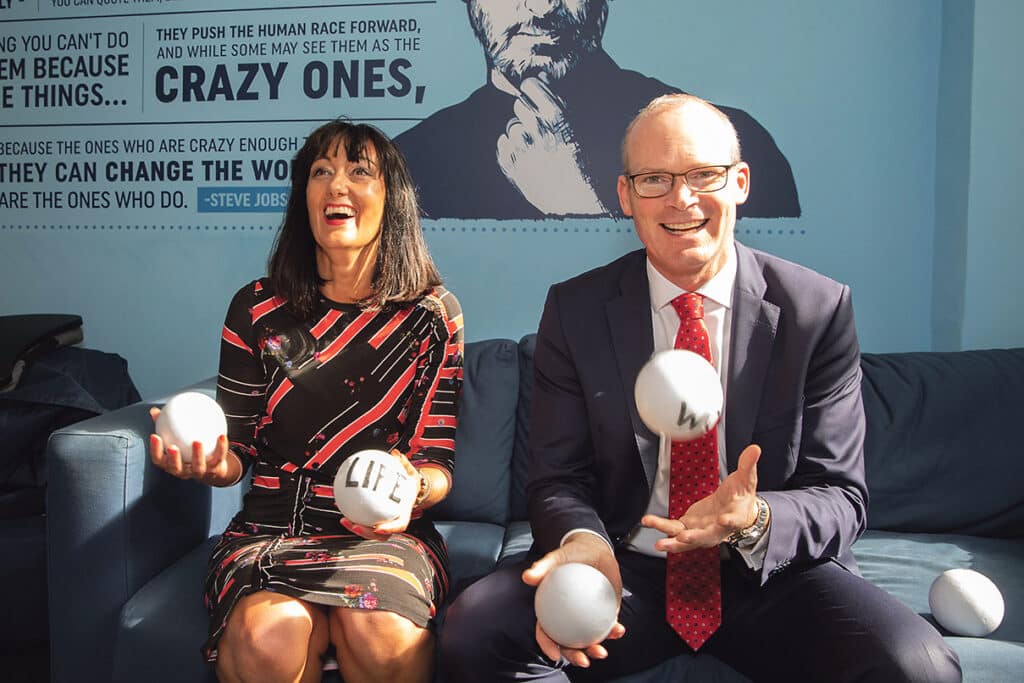 A qualified accountant who, after returning to Ireland after being abroad for nearly 20 years, found it difficult to find flexible work, Karen has since been leading the flexible work revolution.
"Remote working gives employers access to a larger pool of talent and can breathe new life into small rural communities," she says passionately, having just returned from a two-week holiday in Allihies where she also spent time working remotely.
It's also a very cost-effective solution for employers. "The average savings are about 11,000 per annum per employee," Karen points out. "As a result, some of the bigger companies are taking a further step and investing money saved into office pods for their employees, an action that fosters great loyalty in employees."
Prior to Covid there was a fear that workforce productivity would go down if employees worked from home. "The ironic thing is," says Karen "all the studies have shown that people actually work way harder from home and the main risk is an employee suffering burnout from working too hard!"
While many companies put a freeze on hiring during lockdown, Employflex is now seeing a pick up in hiring activity. The recruitment company has over 5,000 candidates registered with them, all highly skilled, and after a quieter-than-normal summer (traditionally it's the quietest season anyway for recruitment), is looking forward to a hopefully busy fourth quarter. "All of our plans for 2020 of course came to a grinding halt with Covid," says Karen "but I do believe we are seeing some light at the end of the tunnel now. Of course it will take a while for the hardest hit industries like hospitality and aviation to bounce back but there are others like the pharmaceutical and food-production sectors that are doing well. We'll bounce back; it's just difficult to gauge when until the dust settles!"
Employflex has always believed in finding solutions. "Lockdown has shown that the barriers or the 'excuses' that companies had prior to Covid, for example around technology and trust, were never really the issue," says Karen. "We've proven that remote working can be done but now we need to get the policy and procedure in place, build the scaffolding around the remote work culture so to speak, so that everybody is happy.
"Companies need to develop a remote work policy," she emphasises "so that employees aren't punished for choosing a flexible or remote working option. They should still feel part of a team and have the same access to promotions and career progression that people in the office have."
Developing the right culture in the workplace will make everyone feel part of the team, whether they're working from home or in the office. "That culture needs to be very strong so that people don't feel they need to go into the office to be seen," explains Karen.
However, she points out that remote working is different to working in an office environment, which means that different skills are needed. "You have to be a quick, independent thinker, organised, self-motivated, with good problem solving skills and able to think on your feet," she explains.
In some cases those skills need to be learnt and Employflex has met this demand by developing a training module for both remote workers and managers of a remote team. "What's involved in managing a remote team is something that I feel a lot of companies have overlooked," she says "and it's a very different ball game managing a remote team to an office-based workforce; one where communication and motivation are both key.'
"This is the time for companies to get feedback from staff as to what is working and what's not and get their policy right."
Remote interviews are another challenge of this new working climate and one that Employflex can also help employers and jobseekers with. "As the interviewee you have to be comfortable with the technology and portray your personality through your body language. At the other end, the interviewer needs to have excellent communication skills and know what to ask and look for in a candidate." All of the Employflex team are also coaches so can help with developing these skills.
Karen believes that the future of flexible working is a hybrid type situation, with time spent remotely and in the office. "I think it's a great solution and for anyone in West Cork with connectivity issues, there are lots of hot-desking and co-working options out there, for example the Ludgate in Skibbereen," she says.
"People who are adapting and changing and embracing remote work with the future in mind, they're the ones who will survive and thrive."
For more information on Employflex go to employflex.ie.