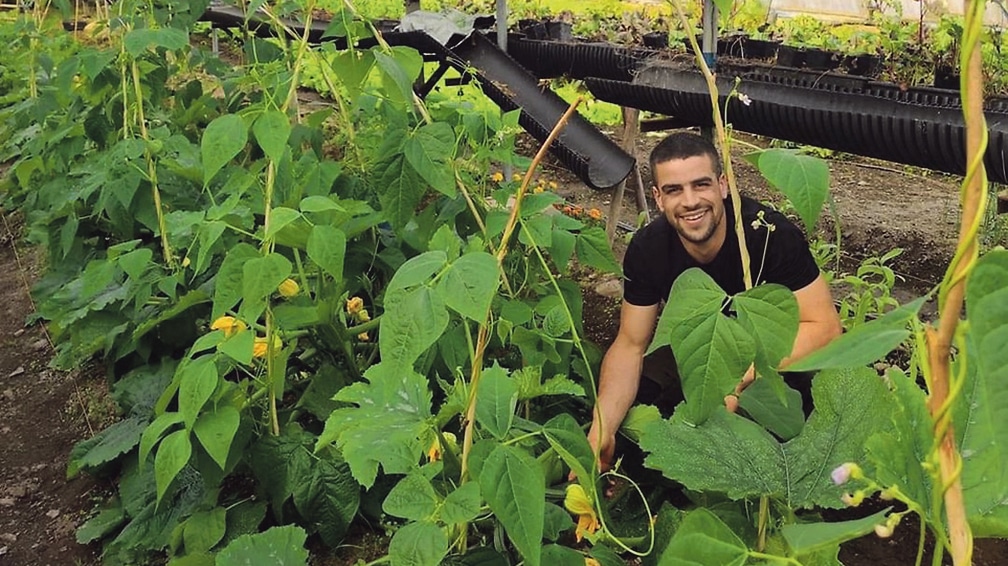 There are three sides to Ancient Organics in Rosscarbery: permaculture, organic food and teachings. Founder Adam Afoullouss tells us more about the growing business and shares his thoughts on Ireland and food security.
The core belief behind Ancient Organics is sustainability, where every resource is utilised with minimal waste and all food produced is clean and healthy to consume. "I focus on spreading my knowledge, promoting self-sustainability and bringing communities and local businesses together for the benefit of us all," says Adam.
Adam studied Organic Horticulture in Cork before attending the renowned Permaculture Research Institution in Australia, where he qualified as a teacher, consultant, designer and project and farm manager. He went on to work in 'The Greening the Desert' aid project in the Middle East, an experience which led him to create 'Ancient Permaculture', which offers consultations and implementations of sustainable designs for all types of gardens and businesses here in Ireland.
While based in West Cork, Adam got involved in a project in Cork City called 'Green Spaces for Health', which was partly funded by the HSE and aimed to address mental health awareness, bringing communities together and helping the environment. "The success of this project helped me to realise that I needed a physical site to demonstrate the systems in production and how to apply them practically to real life business and home situations, to make a real difference in Ireland," he shares. It led him to expand Ancient Permaculture into Ancient Teachings, which provides permaculture courses and internships in practical settings and Ancient Organics which produces and sells organic food in West Cork.
The business is currently expanding its growing areas, increasing local production and the diversity of its demonstration sites. Adam currently employs two people, both of whom are in the process of starting their own businesses in their own right as a result of learning the importance of clean organic food and growing their own food. Mark is working on his own plot of land, growing vegetables, which he will sell back to Ancient Organics. Sally is in the process of starting an organic chocolate business which she will also sell to Ancient Organics.
On food security, as it stands right now, Adam says if we only ate Irish food we would go hungry. "I think we're a very focused monoculture system where we export a lot of our produce produced here and also import a lot of our food that we consume…
"That being said, I believe we have one of the most forgiving climates for food production and I do believe we could be 100 per cent food secure and sustainable in Irish food production with the right systems in place. We are lucky enough to have a lot of natural fertilisers that could be utilised as a great resource to encourage and increase mass scale, sustainable food production. However, I believe there needs to be more collaboratives of small scale producers who focus on sustainability, that distribute this food via cooperatives and community hubs, for the betterment of Irish businesses, Irish Food security, Irish sustainability and the Irish economy as a whole.
"I believe there is a lot of awareness that needs to be brought to farmers, customers and the general public about changing their eating habits, becoming more connected to the food they are consuming, where their food comes from and seasonal eating. With the right awareness, the right food education and the right incentives and support for sustainable farming, I do fully believe that we could be a 100 per cent food secure nation."
Part of Ancient Organics ethos in food production is about linking up with other local producers, businesses and communities to strengthen its resilience and sustainability. "For example, our seed supplier 'Brown Envelope Seeds' is a local seed supplier, meaning we do not rely on the outside world to source the seeds that we grow," explains Adam.
"By expanding our growing areas while materials and structures are readily available, we are utilising the resources available to ensure we have this growing space for future expansion and security."
Adam is continuously on the look out for like-minded individuals who are interested in creating a community-based production cooperative; and by offering permaculture courses and internships, his mission is to promote food security awareness and self-sustainability to the wider community.
Ancient Organics is currently in talks with 'Green Skibbereen' about being a part of a developing course system, which promotes sustainability, food security, food waste and food awareness which will link in to its own courses on implementing sustainable design.
Adam's vision is to be able to expand each tier to his business and, while doing so, share his knowledge and education with the wider community to promote clean food, sustainable change and food security. But his vision is also a greater one, it's a vision for Ireland: A vision where Ireland becomes an innovator in sustainable whole systems design and energy efficient use of its resources. An Ireland that is inclusive and can withstand and reverse the effects of natural degradation, ecosystem loss and changes in our climate, our quality of air and water and essentially, our quality of life.