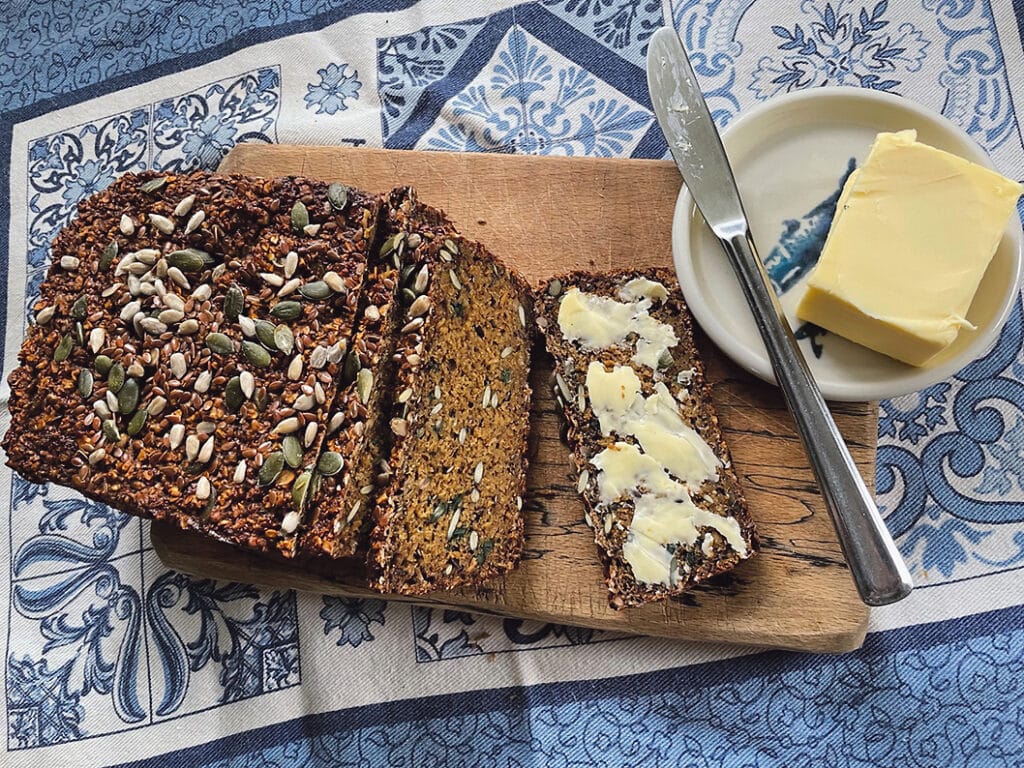 Standing in the glasshouse in our garden it's difficult to envisage the catastrophe in Ukraine. Just when we all thought the world might slip back into some kind of normality it has taken another turn and the poor people of Ukraine are being invaded. It's impossible to imagine where this might end. 
War isn't new. Wars have ravaged throughout the world for much of human history.
Now that one is knocking Europe's door we are taking note, and it's not of just the devastation and suffering of innocent civilians that has an immediate awakening effect on us all. There is a silent crisis happening in the back ground. A crisis of food.
Much of our food is imported and the rising prices of food and energy are affecting every household. The threat to the availability and dramatic price increase of food is an ideal opportunity to use locally produced food, which in turn will help the local economy and the global energy crisis.
Setting up the garden for the growing season has never made more sense.
The past lockdowns have meant that a lot of people discovered their inner gardener and got the growing bug and it's a good idea for the gardening revolution to continue.
Now is the ideal time to take action if you would like to sow some seeds. The days are getting longer, warmer, sometimes sunnier and the regular rain is good for growing.
There is a lot that can be grown without too much effort or stress even if you only have a small space. Large plant pots and containers will produce family sized crops of salads and herbs and if you have a small garden space the possibilities are endless.
Beans, potatoes, courgettes, beetroots, turnips, pumpkins and all the green things will thrive outside and if you have a glasshouse, conservatory or tunnel you'll have a mini Mediterranean climate. Tomatoes, aubergines, chillies and cucumbers will happily ripen and once you've tasted a home grown tomato there's no going back.
Bread plays a major role in most Irish households and wheat is usually a vital ingredient. Rumour has it that wheat will be a major casualty in the food crisis and as we are a nation of toast and sandwich munchers this is quite alarming.
Although a lot of people see white sliced pan or a crusty loaf when they think of bread there other possibilities. Bread can be made from various other ingredients and Ireland grows a very good solution: Oats.
I researched alternative breads using chickpea flour, buckwheat, corn, barley, rye….and each time returned to oats for the type of loaf that we like for breakfast and lunch.
Oat bread is very similar to soda bread and makes an excellent sandwich or piece of toast. It is also super easy and quick to make. The basic recipe can be made using just oats but I like to add some seeds for added nutrition and texture. Pumpkin, sunflower and linseeds/flax seeds are all good. I also like to buzz half of the oats into a coarse flour as I think it gives a better texture but if you don't have a food processor you can just use whole oats.
I use plain natural yoghurt but low fat will probably work too as will plant based yoghurts.
Oats are naturally gluten -free but if you have a problem with gluten use gluten-free oats which are guaranteed not to be contaminated
Oat Bread
• 350g oats
• 500mls natural yoghurt
• 1 egg
• 1tbs molasses (optional)
• 2 tsp bread soda
• 1tsp salt
• 50-100g seeds – sunflower, pumpkin, linseeds
Pre heat the oven 180ºc.
Line a large loaf tin with parchment or greaseproof paper
Put roughly half of the oats into a food processor and buzz until you have a coarse flour.
Tip the buzzed oats into a bowl together with the rest of the oats, bread soda, salt and seeds. Mix well.
Put the natural yoghurt, molasses and egg into a small bowl then mix together.
Tip the yoghurt mix onto the oat mix then stir until everything until it comes together in a thick batter.
Tip the batter into the prepared loaf tin. Smooth out the top with the back of a spoon then sprinkle over a few seeds or some oatflakes to decorate the top.
Bake for 40 minutes in the tin then carefully tip the loaf onto a baking tray and bake for a further 10 minutes.
Allow to cool completely before slicing.
Happy Easter. Hoping for peace for Ukraine and a successful growing season.
Karen
Lettercollum Kitchen Project
22 Connolly Street
Clonakilty
www.lettercollum.ie
karen@lettercollum.ie