The promise of extra beds and staff in the HSE's Winter Plan is welcome, however as numbers of Covid-19 cases rise rapidly around the country, ICUs are bracing for what is to come. With Dublin and Donegal now under Level 3 restrictions and more counties at risk, including Cork, Dr Ivan Hayes, Consultant Intensivist and Critical Care Director at CUH tells Mary O'Brien that the increasing numbers are "worrying". He gives an insight into the supportive care the CUH team gives to patients with coronavirus, talks about the seriousness of being admitted to ICU, and urges the public to heed Public Health advice going forward. "This is a disease that you don't want to take the risk of getting sick with: The people who end up in ICU with this virus are very, very sick," he cautions.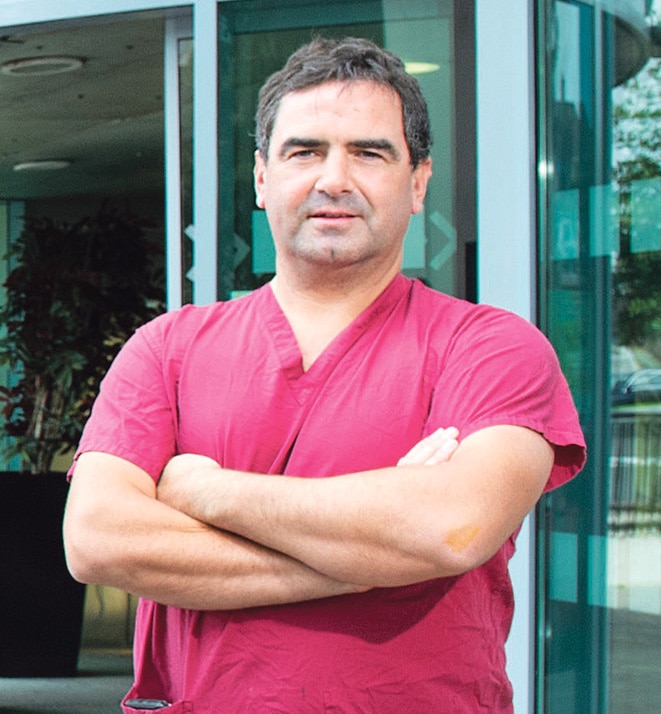 The government has committed to invest an additional €600 million in health services this winter. Thirty-four new beds are to be opened at Cork University Hospital (CUH) under the HSE's Winter Plan. The beds are among 483 acute beds, 89 sub-acute beds and 17 additional critical care beds, which the HSE plans to open around the country to meet the "challenging" winter ahead. The success of the plan will be determined by the recruitment of additional staff.
Dr Ivan Hayes wears two hats at CUH: critical care physician and anaesthetist. From an elective surgical point of view, he's very concerned that if we are hit with a substantial Covid wave this winter, resulting in the further postponement of hospital procedures, we'll be facing a separate health crisis to Covid. "Certainly throughout April and May a lot of surgeries had to be postponed," he explains. "The CUH cardiac programme is about 100 heart surgeries behind where we were this time last year. Patients requiring lung cancer surgery, many of whom need ICU care have been impacted also.
"If everyone adheres to the guidelines we will be in a better position heading in to the winter. There is no doubt that when people adhere to the public health guidance, this virus fizzles out, as we saw at the start of the summer."
Last winter was very busy in the Intensive Care Unit at CUH. "We had small babies coming in with bronchiolitis for about six weeks in the lead up to Christmas. We were stabilising sick babies in intensive care and transferring them to Dublin several times a week," explains Dr Hayes. "It came earlier than normal and peaked before Christmas."
Then just around Christmas flu season kicked off. "We were very busy until the end of January with flu patients. That quietened down and then within a month, coronavirus kicked off. One fear this year is that we get all three together, which is something that doesn't bear thinking about really."
According to Dr Hayes, the only plan that can be put in place to cope with this scenario is to have as much capacity as possible. "There's not enough ICU beds in the Irish system, it's about 5.2/100,000 of population. That's about 40 per cent of the critical care capacity of the Italian and we saw how they were completely overwhelmed. This part of the country is particularly poorly resourced and when CUH is compared to similar hospitals in Dublin we have about half the critical care capacity of our peers."
Although there is funding to increase the beds in ICU, Dr Hayes says that getting skilled nurses will be key. "We're trying to train more but this doesn't happen overnight. It's a worldwide shortage. We were very fortunate in March and April to have many ex-ICU nursing staff come back but they've since gone back to whatever field they're working in."
ICU beds are there for the sickest of patients. "If you end up in ICU with Covid infection, its often prolonged " explains Dr Hayes, "in those who recover it can take two, four, or even six weeks.
"It's one thing to have a high number of critically unwell patients with Covid but we are really concerned about not having the appropriate staff and infrastructure to treat these patients to the highest standards; international experience has shown that as systems are overwhelmed patient outcomes deteriorate" says Dr Hayes.
"There's no magic bullet with Covid. It comes down to supportive care. Supporting failing organs when they get critically unwell."
Covid care in ICU is typically dealing with respiratory failure, low oxygen levels and what the ICU team calls increased work or difficulty in breathing. However, it's a multi-system disorder, as Dr Hayes explains. "There can be cardiac issues, and renal failure is common in sicker patients. We're still learning about it, but respiratory, cardiac and renal failure can all be factors in critically ill patients with Covid. These patients may require mechanical ventilators, dialysis machines and need very powerful infusions of noradrenaline and adrenaline to keep their blood pressure up." Most important are the staff who can manage these interventions on a minute by minute basis 24/7."
With Covid, often patients who end up in ICU will suffer mild symptoms initially, their condition typically starting to deteriorate around a week into the illness.
"Once you get very sick with Covid, it can last for weeks," says Dr Hayes.
Recovering critically ill patients can be left with extreme muscular weakness and fatigue, however as Dr Hayes points out "from our perspective anybody who ends up in ICU can take months to recover fully in terms of muscle strength.
"Most of our patients who have survived have gone on to make a very good recovery but some may be left with permanent impairment of lungs or kidneys."
Ventilators can be lifesaving but like other treatments there are side effects. "When describing it to families, I compare it to putting your arm in a sling," says Dr Hayes. "Three weeks later, your arm will be skin and bone. It's the same with your breathing. If someone is put on a machine like a ventilator, they lose muscle strength. They are also often very confused and delirious for a while after being taken out of medically induced coma and might struggle with very simple things like getting out of a chair for example. When a patient leaves ICU after being on a ventilator, they may issues with wheeze, asthma or shortness of breath.
"There was a huge emphasis on ventilators very early on in this pandemic but it was never really about ventilators, it was about skilled people," emphasises Dr Hayes. He explains just how many skilled people are involved in this type of care. "Someone who's that sick needs a trained nurse at the end of the bed 24/7 in ICU. That really is the most important part. The team around them might include physiotherapists, dieticians, speech and language therapists; a biomedical team who look after the equipment; porters. Care Assistants play a vital role in patient care as do Household and Cleaning staff. The ICU Medical team led by a Consultant Intensivist direct care but also other teams such as Infectious diseases, Respiratory, Renal, Microbiology, Radiology and others link in."
If the patient does recover there can be a long rehabilitation period where all of the aforementioned doctors and therapists have to follow up.
"It's a big set-up and inevitably when systems surge significantly beyond baseline capacity there may come a point where one qualified ICU nurse is now looking after two or even three patients. Certainly that's what happened overseas when hospitals got overwhelmed. To not get into that scenario in Spring we had to sacrifice elective cardiac surgery, which was a huge concern, as most of these cases are urgent rather than truly elective."
There is unprecedented global research into coronavirus. "A first principal in medicine is 'do no harm'," emphasises Dr Hayes. "In Cork, we would have gone with proven therapies and excellent supportive care, obviously always keeping an eye on the emerging evidence.
"Early evidence for Hydroxychloroquine did not stand up over time. There is some evidence that Dexamethasone (a steroid) may reduce illness severity. Certain immunomodulating therapies have been put forward as well as immunoglobulin infusion and 'survivor plasma'. However, as yet there is no 'silver bullet', the mainstay is about supportive care and prevention is always better than cure."
On a positive note, the National Office of Clinical Audit results for Intensive Care Units treating patients with coronavirus in Ireland have been encouraging with 83 per cent survival. "Our patients have done very well, when compared internationally," explains Dr Hayes. "This is partly due to the fact we didn't get overwhelmed and were able to give the quality of care that we usually give. When the system is overwhelmed, the ability to provide that level of care is diluted."
Three of Dr Hayes' colleagues at CUH were cared for in ICU. "It was a shock looking after staff members at various points, in particular Dr Owen O'Flynn, as the week before he was doing the ward rounds with us. Thankfully they all survived and are recovering well. Owen has played a huge role in getting his message out through the media that this illness can seriously affect young fit people."
There were other challenges too. Personal Protective Equipment (PPE) made communication difficult at times and was uncomfortable and hot to work in. "Voices are muffled under masks, goggles fog up during procedures. Nurses often spent more prolonged periods in PPE than us, so it was most uncomfortable for them," says Dr Hayes. "Removing or 'doffing' the PPE is when the risk of contamination is highest, so you try to limit that risk by wearing it for longer."
It was also difficult not being able to communicate face-to-face with the families of patients. "Families of patients weren't allowed into ICU so we were often having very difficult conversations over the phone with people we never really got to meet," explains Dr Hayes. That was a challenge. As patients recovered, the team set up video links so families could see their relatives and talk to them. "It was strange, as normally you'd have families at the bedsides everyday."
On a positive note, everyone in the hospital really pulled together during this period. "I got to know colleagues that I would have had no interaction with previously," says Dr Hayes. "And for a period of about two weeks, you could look to get something done in the hospital…and it actually happened!" he says smiling.
"We went from years of lobbying to upgrade our 17-year-old ventilators to suddenly being told to go get them. But of course you couldn't get them because the whole world was looking for them. Some of the equipment we ordered in early March is still arriving now."
Although the summer gave hospital staff a chance to catch up with normal procedures, life has definitely not returned to normal at CUH.
"We've always had an eye on the autumn and a fear that Covid would come back in another wave. Our system is already strained so unless there's an effective vaccine, that fear will remain," says Dr Hayes.
We need to continue to take whatever precautions are necessary to reduce the risk of transmission – simple stuff like maintaining your distance, washing your hands and wearing a mask when social distance can't be maintained. While we are hopeful that there will be less flu cases this winter due to the precautions we're taking with Covid, anyone who is vulnerable should take extra precautions and if you are eligible for the flu shot then get it. Look after your physical and mental health and make yourself as resilient as possible."
Dr Ivan Hayes lives in Clonakilty with his wife Carmel and three young children. He recently took part in the ICU4U charity cycle, which raised over €100,000 for four charities: Alone, Aware, Breakthrough Cancer Research and ICU steps. Donate at www.ICU4u.ie