Sixteen-year-old Harold Paulino, a Fifth Year student at Clonakilty Community College, is trying to remain positive that Covid will be dealt with by Christmas next year.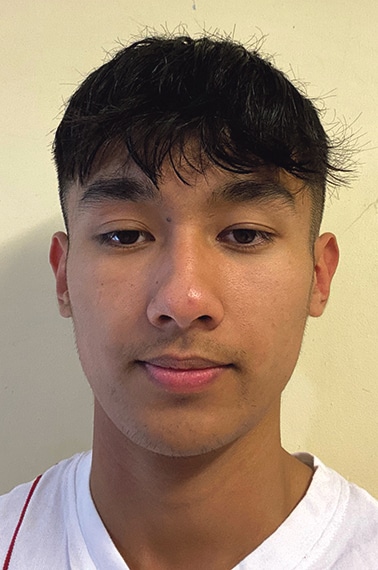 "Hopefully there is a vaccine by then," he says optimistically. "I'm hoping that the virus won't be a problem by the time I am graduating Sixth Year."
Harold believes that it's important to keep looking forward to normality and a life without Covid. "My worry is that this is going to become the new normal but my hope is that Covid-19 will be a forgotten nightmare."
Right now school is a real challenge. "Social distancing in school is very difficult," he shares. "The school is overpopulated with the facilities we have currently and our extension won't be ready until January.
"Currently the classes have too many students and the rooms are too small. The classrooms can only fit from 22 to 24 students but some classes have more than that," he says. "Although there is space between the desks, it is no more than a metre-and-a-half."
The change in teaching style to accommodate social distancing is also challenging for students. "Teachers aren't able to guide us in work as much as before. They also can't look into our copies due to social distancing." Harold is worried that the curriculum is being rushed because of how much learning was missed out on in lockdown. "And yet they expect us to do the same Leaving Certificate exam that everyone in the past has done," he says. He hopes that some concession will be made to account for this learning loss.
"School life is just very much inconvenienced now by Covid," he shares. "We're not allowed to hand up tests; we have to take a picture and send it on to our online learning app. But if we do hand up a test, the teachers have to let it sit for a few days before being allowed to correct it; then they have to let it sit for another few days. We get tests back slower. We also can't ask teachers to check our work due to social distancing. We always have to wear a mask and can't be near another student. We also have to sanitise our tables and chairs before and after every class."
Fortunately Clonakilty Community College is well set up for online learning. "We all have our own personal school Microsoft Teams account, which teachers are able to communicate to us through."
"We're able to receive and hand in homework on the app and we can contact the teacher personally if needs be. We haven't had online classes through it but the app has options that allow online classes to be held."
Harold and his peers miss the social outings that were a part of their life pre-Covid. "We miss not being able to go out and enjoy ourselves with people our own age. Before Covid happened we had planned a trip to Longitude, a music festival in Dublin. It's basically a Transition Year tradition to go and more than likely we'll miss it again next year. But overall we just miss the night outs."
Harold says he's coping pretty well with the 'new normal'. "At this point, life pre-Covid seems to be a distant memory," he shares. "Even though it's only been around for eight months or so, it has completely taken over life as we know it.
The student stays well mentally and physically by going to the gym and occasionally meeting with friends. But now under Level five restrictions these small privileges have been taken away as well. "It will affect us all very negatively," says Harold.
Harold's school offers five wellbeing classes every week, which are very much appreciated by the students. "With the stress of Covid and being in school, it's relaxing to have an easy two classes of wellbeing. It allows for some stress to be relieved in school. We also have a guidance counsellor, Ms Collins, who is available for counselling if needed."
Born in the Philippines, Clonakilty has been home to Harold for most of his life. The student, who has an interest in history and accounting, works parttime as a bar assistant in Inchydoney Island Lodge and Spa. He plays basketball outside of school with Skibbereen and says he likes to think that he's a decent player. He also enjoys playing guitar and going to the gym in his spare time.
Harold was in Transition Year during the last lockdown so his workload was small compared to other years. "We had weekly homework and were assigned essays and projects and so on. But we weren't pressured to do the work and I later found that most of the other students rarely did homework."
He shares how his sleeping and eating cycle was completely thrown off during this period. "It didn't really matter though because what did it matter what time I woke up. At one point, I was going to sleep at 7am and waking up at 5pm. In a funny way, I miss it. It was cozy!"
Note: A number of new teachers have recently been employed at Clonakilty Community College to alleviate the numbers in the larger classrooms, which has taken the pressure off in those classes.