In Clonakilty Lodge Direct Provision Centre, like everywhere else, 35 or so families are starting to think about Christmas. In homework club, the children are busy ticking off the days until the holidays on their calendar and are looking forward to making decorations with new Homework Club Facilitator, Sally Ann Lenehan. Santa will be making an appearance in the Community Dome on December 19 and there are plans afoot for other treats and surprises.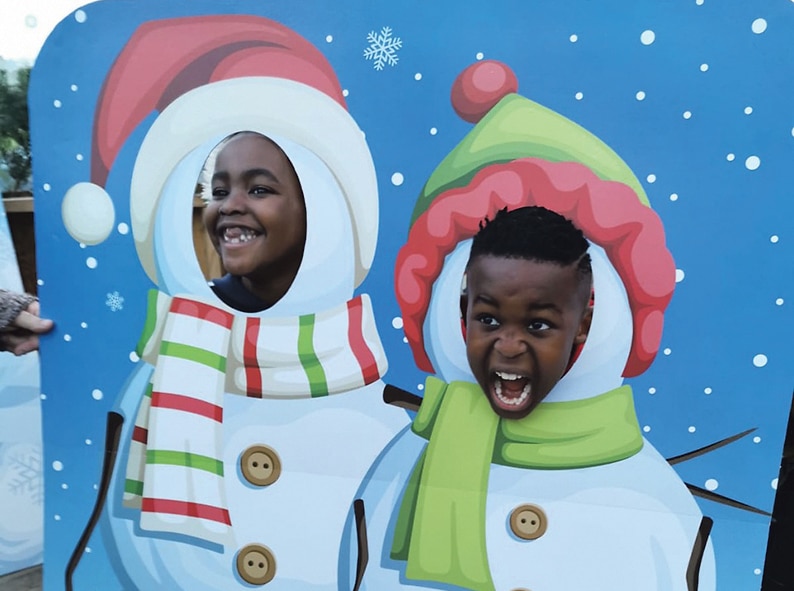 The past two years have been especially difficult for the Lodge residents who have continued to share their communal spaces with each other as safely as possible during lockdowns. Clonakilty Friends of Asylum Seekers (CFOAS) has been working throughout this time to support families living, working, and going to school and college, all the while contending with the huge challenges of life in Direct Provision. Despite the difficulties presented by Covid restrictions, the families from Clonakilty Lodge, members of CFOAS team, and friends in the community have managed to organise several events this year. As the country emerged from lockdown in June, a Mid-Summer International Bazaar celebrating food, fashion and music was hosted in Spiller's Lane. The well-supported afternoon led to a regular slot in the Clonakilty Farmer's Market where traders were able to sell gorgeous African clothing and jewellery, and adorn arms with henna tattoos. 
During the summer the children took part in numerous activities and were welcomed into many community-organised sports camps, as well as making great use of local beaches and outdoor amenities. Kitty Sisson, Service Coordinator with CFOAS particularly thanked Clonakilty RFC, Clonakilty Camogie Club, Clonakilty FC and FeelGood Sports for their generous inclusion of all the young sports players in camps and training throughout the season. "Playing sport and training with your school friends is a great way to feel part of the community," she said. She also acknowledged the on-going support of the West Cork Development Partnership (WCDP)'s Kathryn Kingston and Mark Gaffney whose practical contribution made the CFOAS Summer Programme possible.
The Summer Programme came to a close with another fabulous food and culture event hosted by the Clonakilty Lodge Residents in the Community Garden, which provided the perfect environment for a safe gathering. Entertainment was provided by Cork Co Council Outdoor Performance Scheme, and once again talented cooks prepared a huge spread to share, representing many countries and continents, and welcomed friends from Clonakilty and further afield.
A great addition to the town can be found in Deasy's Carpark where a brightly painted mural now covers the back wall. Project co-ordinator Kathryn Kingston (WCDP) said: "This is the product of another joint initiative with local groups and many of the younger residents of Clonakilty Lodge were excited to be able to make a permanent mark on the town." WCDP and CFOAS were delighted to work with Sheila Kelleher, Artist, Courtney Canning, formerly of YMCA and Sinead Burton West, Cork Community and Environment Project Supervisor in this wonderful Cork County Council Arts Funded Project.
All through the year CFOAS works with families offering support and advocacy across the large range of issues and challenges that come with seeking International Protection and living in Direct Provision. Groups such as St Vincent de Paul and other philanthropic organisations offer their generous assistance throughout to the team. But how can YOU help? The simple answer is that you can help 'Make Christmas Special' by donating to the CFOAS gofundme page in aid of their Christmas Appeal. The group is aiming to give all parents vouchers so that they can buy their own Christmas gifts for their children. All donations, however small, will be put towards making Christmas special for everyone in Clonakilty Lodge. CFOAS is also planning to help Santa by providing a toy or gift for his visit. If you would prefer to sponsor a gift, please be sure contact the team so that they can make a suggestion – this avoids duplication and makes sure the children get something they really want. You can donate through the Clonakilty Friends of Asylum Facebook page, by Facebook Messenger or by emailing kitty_sisson@hotmail.com.
CFOAS would like to thank everyone who supports their work: SVP, WCDP, Cork ETB, West Cork Model Railway Village, local businesses, private donors, elected representatives and Clonakilty Mayoral Council's 2021 Mayor Anthony McDermot who so graciously participated in many CFOAS activities this year.
Last but not least, the residents of Clonakilty Lodge and the CFOAS team would like to wish all their friends and supporters and volunteers a very Happy and Peaceful Christmas and Healthy and Happy 2022.