The Clonakilty Footballers have had a season to remember in the Cork Premier Senior Football Championship despite eventually losing to seasoned side St Finbarr's in the Final. A young Clon side, managed by 2009 winning manager Haulie O'Neill, performed with heart and desire in Pairc Ui Chaoimh, losing by just a single point in the end (0-14 to 0-13). The Brewery Town beat Ilen Rovers, Ballincollig, Duhallow and Douglas to get to the showpiece and Full-Back Tom Clancy tells Matthew Hurley he was really happy with the season.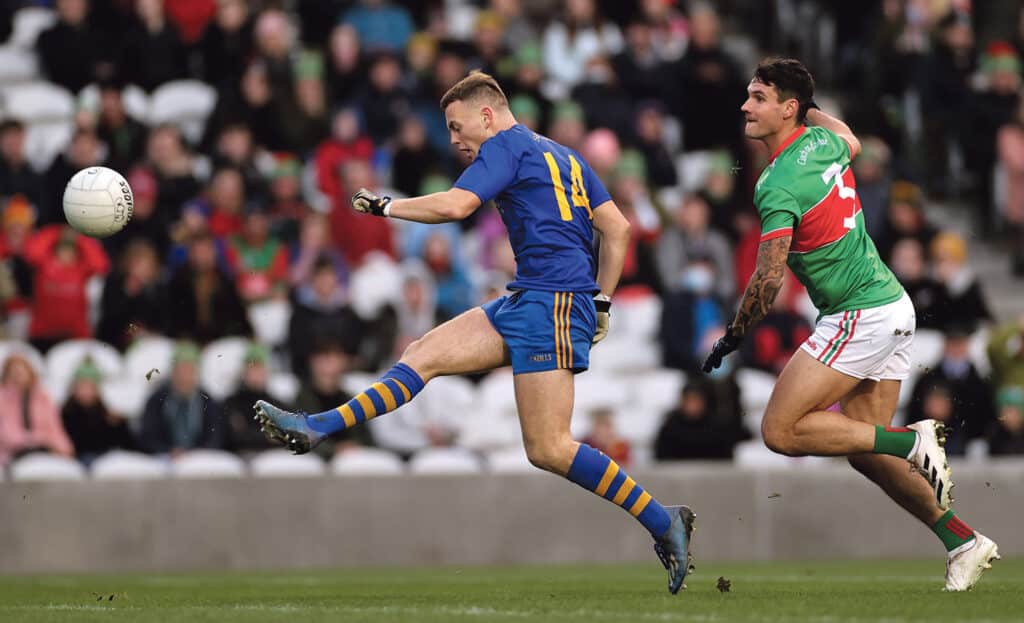 "I think if you told us at the start of the year that we were going to be playing in a county final against the Barrs, all the players would have been taking your hand off. It's been a very good season for us and a season that we've really enjoyed."
Clancy himself produced an outstanding performance for the West Cork club, keeping the championship's top scorer Steven Sherlock relatively quiet for large parts of the game.
There has been some brilliant individual showings throughout the season.
"It's very hard to pinpoint anyone. I think throughout the year, there have been different players that stood up in different games," Clancy said.
"Against Douglas, I think Sean McEvoy in fairness to him. He was just coming back from COVID, he hadn't trained in the two weeks since the Duhallow game and to be honest, we were worried if he was going to play or not and, in fairness, when he went out, he was probably the best player on the pitch.
"For the Duhallow game then, Joe Grimes stood up. When we needed someone, it was Joe Grimes."
The most impressive thing about Clonakilty this season was that all the team contributed in some way or another.
"If you go to a lot of the (Clon) games, there's been different players stand up in different games, which is great to see.
"We're not just relying on one player, so I think the team, the 15 players together and the subs that come on, they know the job that they have to do and we're just trying to do it to the best of our ability," Clancy added.
Clon beat West Cork rivals Ilen Rovers in the first game on a scoreline of 3-10 to 0-11, their biggest victory of the campaign.
The next game was seen by many to be the kickstart to Clon's season after beating Ballincollig, a team who virtually knocked the West Cork side out last year, 1-10 to 0-12.
"Last year, they (Ballincollig) gave us a good beating, a game we weren't too happy with. We didn't perform on the day, we weren't performing as well as we could have been last year," said Clancy.
"I think we all believed that we could beat Ballincollig. We knew we had the players to do it and I think once we got that win over Ilen Rovers, we knew the Ballincollig game was going to be a game that would decide if we got out of the group or not.
"I think as a team we performed very well. If that was another year when Ballincollig came back at us, we might've folded, and they might have snuck the victory, but I think we showed how good we are to get through that game.
"I think you could see by the reaction players, anyone that was at the game, the celebration after that game, it means so much to the team to get a very good win against a very good team."
After losing the last group game to St Finbarr's (1-12 to 1-5), a game that decided first place in the group, Clon had a Quarter Final against Divisional side Duhallow.
Despite being six points down with 15 minutes to go, Clon somehow made a miraculous comeback to win 0-13 to 1-9, scoring 0-7 in the last quarter.
"I think a lot of people at that game when they saw the score playing against Duhallow, who are traditionally a very defensive team, if you go down four or five points against them with 10 minutes left on the clock, it's very hard to pull it back," the full-back said.
"I would say credit to our forwards. They took some great scores at the end of the game, and I think a lot of people would have said that Clon needed a goal to win the game to get through the game, but we just kept working the scoreboard.
"We kept focusing on the job in hand, kept playing to our strengths, I suppose and once the chances came, before we knew it, we were level.
"Then we were up a point, and it just shows once you keep doing the right things and keep ticking over the scoreboard, you can get there eventually, and it was a game that we were delighted with."
Before the Semi-Final against Douglas, very few people gave Clon a chance, having seen Douglas beat defending champions Nemo Rangers in the last round.
However, Clon defied the odds again, beating the City side 0-15 to 1-11.
"Definitely, as a team, I think it was our best performance. We knew going up against Douglas that we were happy enough with how we were defending, but our offensive play needed to improve, and I think the game against Douglas is definitely the best game we have played going forward as a team.
"I think we started off slow, but after they got the first three points, I think we controlled the game.
"Going into the last six or seven minutes, I think we were five points up, so that penalty decision, I would say, was a big turning point. It kept Douglas in the game.
"If you ask me, I think we were definitely five or six points better than them throughout the game. The third game of the year, we were after winning by a point and that's a good sign of a team," said Clancy.
Despite a heartbreaking loss to the Barrs, there are loads of positives to take out of 2021 for Clonakilty, one being the youthfulness of the side, according to Clancy.
"I'm the oldest in the team, at 29. I think the next might be Gearoid Barry, who might be 26 or 27 and then there's a lot of young fellas in the team. If someone told you 29 was the oldest player in any team, you'd probably take it.
"I suppose Haulie (O'Neill) would have been saying it to us and Neill Deasy and the selectors that if we win or lose the Final, this team is still building.
"It's our first year with this management, in the next three to five years going forward, there's no reason why we can't be competing with the top teams in the county, and I suppose since Haulie's come in, he's set the standards and fellas are enjoying their football and as a Clon player, you will be definitely looking forward to the next number of years playing with Clon."
Haulie O'Neill was the Clonakilty manager the last time they won the county in 2009 and this year. He has made a considerable impact on the team.
"A lot of people ask what does Haulie bring to it, it's very hard to know, but I suppose the main thing is his experience," Clancy explained.
"He's been there, he's done it, he's been there in (19)96, he's been there in 2009, he's been involved in many more Clon teams throughout the year and I suppose he knows what works.
"I think what he's bringing this team is just simplicity, trying to get the basics right. (He) looks into the finer details, that it's the small little things, the basics that can add up to make a big difference at the end of the game."
Overall, this season was one with significant progress for Clonakilty. They reached their first decider since 2009 and their first Semi-Final since 2010.
"As a team, I think once you're winning, a lot of the enjoyment comes with winning games, something that this group of players wouldn't have experienced over the past number of years," said Clancy.
"Before we might win one game in the championship season, maybe two and then we could be knocked out, whereas now, we seemed to be after getting a nice run of games and we're all enjoying our football."
Despite the result in the county final, there's a feeling that this young, exuberant team is going to achieve big things in the next few years. This year was just the start.
The team now has a belief, given their performance in the Final and throughout the campaign, that their time will come soon. The future looks very bright in Clonakilty.