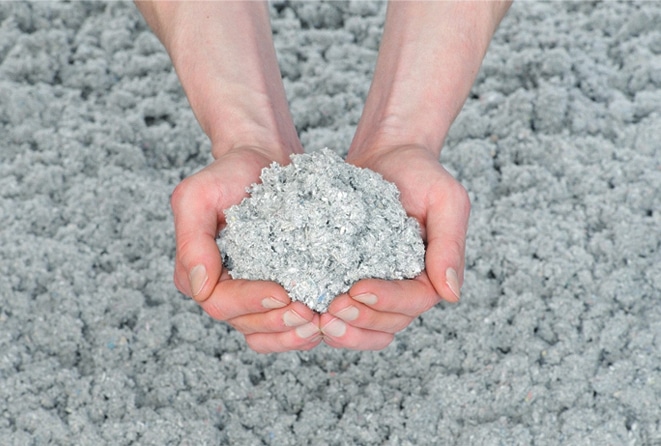 One of the simplest, most cost-effective solutions to saving energy in the home to the best achievable standard is one that's often ignored or forgotten about: According to SEAI, approximately 20-30 per cent of the heat within the home can be lost through the roof so insulating your attic properly can massively reduce heat loss and save you money. But what also needs to be considered is the type of insulation used. Cellulose fibre insulation is a safe, eco-friendly and superior quality insulation that is actually made from recycled newspapers, something that Cork based company Ecocel has been doing for over 12 years. 
According to John Egan, CEO of Ecocel, 95 per cent of all homes have inadequate insulation in their roof and walls. "The simplest, most effective way to save energy in a home is to insulate the attic to U-value of 0.11 W/m²K, which is achieved with 300mm Ecocel cellulose," says John "In our experience very few homes are insulated to this value, a situation that is not helped by setting the new standard for attic insulation at a U-value of 0.16 W/m²K. An attic insulated to a U-value of 0.11 W/m²K will pay back the cost of doing the work properly in two to three years." But The real value of insulation is the amount of energy that it saves over its lifetime.
Cellulose is also a more environmentally-friendly alternative to imported mineral fibres, which have a higher carbon footprint.
The biggest carbon footprint in most building products is transport. Ecocel in fact has a neutral carbon footprint, as it consumes very little energy in the manufacturing process and has limited transport needs. All of its paper is collected locally.
John explains some more of the benefits to insulating with cellulose fibre: Cellulose is safer in a fire than mineral wools. It doesn't burn – it's treated with safe fire retardants." Cellulose is also healthier.
Imported mineral wools can only absorb moisture – they can't release it. "So there's more chance of mould in the house, which is a health issue, whereas cellulose, a natural fibre, can take in and release moisture, thereby improving air quality in the house."
Ecocel cellulose is ideal in timber frame walls, sloping ceilings and flat ceilings. "225mm in a timber frame wall or sloping ceiling achieves a U-value of 0.14 W/m²K." It can also be used acoustically in party walls and floors, especially in floors with pipes, cables and MV ducting; as it is injected under pressure, it fills every void, which is not possible with roll-out material.
Global Award winning Architect, Marc O'Riain is one of Ireland's premier interior architecture professionals with over €200m in realised projects. Marc has completed a PhD in low energy building retrofit. When asked about his reasons for choosing Ecocel as an insulation product Marc responded: "Health, air quality, thermal resistance and sustainability are the driving factors in the specification to ensure a building's longevity and its inhabitants. Ecocel came top of the class in all these areas for an insulation product."
All aspiring passive house builders' concerns about carbon footprint can be addressed by designing a building with Ecocel cellulose as the main insulation.
Guaranteed Irish, low carbon footprint, energy savings – all from one Cork-based company.