With housing representing a quarter of all CO2 emissions in Ireland, improving the energy efficiency of our homes is essential and SEAI is encouraging homeowners to avail of their home energy upgrade grants to reduce energy consumption and costs and make homes more comfortable, as well as greener. West Cork People shares Xavier Dubuisson and Susan O'Flaherty's journey retrofitting their old stone farmhouse over a 20-year period; gradually adapting and upgrading for an expanding family and for energy efficiency and eventually reaching an A3 BER rating.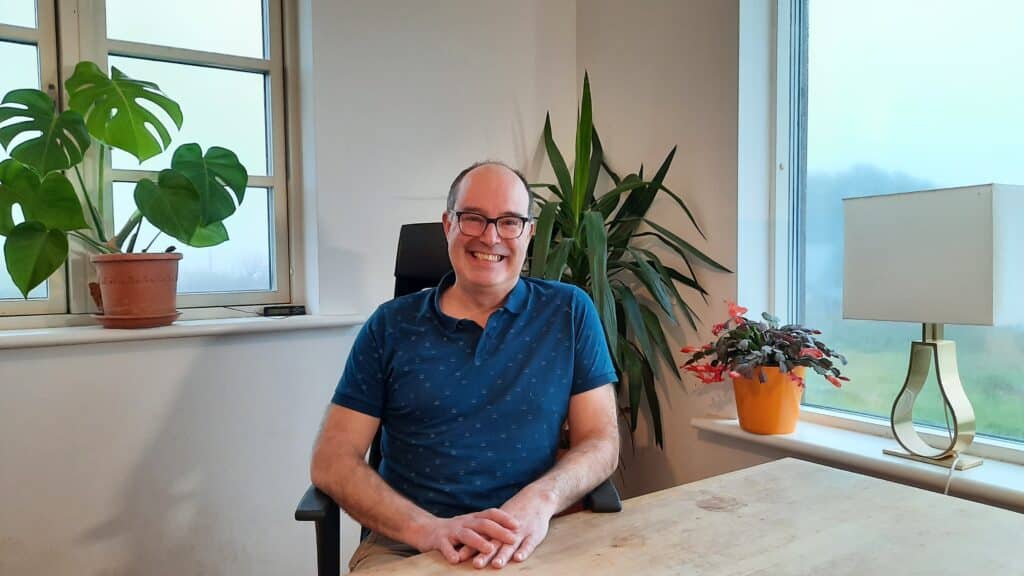 After moving to Clonakilty from Brussels with their young family in 2001, Xavier Dubuisson and Susan O'Flaherty bought an old stone cottage in Ballinglanna. Although set in a stunning location overlooking the Atlantic, there was a downside to the charming coastal property: as is the case with so many old cottages in this country, it wasn't very energy efficient. Over the past 20 years however, the couple has demonstrated that where there is a will there is most definitely a way and they have successfully turned the old stone cottage (pre-WWII) into an impressive A3-rated house.
While Susan and Xavier may have an inside track when it comes to making the transition to a low-carbon, resilient future – Xavier is an engineer who specialises in sustainable energy and they are the company behind RetroKit, a digital solution in supporting energy upgrade projects – Susan is keen to point out that an energy upgrade is achievable for anyone, whether you have the technical knowhow or not and whatever your financial situation. "We felt that it was important to be walking the talk," says Susan "and demonstrate that upgrading your home doesn't have to be done all in one go. Just small steps to start like attic insulation can make a difference. It took us 20 years to complete all the steps, using Superhomes as a one stop shop, but we now have a 100 per cent renewable energy supply in our home."
One of the first changes the couple made on moving into the old cottage was to install rooftop solar thermal panels (for hot water) rand replace the old oil fired range with a condensing oil boiler. It was smelly and noisy," says Xavier of the old oil boiler. While taking out the Stanley stove, they also broke through the kitchen wall and opened up the living space for light and heat, overall making it a more pleasant and comfortable space. They also installed two wood stoves, which are now only used occasionally.
"At the time we changed the oil boiler, heat pumps were not applied in existing homes, and were very expensive, or we would probably have gone for one instead of the condensing oil boiler," explains Susan. You also need a certain level of insulation in a house before putting in a heat pump or you won't see the benefits; your energy usage and cost will be high," says Xavier.
To avail of an SEAI grant to install a heat pump system, homeowners will first need to ensure their home is well-insulated. SEAI also provides funding towards a technical assessment of your home by an independent SEAI registered technical advisor, who will help you make an informed decision and ensure your home and the heat pump system are a good match.
"Having the likes of a one stop shop through SEAI should make things easier, as homeowners won't have to deal directly with contractors," says Susan.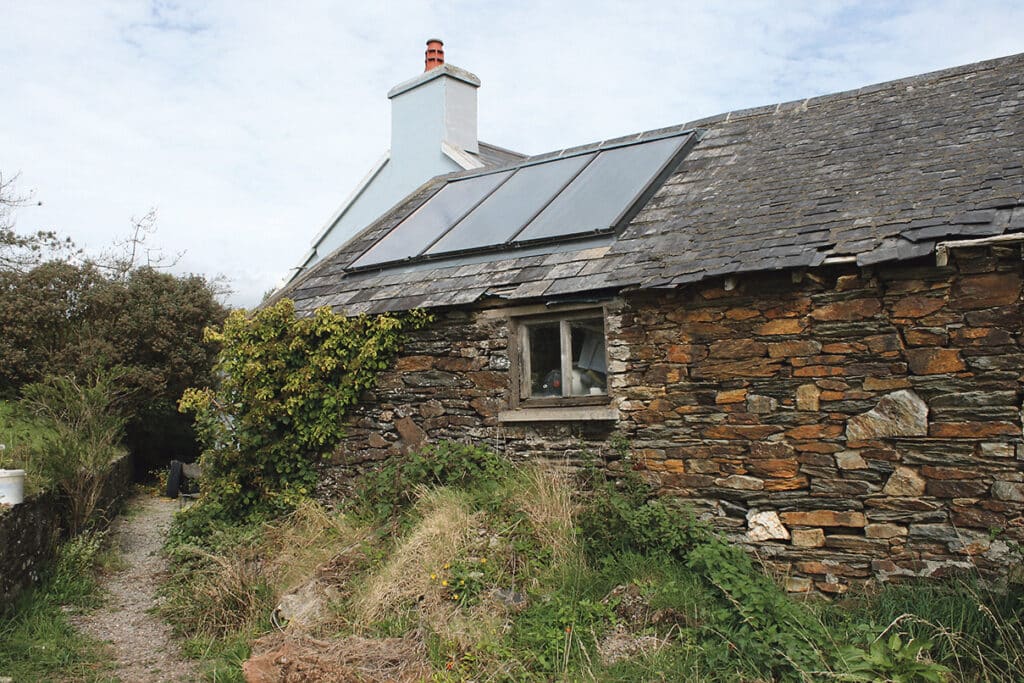 While their attic has been insulated with cellulose insulation, a natural material that's designed to minimise energy loss more effectively than mineral fibres, external insulation is still on the wish list. "It was too expensive for us at the time to externally insulate the old stone walls but the cavity walls on the single story extension, which only had one inch of insulation, were pumped with polystyrene bead insulation," says Xavier. The couple also replaced the front and back doors with passive house standard doors that reduce the heat loss from the glazing and are also much more airtight. "Getting a good quality of air tightness is relatively easy," says Xavier "if you've done the low-hanging fruit jobs in terms of attic insulation, appropriate cavity insulation and so on." The cottage windows are PVC and double glazed so if they decide to replace them with triple glazing that will done at the same time as the external wall insulation.
"That's why having a plan is really important," emphasises Susan. "So you have logical steps to follow that will save you money in the long run."
The demand control ventilation (DCV) system they installed ensures airtight homes are adequately ventilated. "It manages the air quality very well in terms of moisture and smells," says Susan.
By 2016, Susan and Xavier had achieved a C1 building energy rating (BER) but wanted to take their home a step further and move away from oil. They decided to replace their oil boiler with an air source heat pump and controls.
A heat pump system harnesses energy from free renewable sources outside the building, for heating your house and producing your hot water. Most heat pump systems have integrated heating controls, helping you to accurately match your space heating and hot water schedules to the working and living patterns in your home, so when heat and hot water are required, it is there; and when it is not required, it is turned off. Using the heating controls in your heat pump system will typically reduce your energy usage by up to 20 per cent.
"I was a little bit worried at the beginning about the hum (noise) off the pump but it's not at all intrusive," shares Susan, who does advise asking your energy provider about getting an Equaliser, which will enable you to spread your electricity costs out across the year.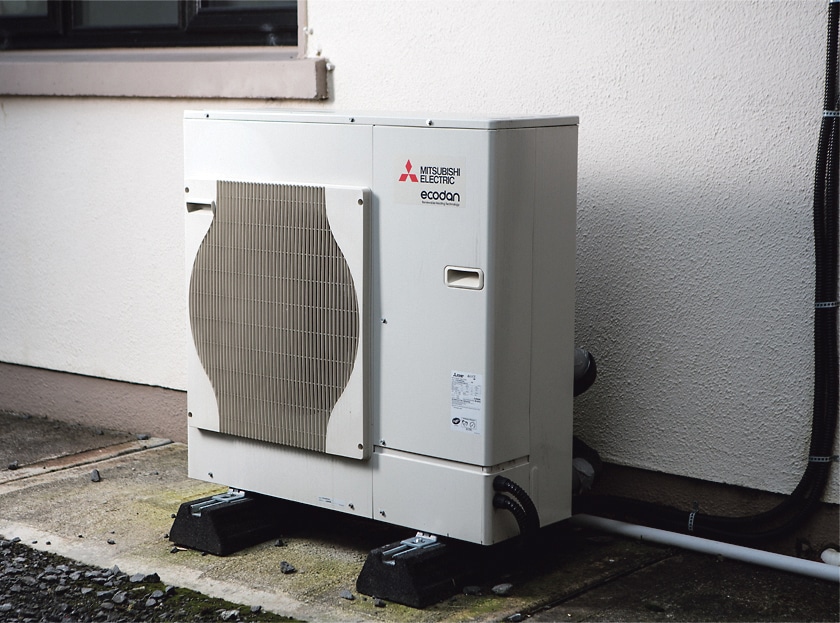 "Your electricity bill will definitely go up in the winter, as your heat pump has to work harder, so in my opinion an Equaliser is really important," she says.
Another piece of advice is to get your windows serviced if you can't afford to replace them. "It made a big difference when we had the job done," says Xavier.
"It's good to be prepared," says Susan. Most people won't replace their oil burner or windows and doors unless it's absolutely necessary. In the meantime, think about doing some research and putting a plan in place so that if the worst does happen, you'll be ready for it and in a position to upgrade rather than run out and buy another oil boiler!"
The couple also opted to install ground-mounted solar PV panels in the garden. The PV panels feed electricity into the house and, whenever there is demand, it is used. Any excess electricity produced goes into the domestic hot water tank.
Xavier and Susan's advice to anyone not sure where to start when it comes to a home energy upgrade is to get an energy assessment done. "As well as giving you different options, you'll also find out how many years it will take to pay back the investment."
Xavier and Susan were also able to switch their AIB mortgage in-house to a better fixed rate because of their A3 rating. "It was really easy to do," says Susan.
Right now they're producing more energy than they need, so the future plan is to invest in batteries [to store excess electricity] and then to invest in an electric car.
"Getting independent advice before you move forward is the most important piece of advice I can give," stresses Xavier. "A one stop shop should offer independent advice, as well as technical delivery and quality."
The family are delighted with the comfort they have now in such an old house. Xavier says it's fantastic not to be relying on oil. "I can't remember how many times we ran out of oil and you'd be in the cold for a few days waiting for the delivery man to arrive and then there'd be a dirty mess getting things running again."
Susan and Xavier now have a carbon footprint to be proud of. In fact, not only is their home energy efficient but the couple work mainly from home helping others to reduce their carbon footprint. Together with a very talented team of engineers, software developers and designers, and with research funding from SEAI, they have created RetroKit – a software solution designed for engineers and managers in local authorities and housing associations, to help them decide on the best way to invest in the energy upgrades of their housing stock.
It is imperative that the residential sector reduces its carbon emissions to net zero carbon by 2050 and that fuel poverty is eradicated (16 per cent of Irish households surveyed by the Society of Vincent de Paul say they are not in a position to heat their home adequately).
Despite these challenges, right now only two per cent of Irish homes receive an energy upgrade annually and 70 per cent are still in need of an energy retrofit – something RetroKit is working towards changing.
For more information on SEAI Home Energy Grants go to SEAI.ie.