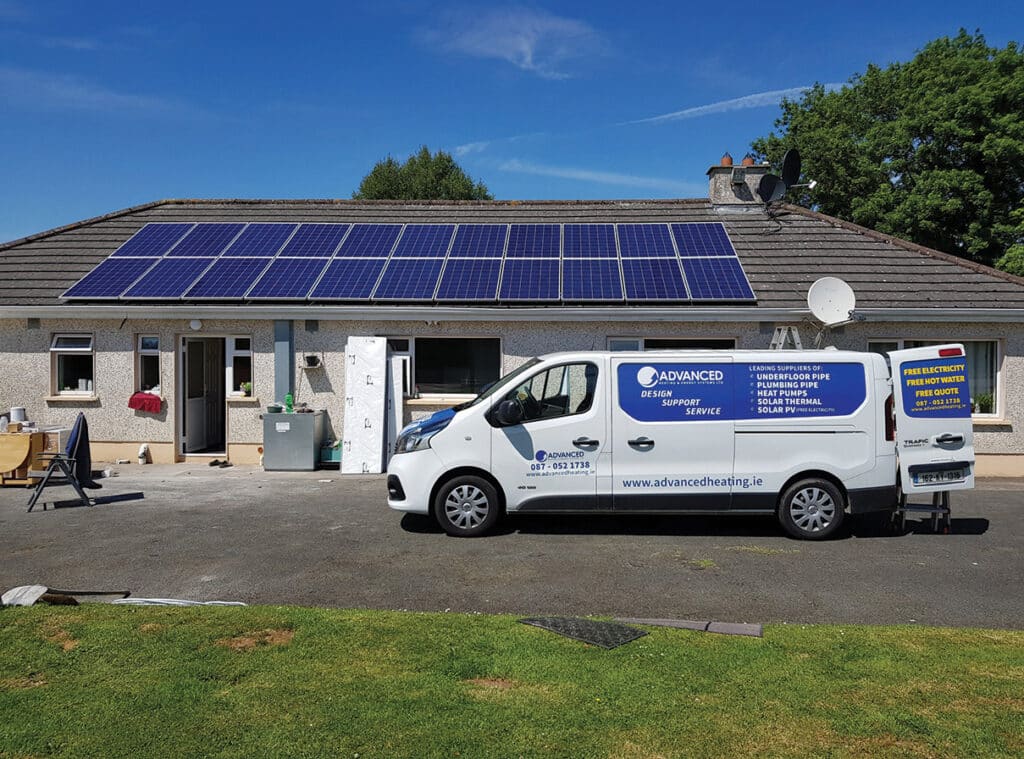 As we move towards clean green energy, Solar Photovoltaic (PV) is unquestionably part of the solution. Converting energy from the sun and turning it into electricity, a PV system will not only improve your energy rating but can offer huge potential savings in your electricity and heating bills.
Paddy Rose, Renewable Energy Manger at Advanced Heating and Energy Systems Ltd explains that, "Different rates may apply but if you take a cost of a unit of electricity as being .15 cent without the VAT, then If you spend €120 per two months that is about 800 units per two months. 800 units per two months over one year is approx. 4800 units per year. So if you install a 4kw system, it will give you approx. 3700 units per year and 3700 units per year at .15 cent is €555 in potential savings!"
While in general Solar PV works well in the Irish climate, there are variations that need to be taken into account. "We always explain to customers that a PV system is dependent on the climatic conditions, and clearly outline how production will vary based on this, so the customer will understand how their system will be of benefit to them," shares Paddy.
While the principle behind Solar Photovoltaic and Solar Thermal Panels is the same – both use solar radiation (energy from the sun) to create usable energy – Solar PV creates electricity whereas thermal systems are used directly for heating water or air.
"Solar PV uses the sun's raw energy to create 'free' electricity, which is used first, before grid electricity, to support any Item in the building that is drawing power. It can also be diverted to assist with hot water production," explains Paddy.
Air to Water heat pumps can be supported by PV (electricity) in cost reduction.
Solar PV systems can start from €3000 upwards. The electricity you use annually will determine the system size to install.
Advanced Heating and Energy Systems Ltd supplies and installs PV, from domestic to commercial, ranging from 4kw to 150kw systems.
Paddy Rose first installed Solar PV over 15 years ago, so has the experience, as well as a West Cork and Kenmare base, serving a nation wide clientele.
For more information or to get a free consultation contact Paddy Rose on 087 0521738.