Moving regularly and being physically supported with ergonomically designed furniture are key to working well at home. The benefits are numerous and include promotion of circulation, improved memory and concentration, elevated mood and reduced stress, and healthier joints and muscles. All of this leads to a more productive home office environment and healthier employees, and should therefore be a top priority for employers this spring.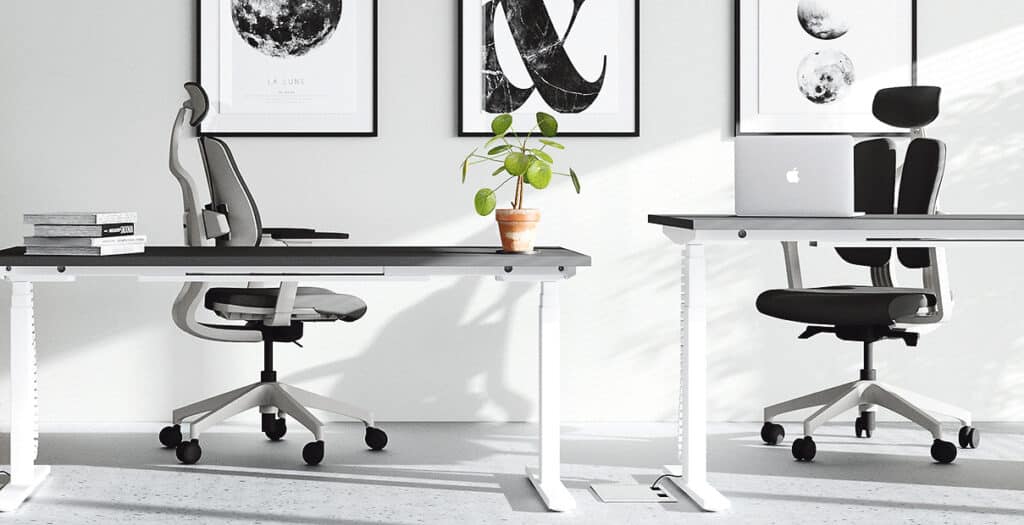 As workers and students alike spend more hours than ever in a static seated position at home, Trevor Kingston of High Resolution, West Cork's mobile office suppliers, has experienced a big uptake in orders for ergonomically designed office furniture to combat common issues like neck and back pain. "When not working or studying from home, people normally get up and move regularly – to speak to a colleague, use the photocopier, switch classrooms – but none of that is necessary now so they are finding themselves crouched for hours at the kitchen table or a makeshift desk and not good for your wellbeing," Trevor says.
"From an employer's perspective, it's like giving an employee a slow computer…..the work productivity is going to be limited."
The Irish Society of Chartered Physiotherapists (ISCP) has a whole section on working better from home on its website in which it provides advice if buying an office chair: To help you keep your focus and work productively and comfortably, choose a five-star base with a height adjustable seat, backrest and arms (or no armrests if not adjustable). The backrest should also be tilt adjustable or have lumbar support.
High Resolution has a range of chairs that fit this brief but also fit a range of budgets, from just €150. The most popular is the Positura Chair, which comes in at €270+VAT (not a bad investment when you think of potential savings against Physio bills). "This is a really great chair that has deep contoured cushioning with an ultra ergonomic contoured backrest," Trevor says. "Most popular is black and blue but it is available in a huge range of colours to personalise your office space. However, we are all different and you might have to try a few different brands before you find the perfect fit. I bring a selection chairs to your home to 'test drive' to make sure you choose the right one."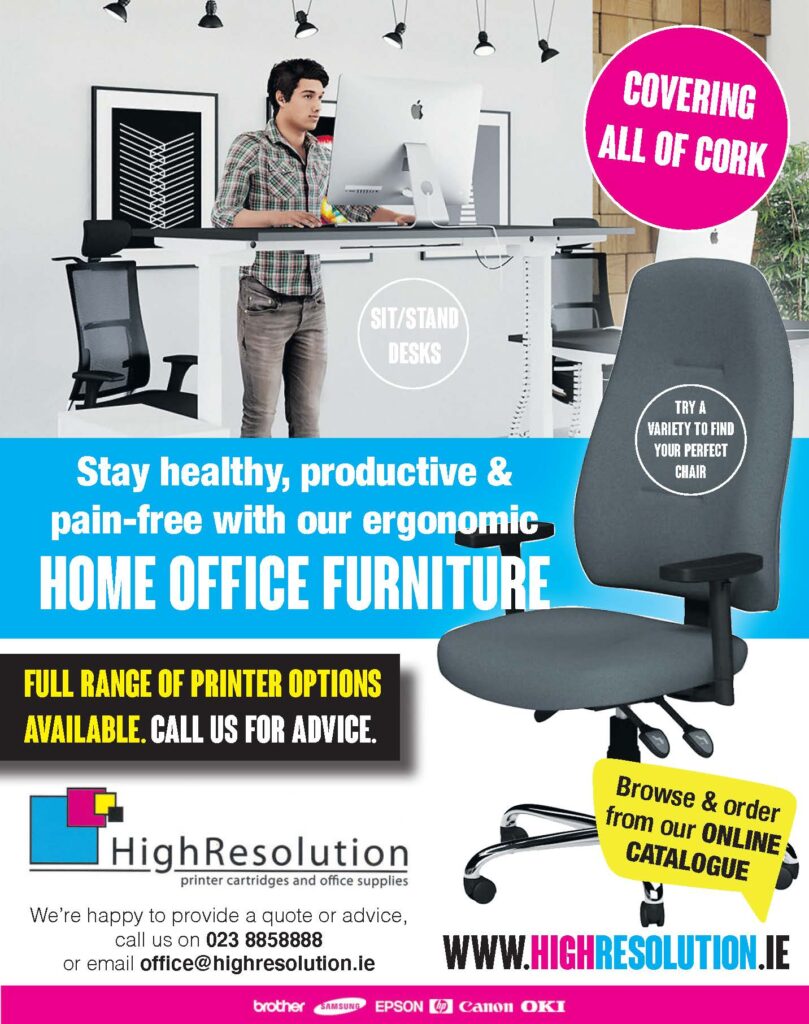 To get the most out of your chair, the ISCP advises adjusting the chair height so that your upper arms are relaxed by your side, and your wrists are in a neutral position when your hands are on the keyboard. If you need to raise yourself up to achieve this, then your feet should still be supported to support your back – if they fall short try one of High Resolution's foot rests.
Now adjust your backrest height and tilt for your comfort. Finally move your chair as close to your desk as is comfortable (this is why adjustable armrests are necessary) and try to always sit with your back against the backrest. A proper work desk is of equal importance, High Resolution has a wide range starting from just €100+VAT.
While a good chair and desk will certainly help, ultimately staying seated for long periods causes weight pressure to be unevenly distributed over the spine, and the leg and gluteus muscles become inactive, thus reducing your ability to sit up straight. We often think that it is just standing for long periods that causes swollen ankles and varicose veins, but actually remaining seated for too long also causes fluids to sink down into the legs!
This is where a sit/standing desk comes in and High Resolution has a number of solutions. The Leap desk (from €475+VAT) is electrically adjustable and goes from 655mm to 1255mm in height with simple touch-sensitive controls. The Leap has three memory features which enables the user to save their preferred sitting and standing heights, so there's no faffing about.
An alternative is the Corsivo, which converts your existing desk into a sit-stand workstation with a spacious upper platform that holds two monitors, or a monitor and laptop, and the bottom level that holds a keyboard and mouse. High Resolution currently has 60 per cent off this model making it very affordable at €210+VAT.
There are lots of other ergonomic products available from High Resolution that will help you achieve an optimal work/study space such as keyboards, computer mice and gel wrist pads. See www.highresolution.ie for the full range or contact Trevor on 023 8858888 / office@highresolution.ie to get his advice on all office furniture – you won't find a more knowledgeable source for what office aids are available.