Baltimore-based Foxglove Cocktails was the winner of the Emerging New Business Category of Network Ireland West Cork 2021 awards and will now go on to compete at national level this October. The small craft brand produces non-alcoholic craft cocktail mixers and garnishes, designed for creating cocktails (alcoholic or non-alcoholic) at home. Co-owner Tara Copplestone tells West Cork People how she mixes the right ingredients for personal and professional success.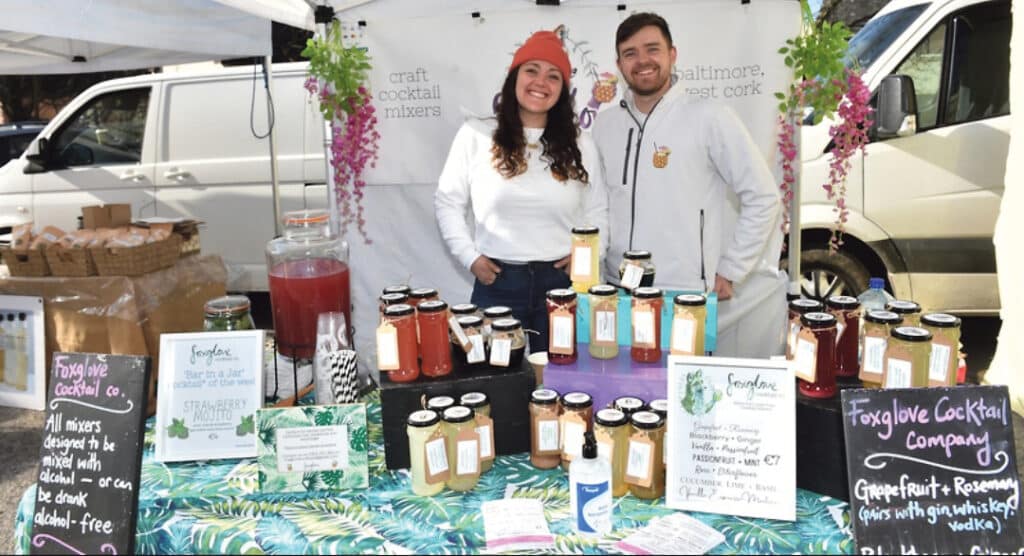 Tara Copplestone set off for New York City a decade ago with a Masters in Public Relations and Media and a dream of becoming a hotshot public relations girl. Her experience of part-time work in Irish hospitality served her well in bartending to support her PR job hunt, which ended when she landed a position with Pernod Ricard as a Promotional and Sales Manager for Jameson. Four years later Tara left Pernod for the new challenge of helping to open a sports bar in Midtown Manhattan in 2018.
Although sometimes tough and tiring, Tara finds the hospitality industry to be an exhilarating place to work in, "It's fast-paced, good craic and never too far from great food and drinks!" she says. "As a bartender/bar manager In New York, you work primarily off tips; in essence, you need an entrepreneurial spirit to be successful – to fill your bar with customers, get them all to order drinks, and most importantly, to get them to stay at your bar all night. New York is so competitive when it comes to the bar industry, so you have to be on the ball."
When NYC instructed all bars and restaurants to close on March 16, 2020, Tara found herself unexpectedly furloughed with time on her hands. "I was living alone so I decided to come home to Baltimore to ride out the 'two-week lockdown' by spending time with my family, a concept that was so foreign to me as March signals the start of a busy basketball season in the bar; not to mind St Patrick's Day celebrations!"
This 'temporary' move proved pivotal for Tara, as it was during this first lockdown that she made the decision to stay in Baltimore permanently, and not return to her job, apartment and friends in New York. Instead she started a business, Foxglove Cocktails, with her brother Rory.
"I was naturally thinking about ways I could fill my time during Summer 2020, and the idea of non-alcoholic craft cocktail mixers was my lightbulb moment!" Tara explains. "A mix of my bartending skills, my entrepreneurial sense and the ability to work in West Cork with all natural ingredients, it was the perfect storm of ideas."
With fiercely entrepreneurial parents behind them, the siblings had a good grounding in both business and hospitality; Rory had just finished his final exams with Shannon College of Hotel Management but his first job in Atlanta, Georgia, had been cancelled indefinitely.
"We were making cocktails at home throughout the first lockdown and discussed how people love to drink cocktails, but often they need some inspiration, or someone to take the fuss out of the preparation. So Foxglove Cocktails was born on the premise of 'More Fun, Less Fuss'."
Since launching in Skibbereen Farmers Market in June 2020, Tara says she has "been blown away by the support given to small businesses and start-ups in Ireland – it is incredible! If you are starting a business, let your Local Enterprise Office know, and they will give you all the information you need. We have received great support from them, most notably two grants, the Trading Online Voucher and the Priming Grant, both of which have helped us immensely. LEO offer everything from online courses to funding to mentoring – the support of our LEO has been a game changer for us."
Her other quick tip for startups is Canva.com as the easiest, one-stop tool for creating a consistent and cohesive brand.
Foxglove is aiming to launch a few products with local Supervalus next month through the Food Academy programme, and "we will bring out some fun, seasonal products for Christmas," Tara promises, "as well as a few extra surprises – but we will keep that a secret for now!"
Achieving a work/life balance is important to Tara but it is "a work in progress," she admits. "I am guilty of struggling to switch off on my days off but I'm learning to take advantage of being your own boss. Our dog, Jackson, recently passed away very unexpectedly; Rory and I unanimously agreed to take a few days off work, just to be with our family and process the shock of losing him. We were lucky to be in that position but taking a break without guilt is my big challenge."
Longterm, the entrepreneurial siblings hope to grow their distribution with Supervalu and local independent stores, and to get involved with events, weddings and festivals.
For the moment they take great pride in the fact that they have conceived an idea and put in the hard work to bring it to fruition in their home village. "I had always assumed I needed to be in Dublin or Cork to pursue a career in this industry," Tara says. "I love that we have built a business in a place that we love and that I can work alongside my brother everyday; he keeps me very grounded and makes me laugh more than anyone else I know so we make a good team.
"In 10 years time, I see Foxglove as a well-established, national brand, both in retail and in the hospitality industry. Personally, I see myself in a fabulously renovated vintage truck, driving all around Ireland (and maybe beyond) serving cocktails at festivals and events. What a joy!"