As one door closes another often opens. Just 12 months after returning from Australia to work in her family business, as it adjusted to trading in a pandemic, Niamh Scally has taken a small inhouse brand and grown it into a fully fledged independent business – Clonakilty Gluten Free Kitchen. Some might have thought it a half-baked idea to start up a business in such a challenging year but the bakery's rapid growth has proven otherwise. Niamh speaks to West Cork People about her challenges and successes so far.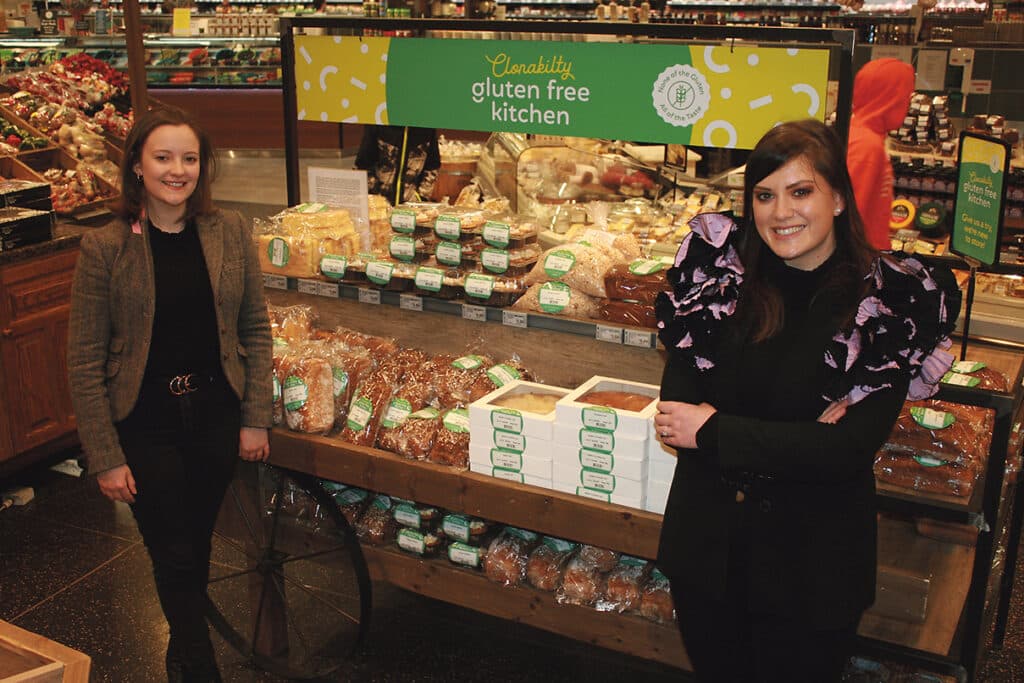 For many years a hallmark of Scally's SuperValu in Clonakilty has been its huge selection of breads and confectionary, produced in its bakery in-store. However, with approximately 50,000 people living with Coeliac Disease in Ireland, and another 500,000 with a mild to moderate gluten intolerance, a number of customers could only look longingly at the shelves as they moved on to the small selection of packaged gluten free goods available. 
Niamh, who has studied food psychology, is emphatic that: "Coeliacs need choice and to be included, just like everyone else. Sitting down to eat with the family is such an important ritual and nobody, child or adult, wants to feel excluded."
Six years ago, a decision was made to invest in a specialised gluten free bakery at Scally's – Clonakilty Gluten Free Kitchen. A conversation with the mother of a Coeliac child who wanted a novelty, gluten free birthday cake just like the others, inspired Eugene Scally to offer much more to Coeliacs than just one or two varieties of bread.
"From day one the Clonakilty Gluten Free Kitchen brand focused on variety and taste so that the whole family could enjoy our products…especially at big occasions," explains Niamh. "At that time, my mother Catriona did a huge amount of developmental and research work to develop the range as a brand."
That ethos stood to the brand and before long loyal customers were travelling quite a distance to buy the products in the Clonakilty store. Seeing this gave Niamh the confidence to grow it as an independent brand; "instead of bringing them to us, why not bring our product to them?"
Last autumn Clonakilty Gluten Free Kitchen relocated to a Cork County Council food production unit in Bandon. "Coeliac Disease is a serious condition and producing gluten free products is a huge responsibility. If you have a gluten intolerance you might feel a little uncomfortable but just one stray crumb could make a Coeliac seriously ill. The regulations and food safety requirements that we must follow are very strict – from ingredients specification to product testing."
Whilst safety is at the top of the list at all times, flavour and the providence of ingredients do not suffer for it. "We work extremely hard on our recipes to ensure that we can achieve the great taste that we are known for, whilst using local suppliers that are certified as gluten free – for example using West Cork's Irish Yogurts in our oat and yogurt loaf. If producers can be certified, it gives us more opportunities to develop our lines whist maintaining our local produce values.
"I like to say 'our bread is here for a good time not a long time' – no nasties are included just to prolong shelf life and there is a genuine appreciation from customers for having 'real' bread."
It has been a hectic six months since the production move. "When I started, the brand was only stocked in our family stores in Clonakilty and Blackrock. Today we are stocking 11 stores, a mix of Centras and SuperValus. As of last week, our range is now available to shop online, or click and collect, from those stores that we stock that offer that service."
Having added so many stores in such a short time, Niamh's plan is to let those settle, "and continue getting to know our customers and them us! It's been challenging to build a relationship during the current pandemic and from a supplier perspective, having that relationship with customers is key. As a marketeer, it's important to me for customers to get to know the people behind the brand.
"In my new shops I only stock our four most popular breads. As people become more familiar with the range, my plan is to start adding new lines. We have recently been trialing a new Corn Bread and Brioche in Clonakilty and the response from Coeliacs has been wonderful! I'm so proud to be able to offer unique products and choice to Coeliacs."
Niamh's path to running her own business has been on the horizon since she was a child: "If asked what career I was interested in I would always say 'I want to be a businesswoman'. Since coming out of college I have been laying the foundations."
A degree in Food Marketing and Entrepreneurship from UCC was followed by the Musgrave Graduate Programme, after which Niamh continued working in business development for Musgraves for a number of years before a desire to get international retail marketing experience took her to Melbourne, where she worked with the famous Coles retail group, before the pandemic brought her back to the family business.
"Whilst some would think this was a bizarre time to start a new business, it has brought me so much joy and given me a focus." Niamh says. "The business takes up so much of my everyday thoughts that I don't have a chance to get bogged down worrying about Covid all the time.
"Of course it has been challenging with not having the usual opportunities to taste our products in-store or meet customers, or of course having customers actually in-store to shop, especially when the product wasn't available online; at the same time people are extra conscious now of going out of their way to support small local brands and support from retailers has been overwhelming."
Like many local producers, it is a small team of just three for the moment at Clonakilty Kitchen. Niamh would describe herself as wearing many hats: Managing the overall business "delivery driver, sales person, marketeer, bakery technologist – some would describe me as 'the gal in the van' but my job description is expanding by the day!" Baker Jacek Chromik has been working within the Scally family business for 10 years but has a lifetime of baking experience and is a real expert, "He turns out the entire range by hand and I'm so grateful to him", whilst Gillian Moore from Clonakilty, who has just completed her masters in Food Business & Innovation in UCC, is responsible for the production side of the operation, managing vital aspects of the company like food safety and supplier management. "We work together on developmental plans to grow the brand. Over the years, Scally's has had so many young talented people start their working lives in the store before moving on in their careers. I was delighted to be able to bring one such talent, Gillian, with me and she has been a real asset."
Niamh values the experience and advice of seasoned businesspeople: "My dad Eugene is definitely one of my number one supporters and motivators, along with my mother Catriona. They have been through it all, the highs and lows of business, and I am so grateful to them both for, most of all, their encouragement, cause God knows sometimes you need it! They just get it. My fiancé James is always there for me too at the end of the difficult evenings and has been a rock and a wonderful support."
She also works closely with her brother Eoghan and Michael Walsh, both of whom manage Scally's supermarket: "They have different strengths to me and have been invaluable in helping me start the business and are still there to advise me."
She is also not afraid to pick up the phone to bounce ideas off other local producers, "we are so fortunate to be in a wonderful hub of food suppliers in West Cork! It's a lovely support network and I am delighted to be able to contribute to this sector for Clonakilty too."
"It's a challenge and very busy but we have a lot of fun too. We have a lovely team with good energy, positive vibes and a hopefully bright future."
Clonakilty Gluten Free Kitchen is included in the Coeliac Society of Ireland Food List for 2021. The full range is available in SuperValus in Clonakilty and Blackrock. Other West Cork stockists are: Caulfields SuperValu Bandon, O'Leary's Centra New Road Bandon, Centra Inishannon and Centra Aherla.