Paul Healy is the General Manager of the Rubicon Centre, Ireland's largest enterprise incubator centre, which he has grown since it opened in 2006. With over 25 years' experience in developing start-ups/scale ups across all technology sectors, Paul has first-hand experience of raising finance, accessing new opportunities, strategy, and company development.
He is a graduate of UL and University College Cork and is an advocate for further Economic Regional Development particularly in West Cork.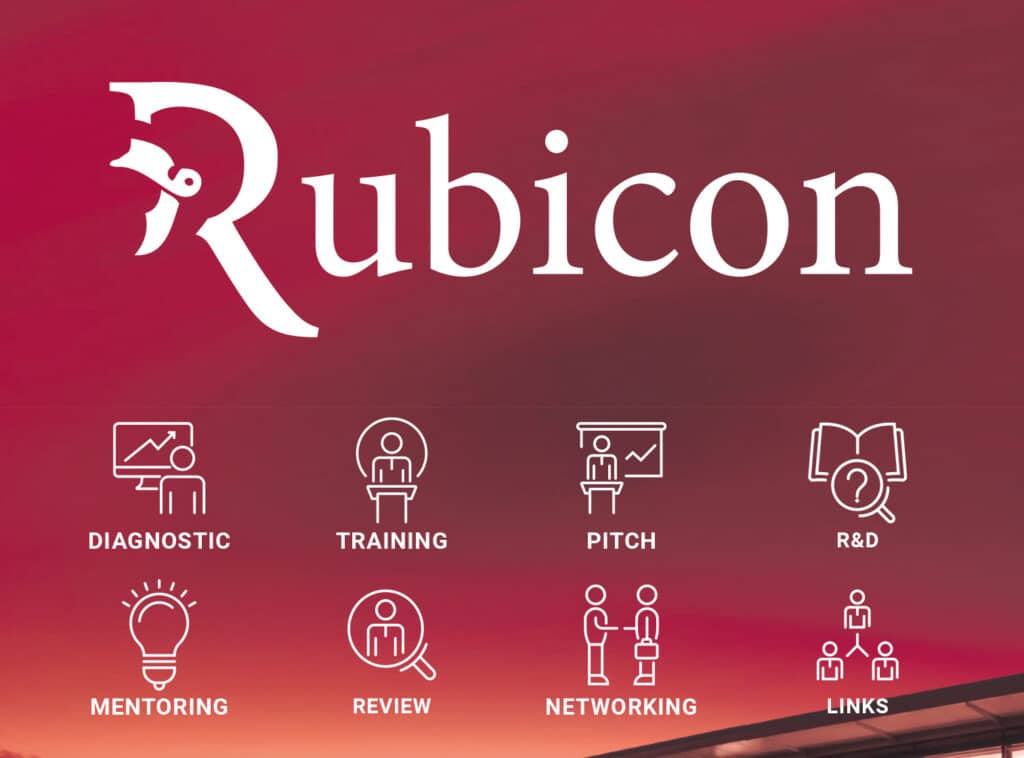 Running an incubator in normal times provides lots of opportunities to meet talented people who are based either within the Cork region or thinking of making their home here. Since March 2020, the Rubicon team have continued to work with start-ups and scale-ups across the South West region. 
I recognise that starting or scaling a business during a pandemic is no easy task. There are the additional challenges of not being able to sit in front of potential customers wherever they may be. Instead, one is left engaging with customers through a zoom call. It's not the same thing that's for sure. I can remember how it used to be done; the friendly chats, coffee, going to networking events and entrepreneurs of all ages working together providing solutions to problems of today and the future.
The pandemic has brought lots of opportunities, as well as some challenges we thought we'd never have to face. On a positive note, many first-time entrepreneurs, and those who had been in business for many years have faced the opportunity to change or adjust to this new environment. From this, new business opportunities to scale have come to the fore. Many of which would never have seen the light of day if we weren't sitting here today in the midst of a pandemic.
What's different this time compared to 1918 Spanish Flu is that there is a wealth of support for those who want to start or scale up their business. In addition, new talent has arrived in our region from the four corners of the world who want to build something here for the long-term future. So, what's the opportunity and what should you do as an entrepreneur, no matter what stage of business you're you find yourself at?
The Rubicon Centre established in 2006 has had to change its delivery method to clients across the region. Sound familiar?
The Rubicon Centre works across the South West region offering a number of pillars of support, depending on the stage of development of the business. The following are some of the supports available to start-ups and to scale ups that have a common theme; the ability to support the creation and sustainment of employment and deploy some form of technology as part of their customer offering.
Investigation of new ideas
There are a number of ways to do this, on your own, or with others in a similar boat. Alison Walsh who leads a team providing New Frontiers support (An Enterprise Ireland funded programme) encourages entrepreneurs to join with their peers in participating in New Frontiers. The programme has a number of stages, with the first stage open to applicants starting in mid-April. If your idea has the potential to create more than one job, with some technology deployment but you haven't explored whether its feasible (makes money for you and the investor if required) then this might be an option for you. The programme deploys a mixture of 1:1 mentoring and training part-time over three weeks part-time.
Scaling up your business
If you are in business since before the pandemic and now facing new challenges, which you need to address, then maybe you need to scale. Scaling a business requires planning, execution and implementation. Before you go on that journey the Rubicon can work closely with your business to see if scaling is feasible and what areas of your business supports you might need help with. Details of Scale Cork supported by Cork County Council's Local Economic development group can be found on www.rubiconcentre.ie.
Female entrepreneurs
For more than a decade the Rubicon has provided specific support to female entrepreneurs with scalable technology lead businesses. Currently 10 females from across the region supported by Enterprise Ireland are completing the Excel program. They've decided to take six months out to address their new opportunities by joining others who have started their businesses through the Excel program. A dedicated Female Entrepreneurship Manager, Lucy O'Donoghue can discuss if your opportunity can be supported.
Investment
The lifeblood of a business is cash and customers. The Rubicon Centre has its own independent Angel group, which provide investments for start-ups or scale-ups. Investment by Angels brings not only cash but also access to expertise. The Angels have a wide breath of experience across all business functions and sectors. Angel investors look for a strong business case, which will ensure a good return on their investment. Projects suitable for investment must demonstrate a revenue model and ideally some intellectual property. George Bulman manages the Angel group on behalf of its members and can be contacted through www.rubiconcentre.ie
Be Part of our Community
The Rubicon and its community remain busy during the pandemic. Some companies continue to work on site following the Covid-19 HSE guidelines. Others work virtually from their own remote locations across the region.
To help clients to work better, from April clients will be able to access state-of-the-art broadcast quality video conferencing facilities helping them to present better to their customers. This addition is to help overcome many of the difficulties entrepreneurs have pitching to customers and investors remotely.
Access Product Development Supports
The Rubicon provides a connection point for many regional supports no matter what stage the business is in its development. An example of this connection, is the easy access to the Research and Development facilities of the Munster Technology University (MTU) gateways and clusters who are based on campus. It's now possible to develop your start up commercially and at the same time partner with the resources of MTU's Gateways and Research Clusters.
The Rubicon Centre helped over 400 entrepreneurs last year to raise finance, gain skills, or simply get plugged in to other entrepreneurs. Hopefully in the next few months you will get an opportunity to meet fellow entrepreneurs face to face, do business over coffee, and I look forward to extending a welcome to you. In the meantime the Rubicon team are available talk to you either by phone or Zoom to discuss opportunities whether they be challenges at present or opportunities scale and grow your business. For more information go to www.rubiconcentre.ie or drop us an email on
info@rubiconcentre.ie.