Having deep roots in West Cork will always draw a person back, regardless of how far they have travelled. Áine O'Driscoll spent her earliest years on Whiddy Island before leaving the area with her family when her father passed away in 1982. In 2018 she finally had the opportunity to return, with South African husband JP and baby daughter Annamarie in tow. Áine now runs a yoga business, Craic 'n Yoga, which offers teacher training as well as all inclusive 'Re-Treats' in beautiful Bantry House. She speaks to West Cork People about her journeys, both geographically and careerwise, and how she has adapted her business during Covid.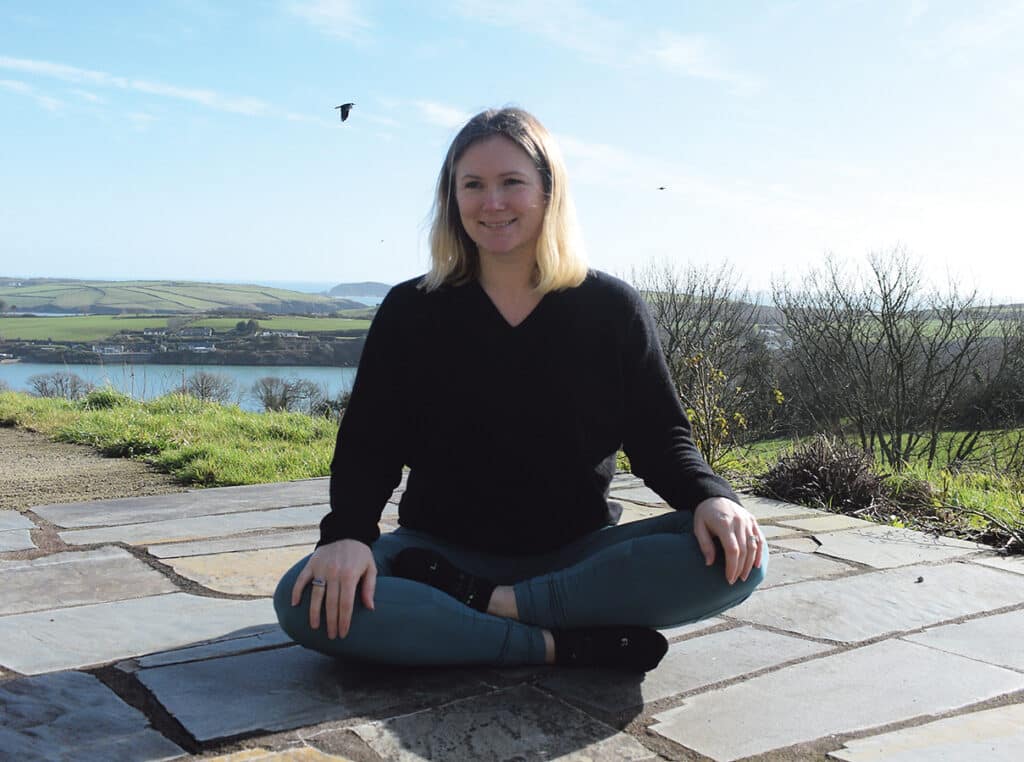 Áine turns 40 this year and has packed life experiences into those years. After leaving Whiddy, she grew up mostly in Birr, Co. Offaly before moving to Dublin with her family at age 17. Inspired by her stepfather, a property consultant, Áine studied and worked professionally in the property industry for many years, a career that took her to the United Arab Emirates, where she was at one time the manager of the ruler of Ras Al Khaimah's property sales and leasing company. 
It was in Ras Al Khaimah that Áine met her husband, JP, and the couple moved to JP's family farm in South Africa at the beginning of 2017. That busy year also included a visit to Gougane Barra to get married!
"It was on returning to South Africa after our wedding that I decided to train as a yoga teacher," Áine explains. "I had always practiced yoga, both in classes and with my own home practice, but I decided it was the perfect time to start a teacher training course."
Áine is now a 500 RYT (Registered Yoga Teacher) with Yoga Alliance. For this qualification, she completed 200 hours training with Wellness Connection South Africa in 2017 and another 300 hours with that same organisation this year (online). She also trained for another 300 hours with Golden Glow Yoga College in 2019.
Having worked in the corporate world for so many years, teaching was a complete lifestyle change but "one of the most personally fulfilling things I have ever done," she says.
After her initial training, Áine immediately began hosting retreats at her farm in South Africa, where she also provided food and accommodation. "Our farm is extremely remote – 40 minutes from the closest shop!"
The couple's daughter Annamarie arrived in April 2018 and the decision was made to move back to Ireland, where only one place would do…
"Being from such a remote farm in South Africa, there was no way JP was going to settle in a city!" Áine says. "We came to Bantry because of my connection and family history with the area, and I adore being beside the water…although I'm still trying to build up the courage to go sea swimming!"
After spending some time settling into their new home and surroundings, Áine started to build up her business and a following in West Cork.
"I teach vinyasa style yoga, with an emphasis on peak pose sequencing. This means that each class I teach has a focus on a particular pose, with all poses during the class leading to the peak pose – poses that resemble the peak pose in shape and feeling.
"I am extremely interested in the anatomy and science of movement, and each peak pose class is sequenced with the specific muscle and joint movements required for the final peak pose. There are also modifications and progressions of the poses, making them accessible for every level."
Like everyone else, she has had to adapt both personally and professionally to the challenging events of the last year but has found many positives in that. "Covid has changed my business in terms of how I offer classes. I have actually found the online approach so much more accessible.
"I really admire and take inspiration from my own teacher, Catherine Wilkinson in South Africa. Thanks to online teacher training I was able to complete my own 300 hours training with her recently."
Áine now offers 200-hour teacher training online. The course is suitable for all levels; there is no requirement to be an advanced practitioner, just to have a keen interest and commitment. "I really feel that now is the perfect time for people to make use of this lockdown by doing this course. Everything is so much more accessible now and can be done from the comfort of your home."
Of course, there are some frustrations too: "I booked my first Re-Treat in Bantry House in January, and have had to change the date every month!" However, Áine is determined to match her physical flexibility with flexible plans, "The next date is March 12-14, and if that can't go ahead I also have April 16-18 booked. I'm also working with Bantry House at the moment to offer monthly Re-Treats."
To enquire about Re-Treats and/or teacher training email info@craicnyoga.com or follow Áine on facebook and instagram: @craicnyoga for regular updates.