Besides the eyes, what is most unique in a person are their hands. With this is mind, Maura O'Connell, of West Cork Casting Studio, has built an equally unique business, creating bespoke lifecasts of hands and fingerprint keepsake jewellery. Dunmanway-based Maura recently won the Businesswoman of the Year: Creative Professional Award from Network Ireland West Cork, which she says has finally given her full confidence and belief in her abilities.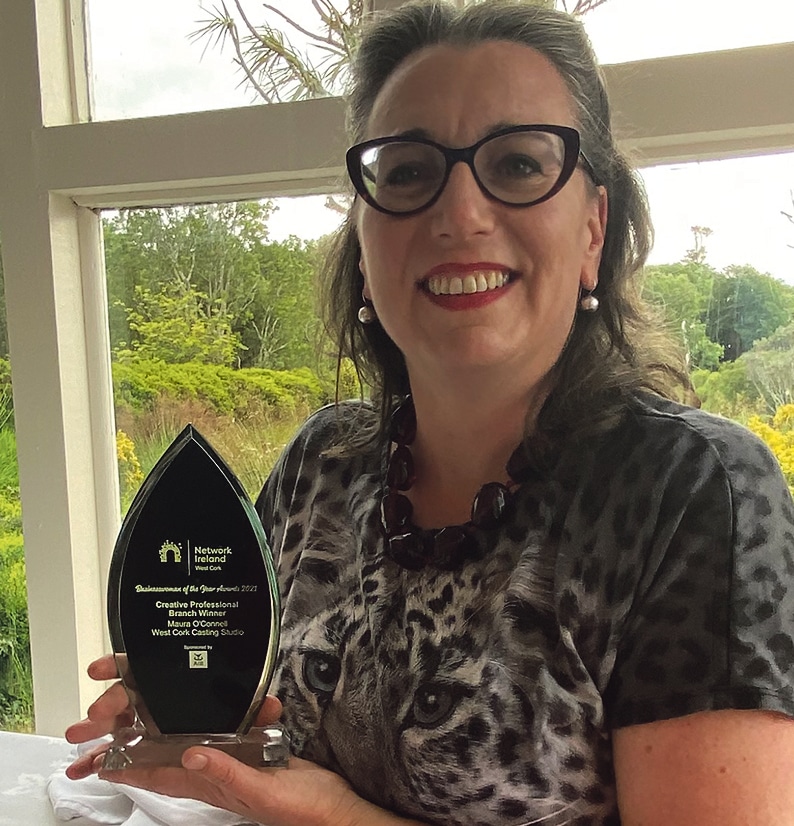 Describing herself as "arty-farty", when Maura O'Connell was returning to employment after time out with small children, she was determined to earn a living in a way that fed her creative side. "I ultimately wanted to work for myself, ideally something creative and definitely something capable of creating a steady income," she recalls."I explored a couple of options but when I saw a video of a family having their hands cast, I knew I had hit on something very special. I could see straight away the emotional value of such pieces."
The nearest lifecasting course was a non-runner (being in Scotland and £5,000!) but Maura was undeterred and set about teaching herself through YouTube. There was a lot of trail and error before she got to a point where she was confident in charging for her service.
"Early on, when I was practicing like mad, my sister-in-law asked if I would cast her grandfather's hands. He was 95 at the time and we cast his hands with his five-year-old great-granddaughter. Up to that point I had been practicing on ourselves here at home and I loved the idea that in 40 year's time my children could look at their little hands.
"It struck me that this man would not be here in 40 year's time, but the rest of his family would. That's when the full emotional impact of the pieces hit me. I believe that within families, we are as familiar with hands as faces. All my grandparents are long gone but I can still picture their hands, and when I do, all kinds of memories come to mind. And this is exactly what has happened with Sharon's Grandad; because his hands are on display, the family speak about him often and memories are kept alive. I have many poignant stories but I feel this one is significant because it helped me fully understand why these are emotionally valuable and important pieces for a family to have."
Once Maura recognised the potential to develop lifecasting into a business, she attended a Start Your Own Business course with the Local Enterprise Office and still attends their business clinics whenever she needs guidance. "Starting out, there usually is not a lot of money available, but take advantage of the excellent and well-subsidised business courses run by LEO and Enterprise Ireland and also local adult education centres," she advises. "There are so many aspects of running a business and you need to become competent in all areas. It can seem overwhelming at times but slow and steady wins the race!"
Maura also joined Network Ireland West Cork a few years ago for support and motivation. "The Network gives me 'colleagues' that I can turn to for advice and I can always count on support from them. Solo workers shouldn't become isolated. Find a Network that works for you and regularly attend meetings and workshops. This keeps you in the loop and helps keep your mind focused on your business. Being a creative person in business has its unique challenges so I also get a lot of support from an online group of 'arty-farty' businesses called Bite the Biscuit.
"I'm most inspired by people, particularly women, who chart their own course. Who are confident in their choices and are satisfying their own needs rather than just doing what is expected by others. I love to see women support other women and I'm so glad to have found my little business tribe. A few years ago, I did a Women In Business programme with 11 other women. Since then we have been a cheerleading squad for each other and also share tips and advice. In fact, over the past couple of years we have all seen some major changes and growth in each of our businesses.
"The main challenge for me was a lack of confidence that I was capable of running a business. It wasn't until I received the Businesswoman of the Year award from Network Ireland that I truly started to believe in my ability. Receiving that award has boosted my confidence no end and I can now envision a situation where, in the future, I could even take on someone part-time."
What Maura describes as "significant moments" in her career happen regularly due to the poignancy of the work. "Earlier this year I was asked to make a piece as a gift for somebody who was retiring. Both of this lady's adult children lived abroad with no chance of getting home for the retirement party. So we contacted them and showed them how to take fingerprint impressions at home; they sent them onto me and I made a heart charm with both the fingerprints on it.
"As we know fingerprints are unique to each of us and so only her two children could have make these prints. It helped bring them a little closer and to quote my customer 'was the most meaningful gift I've ever given'. I've made several pieces like this that went abroad, one to a granny in Chile, with her two Irish grandchildren's prints, and another with a father's fingerprint that went to his son who was unable to travel to see his Dad before he passed away."
When not on the road casting, customers are invited to Maura's home to have their cast made. "I also hope that in the near future I can move out of the little studio I'm currently in, my children's old playroom, to a purpose built cabin or something similar with designated areas for jewellery making, lifecasting and mould making."
Balancing work and children is a key benefit to being your own boss Maura believes. "Having one parent available at home was important to both myself and my husband and I was clear from the start where the work day would start and end. Of course there are busy times where I have to put in extra hours at work and the opposite, where work is quiet and we can take off on some adventure outside. I regularly see other women very stressed from an overload of homework and work and I'm clear with myself that this won't happen. One very important way this works for my family is that we are a good tag team when it comes to childcare and household chores. The motto here is: if you live in this house you help with its upkeep."
Maura has big dreams for West Cork Casting Studio, which she now believes are possible: "In ten years time I'll have seen a huge growth in the high end, bespoke keepsake market. I will have expanded my market from local to national and onto international and will have developed some new products and ranges. My business will have grown to the point where I have some part-time workers employed including an office worker! I will also have a new premises and possibly a shop front in a larger urban area."
She'll never become immune to the stories of her clients though. "The work I do now is special because, not only do I hear the stories, I also help the families preserve them. I get so much satisfaction and such a buzz from creating…I know it's good for my soul!"