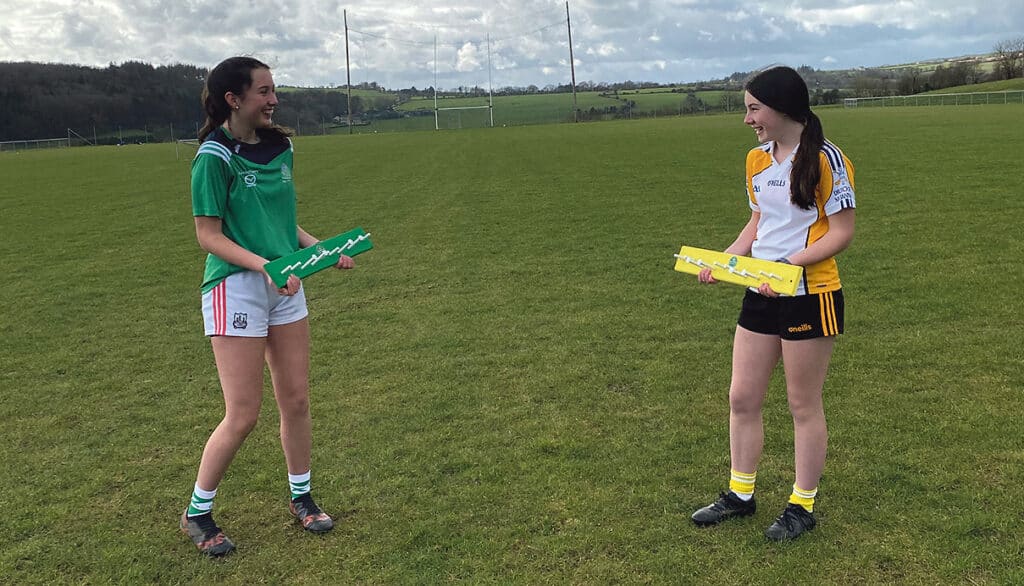 Two students from Colaiste na Toirbhirte Bandon took the overall prize at the recent West Cork Student Enterprise finals, which were held virtually on Thursday March 18. Hook R Strike is a handcrafted sports equipment holder for the home. More than 350 students from ten participating West Cork schools took part in the annual programme this year. The winning duo will represent the Local Enterprise Office Cork West at this year's Student Enterprise Programme National Final on Friday, May 14.  
The enterprise education initiative, funded by the Government of Ireland through Enterprise Ireland and delivered by the 31 Local Enterprise Offices in local authorities throughout the country, saw over 29,000 students from just under 500 secondary schools across the country take part in 2020/2021. The programme supports students to create, design and market their own business, all with the hope of reaching the National Final.
Kate O'Connor and Emily Barry have been building their business 'Hook R Strike' since last September as part of the Student Enterprise programme. Their aim was to design a multi-purpose customised sports rack which neatly stores a range of sporting equipment for a tidier home. The idea for the business came from their own experiences of having sports gear all over the home, which creates clutter and makes finding the equipment in a hurry difficult.
Speaking of their win, Kate O'Connor said, "We are thrilled to take first place in the West Cork finals. We now have lots of work to do, as we progress to represent West Cork in the National finals in May. So far our product has been shipped all over Ireland, the UK and the US with well-known celebrities also among our customer base including RTE sports presenters Evanne Ní Chuilinn who said our rack was the best thing she ever bought through Instagram and Jacqui Hurley. Our Hook R Strike sports holders can be purchased through our website hookrstrike.com or via Facebook and Instagram."
Other prizewinners on the day included 'The Beara Way' (Innovation award) from Beara Community School, 'Western Wood' (Best sales), Ardscoil Pobail Bantry, 'Garran Handcrafts' (Communication awards), Skibbereen Community School, 'Patched' (Marketing award), Sacred Heart Secondary School Clonakilty, 'Bumblebee Crafts', (Best Business Plan) Ardscoil Pobail Bantry, while Sustainability awards went to 'The Eco Wash', MICC Dunmanway and 'Guardian Angels', Schull Community College.
Speaking at the final of the West Cork Student Enterprise Awards, Kevin Curran, Head of Enterprise, Cork County Council's Local Enterprise Office Cork North and West said, "It is extremely encouraging to see the level of enthusiasm among the students in what has been a very challenging year for them. I highly commend them and their fantastic teachers for all the work they put in to the programme. They are testament that there are ways around every obstacle and I hope this learning will stand to them throughout their lives. Our national finalists are excellent ambassadors for the programme and we wish them the very best of luck on Friday, May 14, we'll all be logged on to support them."