Meals on Wheels is one of those services that encapsulates everything that is good in a community: Selfless acts and words of kindness. The small team of valuable volunteers who keep the Clonakilty show on the road provide not only nourishment, but social support to the elderly and vulnerable in the local community. Meals have increased from 80 a week to 140 in the current pandemic. Rising Covid numbers and Level 5 restrictions means that so many more people are isolated and for some, the bi-weekly meal delivery on Tuesdays and Fridays is now the only contact they have with the outside world.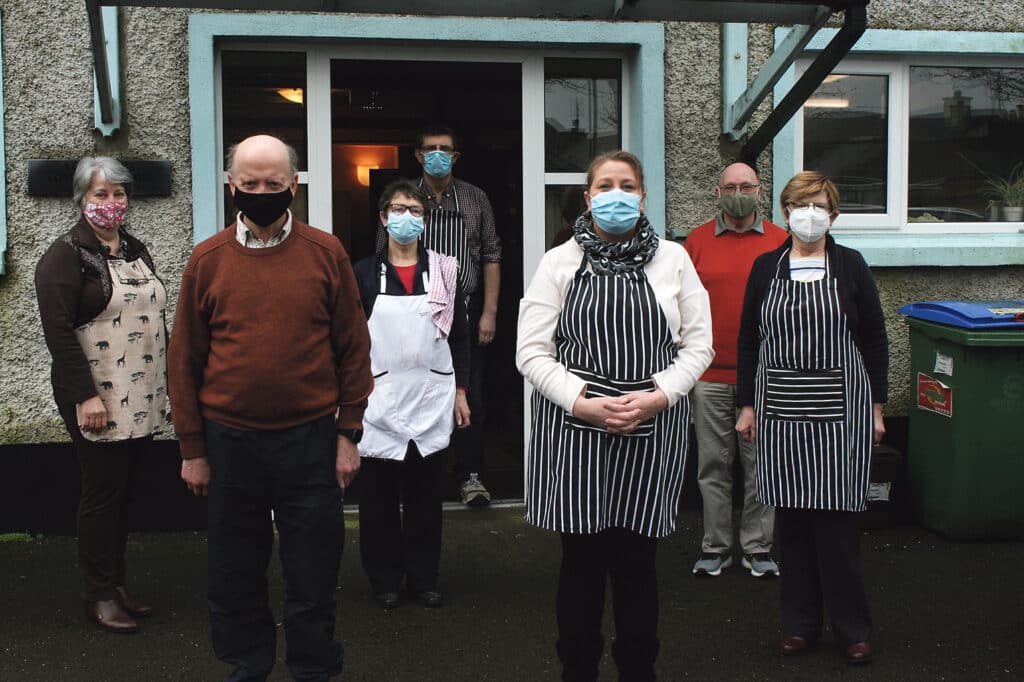 Clonakilty Meals on Wheels is under the umbrella of the Clonakilty Community Care Society, which has been in operation for the past 50 years. Norma O'Sullivan answered the call for volunteers in her parish church newsletter 19 years ago and has been with Clonakilty Meals on Wheels ever since. Bernie Harrington arrived on the scene a few years later. With the help of a small but dedicated and energetic group of volunteers such as Padraig O'Mahony, Marian Corcoran and Eileen O'Driscoll, they keep operations running smoothly. On Fridays, Gerard O'Driscoll and Ann Kiernan give their time.
Drivers Kieran Murphy, Barry Kirby, Eileen Quinlan and Denis O'Hea are responsible for dropping off the nourishing two-course meals (a main and a dessert) to clients in Clonakilty and hinterland. No driver is ever too hurried not to stay for a chat.
"There's always a surprise in the bag too," says Bernie "something like a packet of biscuits, a carton of eggs or some kindling."
"It's the chat as well as the meals that people look forward to," says Barry. "I'm a relatively new volunteer to the service and my eyes have been opened. There are so many people who are on their own and scared in the current climate and desperate for company."
The service usually closes for two weeks at Christmas time but with demand so high, meal deliveries continued throughout the seasonal period in 2020. Small Christmas hampers were also made up and given to each of the 44 clients.
Meals vary depending on donations and whatever produce is available from sources such as FoodCloud, a social service that connects businesses with surplus food to charities. Every Sunday evening, Clonakilty Meals on Wheels collects food through FoodCloud from Tesco in Ballincollig. "It's a fantastic service," says Norma.
Local businesses too have been supportive. Dunmore Hotel Hotel has provided weekly desserts when possible and a number of other local businesses in the hospitality industry have made food donations over the past 10 months. Local butcher Haulie O'Neill donated meat to Fernhill House Hotel for use in the cooked dinners they provided to the service, a builder regularly drops off firewood, and Lidl in Clonakilty recently contributed a number of food vouchers to the service. Allfresh fruit and vegetable wholesalers donate fresh produce regularly. Dealz, a business new to Clonakilty town, has organised two collections for Meals on Wheels. Local Reverends and church communities have also made food donations. "Everything helps," says Bernie "and we're very grateful to those who have helped us in such a difficult time for so many."
"We've also had contributions from individuals – monetary, food and vouchers," says Padraig "which have all been very welcome, as we're unable to run any fundraising activities this year."
West Cork HSE Community Worker June Hamill has been very supportive and encouraging. "She advised us on applying for a number of grants, which we successfully qualified for," says Norma. "Last year we received a community grant from Cork County Council and National Lottery Funding."
"There was a time at the start of the pandemic, when we thought we'd have to close the service down," says Bernie. "There were so many guidelines and new rules to adhere to and we lost a few volunteers in the over-70 category – but June's help has been invaluable to us and we have thankfully managed to keep things running."
A toilet in the building has been sectioned off for use as an isolation unit if needed and Padraig has taken on the role of chief sanitiser, a task that has to be carefully and thoroughly carried out at the end of every day.
"We took everything off the walls at the start, as even the hanging pictures have to be sanitised," says Norma.
The two veg (sometimes three) and meat dinners are always ready for 11am with every meal distributed by 12pm. "The phone starts ringing if we're a minute after 12," says Bernie laughing.
Catherine Hayes has been picking up meals from Clonakilty Meals on Wheels for her mum, Mary Hayes (77), from Ardfield, since 2019. "It's a fantastic service, as she can't cook any more and I'm working fulltime," says Catherine. "It gives me some relief that her dinner is looked after a couple of days a week and she really enjoys them."
Three years ago Eileen O'Driscoll joined the Clonakilty Meals on Wheels team on a CE Scheme. After completing the scheme, she successfully secured employment in the kitchen of a local café but was made unemployed last year due to Covid. She returned as a volunteer to Meals on Wheels after a three year hiatus. "I love it," she says "and I'll miss it wholeheartedly when I return to work. It's like having a second family and there is such great craic with the volunteers and elderly clients."
To get in touch with Clonakilty Meals on Wheels call 023 8833107, Monday, Tuesday, Thursday and Friday mornings between 9am and 12pm. Contact Norma on 087 2480759 or Bernie on 087 6244081.