"Everyone deserves the same chance at life," says humanitarian aid worker and UCC law graduate Amy Boyden from Bantry "and it should not be determined by where you were born." Amy is volunteering at a refugee camp on Lesvos in Greece and shares her heartrending experience with West Cork People of the struggle and conditions the refugees in the camp face every day for years on end.
There are approximately 6,000 refugees in the Lesvos camp, 2,000 of whom are under the age of 18. Amy, a law graduate from UCC, has been volunteering there for the past four months, helping with distribution and outreach programmes, which includes providing clothing for babies, children, teenagers and adults. She also teaches adult English classes to beginners and basics.
Amy has been volunteering since 2016, when her passion for international human rights and global justice, inspired by her Godmother, who has volunteered with many different NGOs over the years, led her to begin volunteering with Trocaire and then also with the NGO Bridge to Resources, Integration and Justice (BRIJ), an organisation that aids people in Direct Provision.
"The conditions across the Aegean islands for refugees and asylum seekers are horrific and inhumane," shares Amy "with inadequate shelters and a severe lack of accessibility to various services."
People can remain in the camp for months to years, in a state of limbo, with no clear answer on their asylum application. There is also a lack of accessibility of structured education for children who account for almost half the population of the camp. When matched with the under-resourced and slow processing of asylum applications, this leads to a sense of hopelessness and dismay.
"The camp has restricted access for entry and exit, and only one member from each household can leave camp per week," says Amy. "The tents are small and have hardly any ventilation; in some cases two to three families share these tents. Some get along and others don't."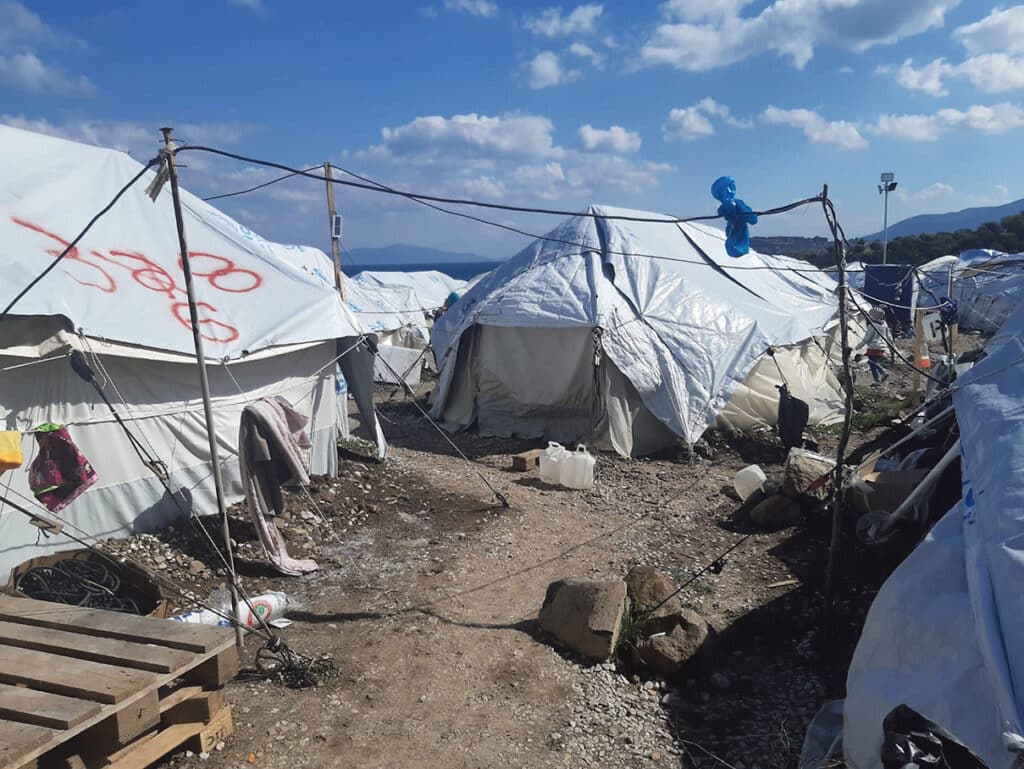 Temperatures in Lesvos have now started to rise over 30 degrees and will continue to rise up to 40 degrees. "There is no shading in camp and, as a result, the tents the refugees are provided with are too hot to stay inside," shares Amy.
People spend months to years trapped on the island due to the inadequate resources available for asylum processing. "When and if their asylum is granted, many face a transfer to mainland Greece where they have more difficulties accessing services and are often left alone to navigate the complex finance, medical, and legal systems.
"If they receive a second rejection of their asylum they have to apply for asylum from the very beginning all over again. Some of the residents have spent two years of their life waiting to get their application through and then to be rejected for a second time is soul crushing for them. All they want is to start living their lives again; they want to move forwards with their lives not stay stuck."
Despite being faced with such hopelessness and harsh conditions every day, Amy says these people are inspiring in their resilience; they dare to dream and aspire like all of us. "When someone has been granted asylum and they have been accepted to go to Germany, this is when they cannot stop smiling and they are so excited to start their lives."
The role of a volunteer is mostly rewarding. "Being able to teach the residents English and watching them improve with their writing and vocab skills makes me feel very proud," says Amy. "It is a win/win situation, they want to learn English and it makes me happy. We have a good time together, they aren't just refugees they are my friends."
However, some days in camp are harder than others. "There was a case where a mother of three, pregnant with her fourth child, put her three children outside the tent and went back inside and set herself on fire," says Amy sadly. "She couldn't take it for one more day. But she didn't die, and now she is being prosecuted for arson.
"Each refugee has their story, their own horror story. Life is far from easy; it is a constant struggle for them. We will never understand what they have gone through unless it would happen to us. And if it were to happen to you or me we would want to be helped, as we should be, it is a basic human right to be treated as a human.
"These people just want to live in peace, restart their lives and have a better future for their children. Is this too much to ask?"
With restricted access and exit from the camp on Lesvos due to lockdown, there has been a greater decline in mental health. People are trapped inside the camp and they don't have access to the same hygiene levels because they all share the same toilets and showers. While there are masks, hand sanitation and rapid antigen and PCR tests available, the camp doesn't always allow for social distancing; it is not physically possible because there are several people sharing tents.
There have also been tensions on the island between refugees and those who have extreme far right ideologies. Amy explains how "Lesvos is a small island, with a population of 80,000, Mytilene is the biggest city of 20,000 people and, when Moria, the old refugee camp, which was designed for 3,000 people reached over 20,000 people, it caused frustration. Lesvos is under-equipped and lacks the resources to deal with that amount of extra people and should have received more support from the European Union."
The term 'push backs' is often heard across the Aegean islands. "This is where the Greek coastguard intercept a boat coming from Turkey to Greece and put refugees onto engineless rafts and they are left to drift back to Turkish waters," explains Amy. "This has become a standard procedure since March 2020, when Turkey in an effort to pressure the EU, told its refugees that they would no longer stop them trying to leave Turkey. There is a case coming before the ECHR, where two minors are claiming that they were allegedly mistreated and were left on a dingy in open waters with no oars. In this instance they had already arrived on the Greek island Samos. The Greek coastguard denies any allegations but the evidence against them is overwhelming. 'Push backs' needs to be brought to an end; these people are treated without any humanity."
Amy passionately believes more needs to be done to help refugees.
"The EU needs to do more, Ireland needs to do more, we all need to do more.
"I find it bizarre that certain countries, such as Denmark, want their refugees who have been granted asylum and established their lives in Denmark to be sent back to their country of origin because some of their countries have been deemed as 'safe'.
"In Kabul, Afghanistan, 40 schoolgirls were killed in a bombing last month; in Iran, an Iranian man was beheaded because of his sexual orientation and; in Palestine, the Gaza strip has increased tensions. Israel has been bombing the Gaza Strip and Palestine has responded. Also in some counties there is media control and if you speak out against the government you run the risk of 'disappearing' or sentenced life in prison. How can countries be deemed safe to return to when events like these are occurring? The EU should not try and persuade people to return to their country of origin; they should be allowed to stay in the country that they have resettled in.
"We will never understand what they have gone through," she continues. "They have travelled thousands of miles, running for their lives, then they have to face EU border control, such as Frontex, hide from the Greek coastguard and hope they will survive another day. Helping with landings (when a refugee boat lands on soil) should be decriminalised. NGOs and individuals are no longer allowed to help with them and if they are caught aiding the refugees they run the risk of being prosecuted for human trafficking. People who land off these boats sometimes require immediate medical attention. Being denied this access is a breach of human rights."
She strongly believes that Ireland needs to take more refugees.
"When Moria, the previous refugee camp, burned down in September 2020, Ireland said it would take in four, out of the 12,000 refugees that were displaced due to the fire. Four people, that is shameful as a country.
"Since the 1800s, 10 million people have immigrated outside of Ireland; I think we should welcome people the same way we have been welcomed. Ireland should also end Direct Provision, as this system is inadequate and is demoralising. Within this system people eat off paper plates, use plastic cutlery, are not able to work or cook, they are not able to live their lives and it is incredibly frustrating and sad. What do we achieve with this system except to crush what hope these people have left in their lives. We cram people inside small rooms, sometimes there could be six to eight people in one room; families share a space the size of a hotel room. To be in this system is not living."
Amy, who has month left volunteering on Lesvos before starting her masters in Utrecht University in The Netherlands, is currently fundraising for the purchase of educational materials for use in weekly educational lessons to support the residents of the camp in learning English, German and other languages. Such supplies will include notebooks, pens, folders, school bags, reading and writing books, and classroom furniture. Funds raised will also go towards urgently needed clothing and hygiene items for new-borns and toddlers who live inside the camp and to the NGO Art Bridge who provide emergency support to the displaced Roma Community. This will include shoes, clothes, food distribution and educational resources.
To donate please go to gofundme.com
Fundraiser by Amy Boyden : Fundraising for Refugees & Community Volunteers (gofundme.com)