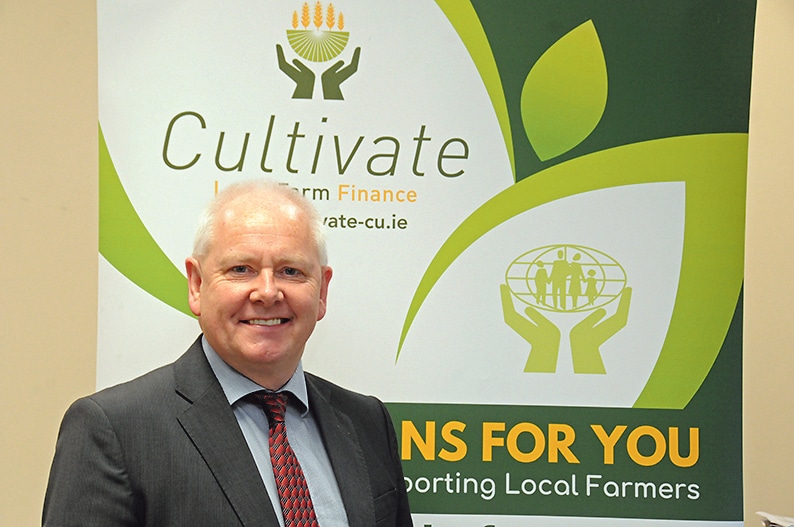 At a time of heightened uncertainty, West Cork farmers are increasingly turning to their local credit union for farm finance. Long seen as a place to put some savings for a 'rainy day', credit unions are changing. They are diversifying their loan portfolios to include small business lending. The best example of this explains Finbarr O'Shea QFA Manager, Bantry Credit Union is Cultivate, the credit union farm finance offering.
Cultivate is rapidly gaining national attention in farming circles. It began just five years ago in Galway and has since grown to cover most parts of the country. Late last year former IFA President Joe Healy joined the Board of Cultivate as non-executive Chairperson. 
Bantry Credit Union has been offering Cultivate loans since early 2019. From the beginning it has been a great success. Cultivate farm loans now account for over 13 per cent of Bantry Credit Union's loan book, making it the third-ranked loan purpose after home improvements and motor loans.
National scene
This success locally reflects the national scene. Cultivate has just released its analysis of all loan applications received during 2021.
Year-on-year, there has been an increase of 66 per cent in the number of Cultivate loan applications received. The average loan application from farmers in all sectors was up 14 per cent year-on-year to €28,370. This was mainly used for a number of key on-farm activities, including farm buildings (24pc), stocking and working capital (23pc) and tractor purchases (18pc). This is the first year that farm buildings have featured as the most popular use for Cultivate loans, highlighting farmers' confidence in completing longer term investments.
With strong prices being received by farmers across all of the main agricultural sectors in 2021, farmers looked to secure short-to-medium term finance to complete on-farm developments. In comparison to 2020, there was an 89pc increase in the total value of loan applications. When adjusted for new credit unions joining Cultivate, the like-for-like comparison shows a really positive 77pc increase in loan application value.
Beef and dairy comparison
Beef farmers continue to account for the majority of Cultivate loan applications, driving over two-thirds of the total loan applications in 2021. Dairy farmers accounted for 21pc, sheep farmers for 8pc and tillage farmers for 2pc.
The average loan to a dairy farmer was just over €32,000 in comparison to €27,715 for a beef farmer. The period saw an increased focus by beef farmers applying for farm building projects while dairy farmers prioritised equipment investment projects.
Dairy farmers were also bigger landowners, owning on average 43 HA of land in comparison to the 30 HA owned on average by beef farmers. In comparison to 2020, the average dairy herd size per farm applying for a Cultivate loan was up by almost 5pc or four cows to 85 cows, while the number of sucklers owned by beef farmer applicants dropped by 11pc from 18 suckler cows to 16.
Off-farm income continues to be a major differing factor for beef and dairy farmers. While 92pc of beef farmer applicants had some sort of off-farm income, this compared to 68pc for dairy farmers.
Local, Personal, Simple
The provision of financial services is increasingly being driven online, remote, impersonal. Credit unions are bucking this trend. While many banks are withdrawing from a presence in rural Ireland, credit unions are investing in their communities. We employ local people to deliver local services to local communities.
The Cultivate mantra is: Keep it Local, Keep it Personal, Keep it Simple.
These characteristics have always been the hallmarks of the service provided by credit unions in the personal lending market. They have led to the Irish people having a great trust in credit unions. A measure of this trust is how credit unions fare in customer experience surveys year after year.
The CX Company conduct a major Customer Experience Insight (CXi) survey every year. Carried out on their behalf by Amárach Research, this annual report is the recognised benchmark for customer service in Ireland. For the past seven years in a row, Irish Credit Unions have been voted Number One for Customer Experience in the survey. This achievement has not been matched anywhere else in the world.
Finbarr O'Shea is Manager of Bantry Credit Union. He is a member of the Board of Directors of Collaborative Finance CLG, the credit-union-owned company behind Cultivate. He is also Chairperson of the National Cultivate Marketing Group.