Earlier this year West Cork woman Áine O'Donovan was elected to the role of PRO with the Irish Shorthorn Society.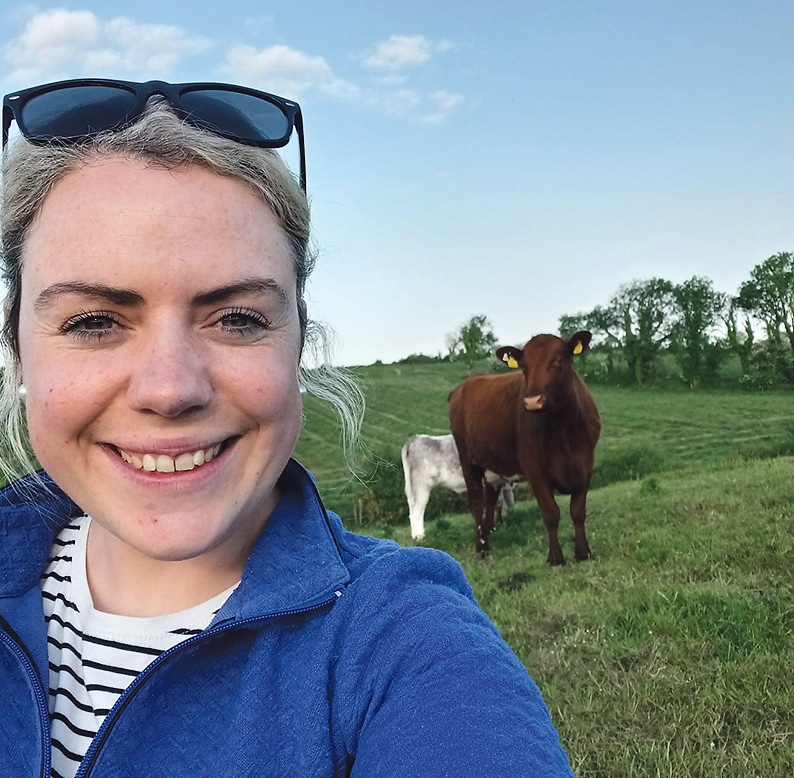 Tell us about yourself and your farm?
I work locally as a Deputy Manager in a Community Pre-school while also farming with my father Seán. We have a small herd of Pedigree Beef Shorthorns under the prefix Kildee. Although I spent the first half of my life living in Ballineen, I spent most of my time in Kildee near Ballygurteen on the family farm, which my father inherited from my late grandmother Annie. My father then gifted the farm to me in 2021 and my husband Adam and I hope to build here soon.
My brother and I were always encouraged by our parents to buy our own animals and have them on the farm. We would buy a commercial weanling each year and sell them as fattened bullocks when the time was right. This was a great lesson for us and gave us a greater understanding and appreciation when it came to money and hard work.
Over the years we branched more into pedigree breeding, for years we bred mainly Pedigree Aberdeen Angus, however, Dad and I always had a love for Shorthorn cattle. We would often drive past the Late Donal Lehane's farm in Deshure just to admire his beautiful animals in the field. In May 2018 I was lucky enough to purchase one of Donal's animals, a beautiful yearling roan heifer called Deshure Primrose 20th. She is a wonderful cow and has been a great producer for us. We fell in love with the breed and made the decision to move away from Aberdeen Angus and grow our herd of Beef Shorthorns. Over time we acquired some more females and have since purchased a lovely bull called Creaga Tucker from Noel and Lisa Dowd of Creaga Shorthorns. He is two-years-old now and is often mistaken for a Charolais because of his shape and quality.
You have a new role with the breed society this year how did that come about and what do you hope to achieve?
This year I was lucky enough to join the Irish Shorthorn Society council. At my first meeting I was elected as the new PRO of the Society. This was a great honour and something I am very passionate about. It is clear to see social media has become a major part of life over the last number of years and is an effective form of advertising. My new role involves running to social media accounts for the Society, this includes our Facebook page 'Irish Shorthorn' and our Instagram page @irishshorthornsociety. I try and post quite often and update members on upcoming sales, shows, and society news. Many people will also send in photos of bull progeny and animals for sale. This is a quick and cost-effective way of advertising for many breeders while also showcasing what the breed has to offer.
Can you tell readers a little bit about the breed and its benefits?
There are many benefits of Shorthorn Cattle, for us at Kildee the main one is the docility of the breed. We have tried to incorporate other breeds into the herd as a commercial element, but we have found it difficult to obtain animals as quiet as our Shorthorn cows. As I work off farm it is important to have animals that are easily managed for a person working alone. Shorthorn genetics are a bonus in any herd, from their fantastic maternal traits to their docility, and their wonderful colour. There has been a real craze for roan cattle in recent years and this is a beautiful colour in many Shorthorn herds around the country. I am hoping to see more Shorthorn semen used in both Dairy and Suckler herds in the near future, as AI companies have a wonderful selection of top-quality Shorthorn Bulls available and the popularity of the breed continues to grow. This year we ran a breeding initiative called 'Breed a Roan'. Shorthorns come in a range of colours, from pure red or pure white to a combination of red and white or a roan mix. This roan colour marking has proved very popular when crossed on other breeds in commercial cattle showing.
As part of the scheme the Irish Shorthorn Society offered a quantity of free AI straws to both beef and dairy farmers. The demand was extremely high and it was fully subscribed within 72 hours. Hopefully there should be several hundred more shorthorn cross calves on the ground next year because of it.
My goal is to set up a sale or club in West Cork for Shorthorn breeders and enthusiasts; farming can be a lonely job at times, and I believe it is important to have a community to reach out to. There are sales in Ennis, Elphin, Blessington and so on each year and they have inspired me to try and organise similar down this end of the country. Hopefully this dream becomes a reality. 
Interview by Tommy Moyles