Since 1999 leading glasshouse supplier Peppermint Farm, based in West Cork, has been installing freestanding greenhouses, lean-to's, conservatories and pavilions to customers nationwide. Originally started by Achim Hoffmann, on his retirement he passed the helm to another German living in West Cork, Hendrik Lepel, who took over the company with his partner Lisa Rauch in January 2022. Peppermint Farm has a display area with a large range of different models near Bantry and Hendrik and Lisa pride themselves on offering innovative glasshouse solutions with exceptional quality and service. 
Their premium glasshouses and conservatories include three very innovative designs:
The Solar porch 'Berlin' is a lean-to with curved sidewalls. This award-winning design looks out of the ordinary. All front panels – featuring a patented bolt-sliding-technology – can be pushed up into the ceiling. "This way, people sit sheltered in their porch but can also connect directly with their garden," shares Lisa.
The 'Rondo' is a circular pavilion, a free-standing feature in the garden, that consists of two overlapping revolting sliding units that can open to a full half of the structure. Plus, the whole shape can be turned all the way around – with the sun and twistable against the wind! It is an ideal al fresco sitting area, an all-year round meeting spot for the whole family, it can be a band stand, part of a restaurant dining area, a destination in a park, an artist workshop and so much more!
The newest glasshouse in the Peppermint range is the free-standing greenhouse 'Euro Cottage'. With its pointed roof, it combines the practicalities of their best-selling greenhouse 'Euro Maxi' and the elegant looks of the 'Euro Rustiq'. It's a must-have for every hobby gardener who wishes to give their garden that special touch!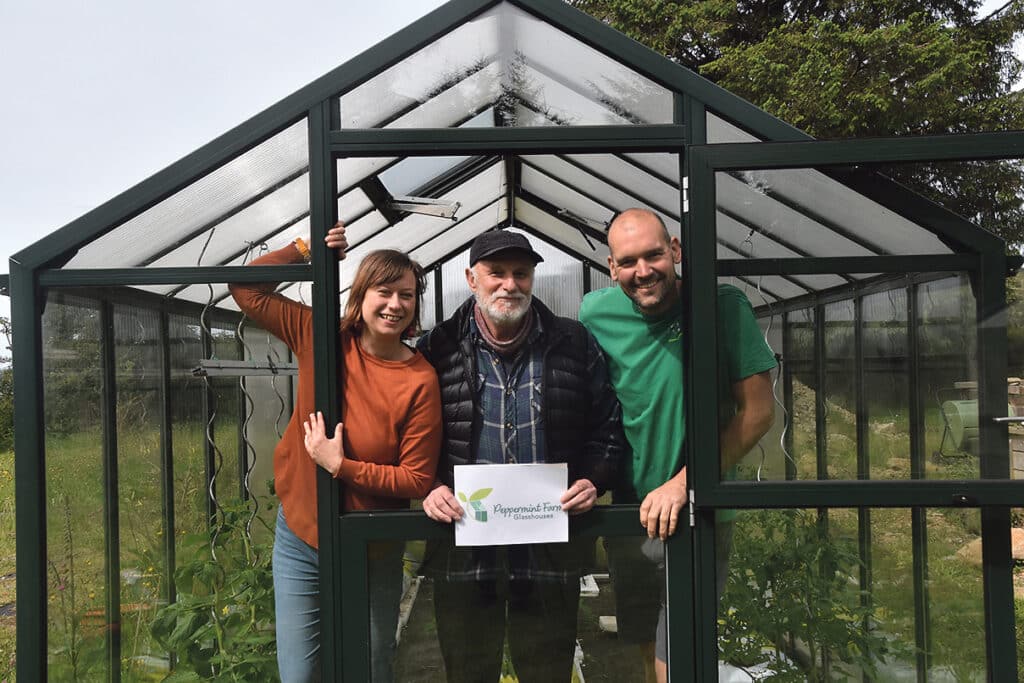 It's not only flowers that bloom in West Cork's garden paradise. Although Hendrik was studying Permaculture at the College of Further Education in Kinsale at the time, on a trip back home to Germany in 2007, he met Lisa. Their long distance relationship blossomed over a year of trips back and forth until Lisa decided to quit her job as an event manager and join Hendrik in West Cork. Their son was born in 2015 and the couple continued to put down roots in Ireland. After working as the operational manager of a language school near Kinsale for over 10 years, when Covid hit and her employer, an Austrian tour operator, went out of business as a consequence, Lisa decided to pivot and joined the Art Course at Kinsale College, where she quickly developed a passion for ceramics and sculpture. Meanwhile Hendrik had been asked to design a garden in Kinsale, including a glasshouse, which is how he met with Achim Hoffman and the seeds of Peppermint Farm under new ownership were planted.
Today the couple make a good team, with Hendrik responsible for delivering and installing the Peppermint glasshouses and Lisa taking care of the administrative tasks and the customer service. "Hendrik is hands-on in his work, a clever and effective worker with a lot of experience in making customer dreams come true and I bring along good organisational skills from my experiences in my previous jobs," shares Lisa.
Peppermint Farm's products are renowned for their quality, the sturdy box-style aluminium frames and insulating gaskets making them ideal for Ireland's rough coastal climate. They are the sole distributors for greenhouse manufacturers Hoklartherm and KGT Germany and Euro-Serre Belgium and offer a warranty of 10 years on aluminium frames.
Key to Peppermint Farm's success is the personal service provided. "We listen to our customer's needs and wants and find out from them how and what they would like to use their glasshouse for – whether they would like to grow vegetables, flowers or cacti – there are specific solutions for each theme. And if they want to use it as a conservatory– we have models with thermal-insulated frames and double glazing that make the space extra cosy in the wintertime or cool in the summer. Or if they like to combine the use – to grow a few plants but also enjoy the evening sun – there are models that can provide this multi-use, too!"
Peppermint Farm also offer a call-out service to customers. "We will take a look at the area they want to place their glasshouse and give advice on sizes, staging or dwarf walls, types of glazing, i.e. toughened glass or polycarbonate," says Hendrik.
The couple get immense enjoyment from seeing new glasshouse owners take charge, making their glasshouse their own. "When we come back later, we're blown away by the sight of tomato and strawberry plants growing furiously, or finding tables, chairs, and sun-loungers all set up inside. It's like witnessing a plain space transform into a gardener's paradise or a little peaceful oasis amidst our busy lives."
The new website www.peppermintfarm.com is nearly ready for its launch in July and Hendrik and Lisa are planning to develop a display area with a range of interesting glasshouses from their suppliers in the next two years. Also in the pipeline is a new offering of a wide range of accessories, such as heating and irrigation systems, staging and other useful items, which will be available to buy online.
For now the next big adventure is a summer road-trip to install a solar porch 'Berlin' on the Shetland Islands. "With four ferry crossings and a veranda in tow – it will be an experience for sure," laughs Lisa.