What spurs people into action? For Bridget Sheeran, finds Moze Jacobs, it was a wonderful moment: becoming a grandmother.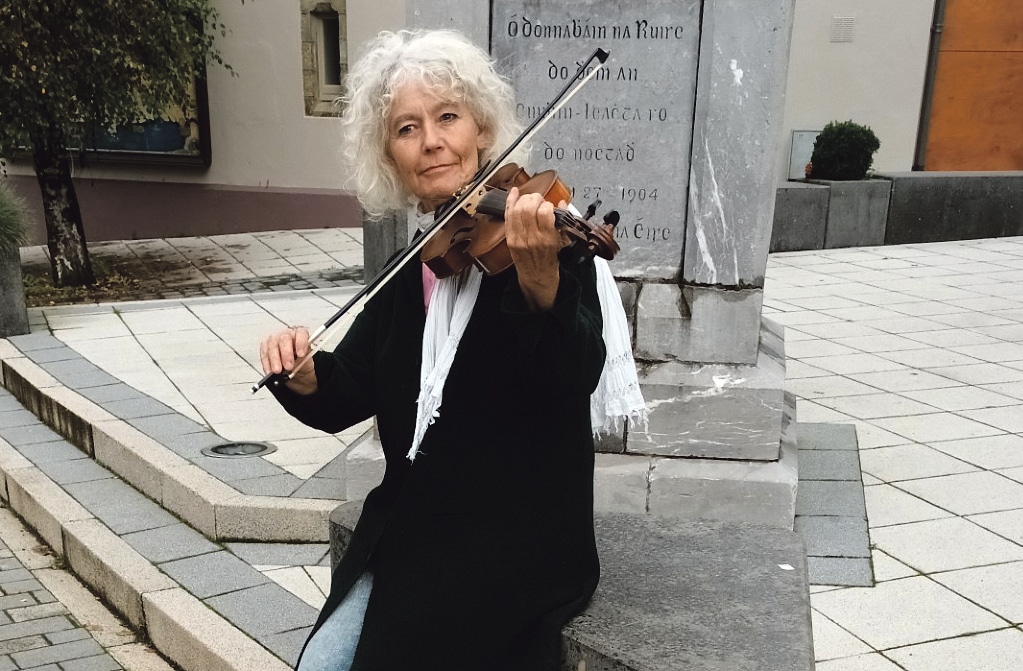 Bridget Sheeran is no stranger to the phenomenon of birth and the processes that surround it. For over 30 years, she was a midwife (with an MSc in Midwifery from Trinity College). What's more, she founded the Community Midwives Association in Ireland (recognised by Dáil Éireann as a group representing the interests of Midwives practising outside hospitals and supporting women's choice in maternity care services). A feisty Irishwoman, born in the UK into a large family, one parent from Northern Ireland, another from the South, she now lives near Baltimore and is teaching the Alexander Technique. She has four adult sons, however it took the arrival of her first grandchild – and thereby, a new generation – to prompt Bridget to proactively engage with the issue of climate change, arguably, one of the major challenges of our time. 
An article in the Irish Times in August headed, 'We shouldn't wait for catastrophic weather events to act' brought it sharply into focus. It contained a graph showing that the percentage of people worried or very worried about climate change in the world, apparently was at its lowest in Ireland. "I found that really hard to believe," says Bridget. "I felt like Ireland could set an example. We really could. We're a green country. Why don't we show it? Plus I personally know so many people who are very concerned about the state of the world, biodiversity, the environment. Somehow, that information hit me really hard. I thought, Oh my gosh, I've just become a grandmother. I need to do something about this."
Bridget decided to do something that any individual could do; creating lightweight sandwich boards that fit over her shoulders. One shows the aforementioned graph. Another says, 'Ireland's Call, Climate Action Now'. Perhaps the most pivotal one displays the following message: 'Urgent! Climate Concerns, Call TDs' with the Dublin phone numbers of the three West Cork TDs (Holly Cairns, Christopher O'Sullivan, Michael Collins) printed underneath.
It is Bridget's intention to persuade as many people as possible to contact their TDs and express their concern about a lack of action around climate change.
"Let's bombard our TDs with our concerns. If you email the local representatives or call them, they will have to record it. Even if they themselves have different opinions, it is important to let them know that yes, their constituents feel that carbon emissions really need to be reduced. People often think, oh, someone else will do it. Or they believe that nobody is interested in their opinion, especially politicians. But in reality, we've all got a say. And we should use it. Our children's and grandchildren's future depends on it and that of all the babies in the womb right now. It depends on us. I'm passionate about it. That's why I'm doing what I'm doing."
Twice a week, she goes to various towns or cities where she puts up her boards and starts playing the fiddle. Initially, she had the idea of a soapbox.
"It came up many times in Baltimore because people want to debate, talk about issues, find somebody in their community who thinks similarly and who they might be able to work with. But it never materialised. And as I had been studying the fiddle during Covid – I'm still learning of course but can carry a tune – I decided to go non-verbal. I can be a bit forceful when I speak, and I talk an awful lot, which can put people off. Whereas they'll warm to music."
When Bridget first came up with the plan and started to discuss it, she encountered quite a few negative reactions. "I've been told that won't work, it will be useless, I really shouldn't be doing it. But then when I do go out into the streets, people come up to me and tell me about their frustrations that not enough is happening. Some nearly cry and thank me. What for? I'm just playing the fiddle! I've had lorry drivers stopping, opening their windows and saying something positive. Old ladies are trying to give me money and I'll say, 'No, I'm not collecting money, I just want you to read this.' And I've had children clapping me and teenagers giving the thumbs up. Tourists want to have a look at the Irish Times picture to see what the percentage of concern is in their country and they're really surprised that it's higher than in Ireland."
A bit of a trailblazer in many respects, Bridget knows full well that going public in this way, "is not for everybody".
"But there are so many other things you can do," she says passionately. "Plant a native tree. Or a bush. The most important thing is to set an intention. As a nurse and midwife, I've seen many young girls and older women find their inner resources when they hadn't been aware of them at all. Maybe even had no notion of having a baby. And then people change. I've seen it. Dads as well by the way. Really, it only takes nine months to completely transform and adapt to a new era in your life. It's just beautiful what humans can do when they decide to work together as a larger unit. A family. We've already got all types of connections, certainly here in West Cork. When you just show a bit of kindness, you'll be amazed how people will support you. I believe in humanity. Which is another reason why I know we can turn things around."
To find out more about contacting your TDs go to www.oireachtas.ie
Bridget would encourage likeminded people to join her endeavours to put climate change (concerns) centre-stage.
To find out more you can email bridgetsheeranmidwife@gmail.com