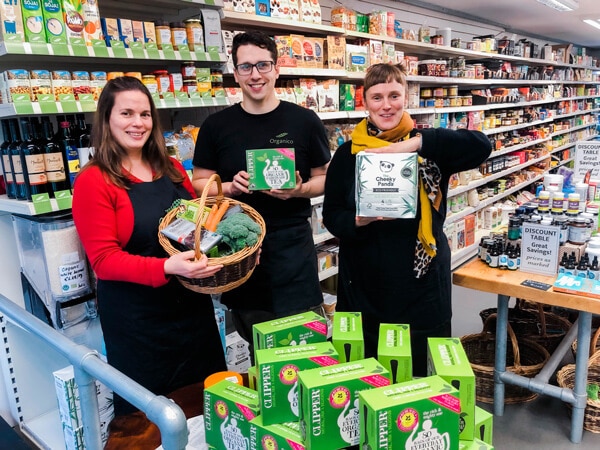 Sisters Hannah and Rachel Dare, owners of Organico health food shop in Bantry, are out to disprove the perception that sustainable, organic food has to be an expensive luxury. They've sourced from over 40 brands to launch a new shopping category in their shop and online shop, Organico BASICS, which highlights great value and affordable 'basic' organic products. 
"We know there are people who want to feed their families as healthily as possible while also watching what they spend on groceries," says Hannah. "So the idea behind Organico BASICS is that you can quickly identify those 'everyday' essentials in versions that are sustainable, healthy, high quality, and also affordable."
Of course, nearly all supermarkets have a budget range or store brand intended to save shoppers money. Where Organico BASICS dramatically differs is that it doesn't include ultra-processed 'cheap' foods. Each product in the category is nutritionally sound and of high quality.
Take peanut butter for instance – supermarket budget brands often include conventionally grown peanuts, palm oil and/or peanut oil, and sugar. The peanut butter in the Organico BASICS range is made by Ekoplaza and contains two ingredients: organic peanuts and organic sea salt, making it more aligned with the whole foods principle of eating.
Organico BASICS was inspired by a team member's past experience of trying to eat well on an extreme budget. Yet its introduction has come at a relevant moment – just as forecasts of the rising cost of living in Ireland are flooding the news.
"It's been reported that the cost of living could increase by over €2,000 for most families this year," says Hannah. "We know it won't fix the issue, but we hope Organico BASICS will make it less likely that families who want to eat healthily must choose between nutrition and price. No family should be forced to compromise."
Shop the full Organico BASICS range of over 120 organic foods, clean supplements, sustainable nappies, eco-friendly cleaning products and more in Organico shop in Bantry or online. www.organico.ie/organico-basics