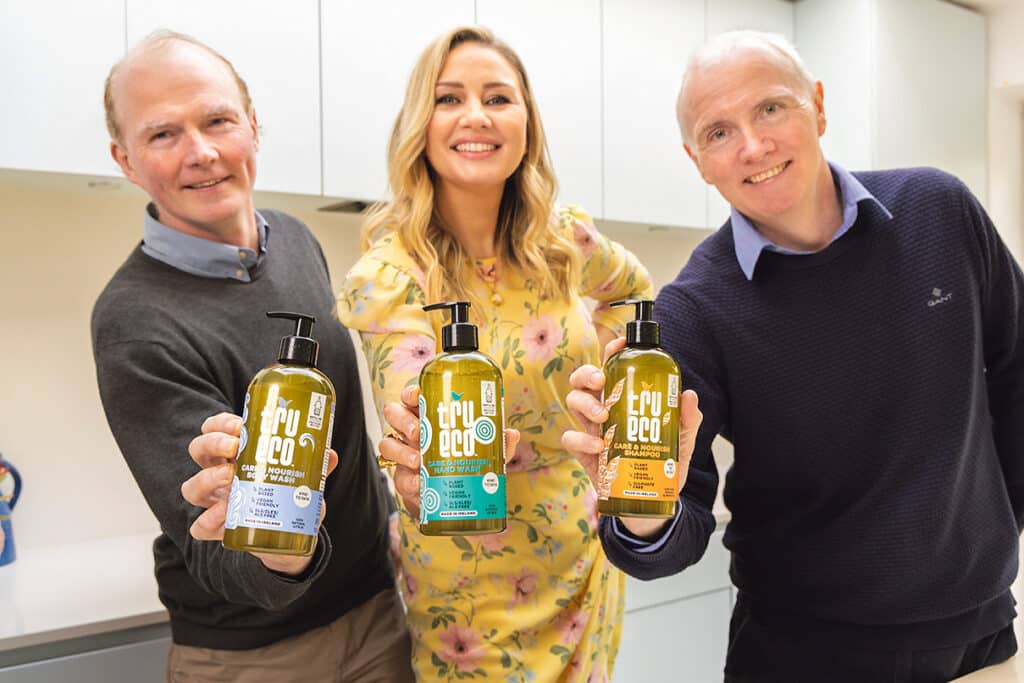 Irish company VivaGreen, known for its innovative and environmentally friendly products, has launched new personal care products with the help of Irish broadcaster and entrepreneur Anna Daly, who shares VivaGreen's commitment to sustainability.
VivaGreen has expanded its existing Tru Eco range of eco-friendly laundry and household cleaners for the first time with personal care products for people seeking gentler solutions for their skin and hair and the environment.
VivaGreen's Tru Eco personal care range features a body wash, hand wash, and shampoo, all boasting a refreshing natural citrus scent. What sets these products apart is their use of plant-based and biodegradable ingredients, free from harmful chemicals and colourants. Additionally, each bottle is made from 100% recycled plastic, which is both recyclable and refillable, promoting a circular economy approach.
The Tru Eco products are formulated with organic sweet almond oil, known for its rich Vitamin E content and antioxidant and anti-inflammatory properties. This makes them suitable for all skin and hair types, including dry and sensitive skin. The gentle citrus fragrance of these sulphate-free products will refresh and energize your senses, whether you are starting your day or winding down after a long one.
VivaGreen is proud to have broadcaster and entrepreneur Anna Daly on board to help launch the new Tru Eco products. Anna's passion for sustainability and commitment to making a positive impact on the environment with her own ethical lifestyle brand Little Bliss makes her the perfect match for VivaGreen, according to Russell Walsh, Co-Founder of VivaGreen.
"We believe that Anna Daly's support will help us spread the word about the importance of choosing sustainable products and encourage others to make more environmentally conscious choices," said Walsh.
Anna Daly expressed her delight in partnering with VivaGreen for the launch of the Tru Eco personal care range. "As an entrepreneur and a mother, I am passionate about sustainability, and I am pleased to see that VivaGreen's Tru Eco range is made using natural, biodegradable ingredients that are gentle on the skin and hair. It is reassuring to know that these products are both environmentally friendly and safe for my family," said Daly.
In addition to providing a gentle and refreshing experience for your skin and hair, Tru Eco personal care products are also affordable compared to similar products in the market. By choosing Tru Eco by VivaGreen, consumers can make a positive impact on the planet with their personal care needs while supporting local businesses.
Dr Anne Marie Mahon, VivaGreen's lead researcher and a marine biologist, ecologist, and environmental scientist, played a key role in developing the Tru Eco personal care products. These products have undergone rigorous testing and have passed the Cosmetic Product Safety Assessment, ensuring their effectiveness and meeting VivaGreen's high standards.
Tru Eco products are available in select SuperValu stores, and the new personal care line is also available in eco-shops nationwide, making it easy for consumers to switch to eco-friendly products that promote sustainability.
VivaGreen also offers Tru Eco refill stations in SuperValu stores in Cork (Clonakilty, Cobh, Glanmire, Bantry, Bandon) and eco-shops, making it easier for consumers in Cork to adopt a sustainable lifestyle. Visit vivagreen.ie to find a refill store near you.
Make the natural choice for your personal care routine with VivaGreen's Tru Eco range and join the movement towards a more sustainable future. For more information, please visit vivagreen.ie.