Of all the species in the animal kingdom, birds can lay claim to some of the most incredible feats of physical achievement; whether it's the Peregrine Falcon, the fastest animal in the world with a diving speed of 389kmh, or the incredible annual 90,000km migration of the Arctic Tern, as it flies from its Arctic breeding grounds to Antarctica and back again.
The Common Swift (Apus apus) is another of these 'high achievers', explains Claire Deasy, West Cork Swift Officer, holding the record for the fastest bird in level flight at 111.6kmh and living its whole life on the wing, stopping only to nest and rear its young. According to new research, Common Swifts can stay in the air for up to 10 months without stopping.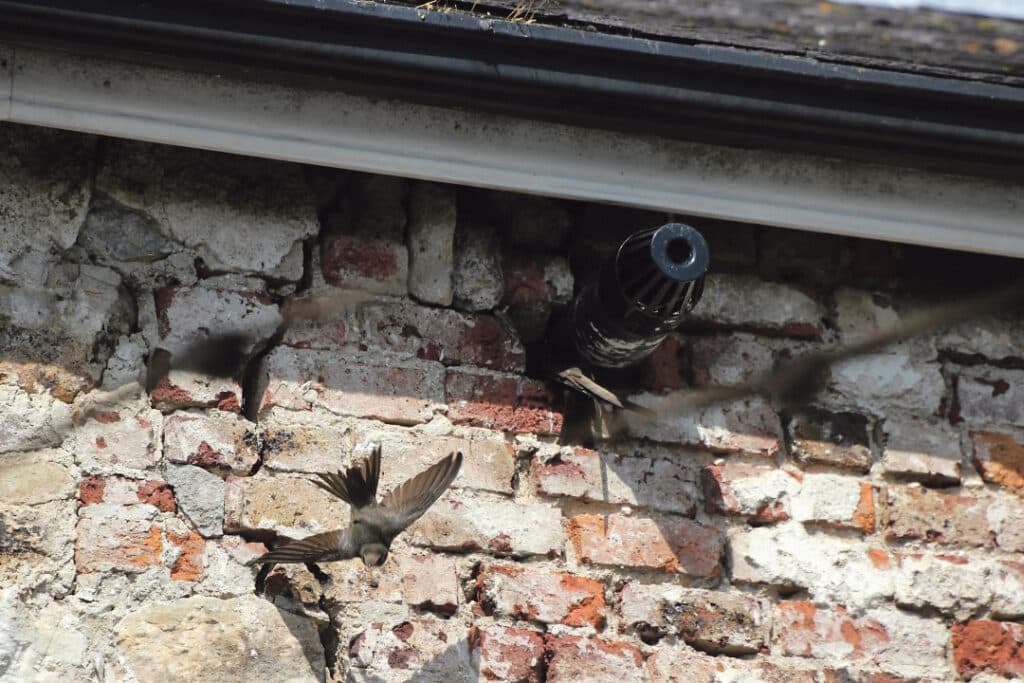 Swifts are part of a very ancient family, the Apodidae (meaning 'footless'); that is thought to have separated from all other birds 65 million years ago. The Common Swift is sooty brown all over, but appears black in flight and has long sickle-shaped wings and a short forked tail. It is sometimes mistaken for a Swallow, but the Swift lacks the off-white undersides and long tail of the Swallow and Swifts never perch.
Swifts migrate from Africa every spring, arriving here in May to start their summer breeding season. They pair for life and only stay here for two to three months, departing by late August. Very much a town bird, it builds little cupped nests inside small crevices or eaves of buildings with materials such as feathers and grass that it finds on the wing. Unlike Swallows, Swifts do not nest on the outside of buildings. A tell-tale sign that a Swift has a nest is when you see it dive at high speed towards the eaves of a house and apparently disappear into thin air! This is not a vanishing act. When rearing young, Swifts approach their nests at over 60kmh. They fold their body down from the neck and use it as a massive air brake in order to enter the nest hole.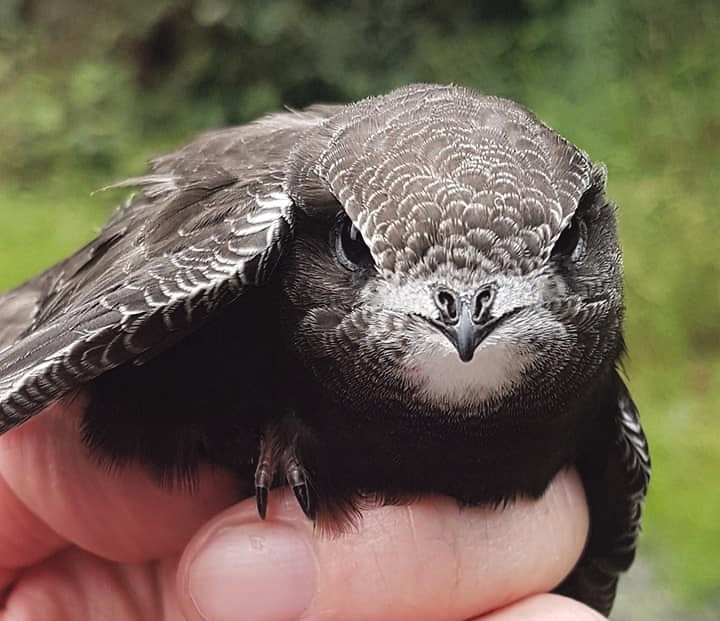 Swifts are site-faithful and colonial nesters, meaning they will return to the same nest site for many years and like to nest in groups. As supreme aerialists, Swifts spend most of their lives in flight; drinking, feeding, mating, preening and even sleeping 'on the wing'. How and when they sleep is not fully understood. One idea is that they take brief naps during daily dawn and dusk ascents to altitudes of 3,000m or more, after which they gradually glide down. Another is that, like whales, they switch off half their brain for short periods. The Swift uses its incredible flying skills when hunting for food. These birds can consume half-a-million flying insects during their summer stay in Ireland. They are also the perfect house guest, making little or no mess. Parents even eat their own chicks' droppings (to recycle mineral content). Please don't try this at home! Swift chicks display early signs of their future elite athleticism, as they get ready to leave the nest. They train by doing push-ups on their wings and tails to make them strong enough for flight. Once they can hold a push-up for ten seconds and weigh about 45g, they are ready to fly away. This training regime is vital; a young Swift will leave its nest at six to eight weeks of age, and its tiny feet won't touch the earth again for at least two years.
The call of the Swift is a loud scream. On a balmy summer evening who can resist the sheer energy and vibrancy of a Swift party, as they display their flying skills by careering and screaming above buildings and along streets within towns and villages. Luckily, here in West Cork, this is still a regular occurrence in some of our towns.
Despite surviving tens of millions of years on this planet, today the Swift is sadly in serious decline. Swift populations are falling dramatically across the globe and in Ireland the trend is no different. Since 2008 numbers have declined by 40 per cent. A number of factors are contributing to this: the renovation and demolition of old buildings where Swifts nest is a key factor. Another is the worldwide decline in insects, its main food source. This is due to the destruction and clearance of the wild habitats that support insects and also the widespread use of insecticides.
What can we do? Lots thankfully, and it's happening right here on our West Cork doorstep! Birdwatch Ireland West Cork Branch started the West Cork Swift Project in 2019, with the aim of identifying nesting colonies and helping to erect nest-boxes nearby to encourage further nesting. With the help of local volunteers and community groups such as Tidy Towns, the Branch has been surveying Swift nest sites across the towns and villages of West Cork. Now, with the help of funding from Cork County Council, Tidy Towns Groups and individual sponsors, over 30 Swift nest-boxes have been acquired. Because Swifts like to nest where other Swifts are already established, conservation is key. Towns like Clonakilty, Ballydehob, Bandon, Bantry, Dunmanway and Skibbereen, that are lucky enough to still have nesting Swifts, should do all they can to hold on to them. Once they leave an area, it's very hard to get them back again; and thus their territory continues to shrink.
If you would like to help out with these Swift conservation efforts by volunteering for surveys, sponsoring a Swift Nest box, or if you think your building would be suitable for a nest-box, please get in touch with Claire Deasy, West Cork Swift Officer, at the following email address swiftproject@birdwatchirelandwestcork.ie
For more information about the Branch contact Nicholas Mitchell at secretary@birdwatchirelandwestcork.ie or join our mailing list by sending an email to mailinglist@birdwatchirelandwestcork.ie.