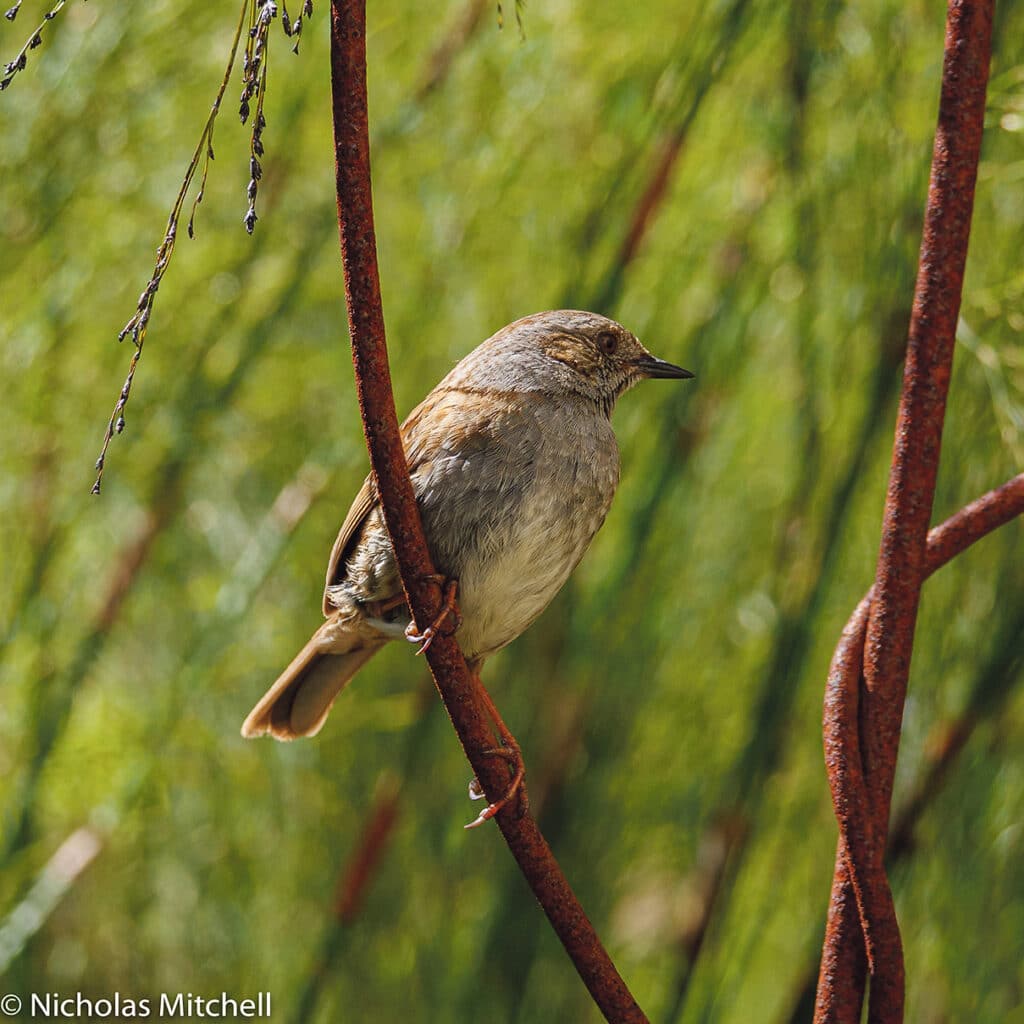 by Nicolas Mitchell
The Dunnock or Donnóg (Prunella modularis) is a regular visitor to my garden, foraging on the ground for crumbs under the bird feeders, or beneath the shrubs for small invertebrates.  It's not a 'flashy' bird, in fact it's quite drab, with its dun coloured plumage and unobtrusive, retiring behaviour, but do not be fooled by this, the Dunnock has a complex social life.
First though, let's look at identification. A Dunnock is about the size of a House Sparrow (it's old name was Hedge Sparrow), but is more slender and less dumpy, with a thin bill and a longish tail. The crown of its head and cheeks are dark brown, with the rest of its head and breast a bluish grey. The upper part of its body (the mantle) and the wings are a warmer russet brown with black streaking.
A common resident in Ireland, the Dunnock prefers dense and scrubby habitat, such as bramble cover in woodland, garden hedges and furze bushes such as proliferate the West Cork coast. Its song is often likened to the sound of a shopping trolley with a squeaky wobbly wheel and its call is a sharp 'tcheh' sound. Although some Dunnocks from northern Europe migrate annually, it is very likely that the Dunnock in your garden was born within a few kilometres.
The male and the female Dunnock both maintain their own, broadly independent, breeding territories, with the male territories tending to be larger. For males this leads to a potential overlap of more than one female territory and provides a potential opportunity for additional pairings. However, with the population of males generally being larger than that of females, before an additional pairing can be considered, the male has to defend his monogamous relationship with one female. To achieve this he, the dominant alpha male, may allow a second subordinate beta male to come into the territory to help defend it. And so the social relationship changes from monogamy to polyandry. Sometimes, a third gamma male may even share a territory with two males and a female.
The polyandrous relationship is an uneasy one. The alpha male has a clear motivation to secure the female as his sole sexual partner to ensure that she produces only his offspring. However, the female actively seeks a sexual relationship with other males. Her motivation is to enlist another male, normally the beta male, to provide her (a) with a brood of mixed paternity and (b) with food for the offspring, and he will only do that after they have copulated. The alpha male therefore spends a great deal of time defending her from the beta male, although both males work in harmony to repel other male intruders.
Occasionally, a polygynous relationship arises. This is when an alpha-alpha male emerges and defends two female territories. Males have the greatest reproductive success with polygyny, while the females have the least success (NB Davies and AI Houston 1986). Eventually though, this is unsustainable and the male requires the assistance of a beta, and maybe even a gamma male, to help defend the territory. With the females wanting to copulate with the other male(s), the alpha male will find it difficult, if not impossible, to be the sole mate for both females!
So far, the Dunnock's relationships have included monogamy, polyandry and polygyny. Every now and then two males that have combined to defend two female territories, may even expand this to three or four female territories. This is co-operative polygynandry, in which the females have greatest reproductive success, while the males have the least success (NB Davies and AI Houston 1986). The benefit of co-operation is more offspring but at the cost of shared paternity. Davies and Houston concluded that co-operation is unstable because an alpha male cannot enforce a limit on the beta male's share of paternity.
Running alongside this complex social system is equally complex sexual behaviour. Before copulation takes place, the female Dunnock crouches in front of the male, fluffs her feathers, quivers and lifts her tail to expose her cloaca. The male responds to this by hopping from side to side behind her and pecking at her cloaca. This action stimulates the female to eject some of the sperm from previous couplings, thereby increasing the male's chance of paternity. Another behaviour happens when two males meet over a territory dispute and there's a lot of flicking of wings and chasing each other. This may have given rise to an old English name for the Dunnock, the flick-wing.
Next time you see this fairly nondescript dun coloured drab little bird in your garden or on a ditch, you now know that this 'isn't just any old drab bird'.
Join us at our next outing at Goleen Marsh on Sunday, February 20. Meet at 11am at Ilen Rovers GAA Club, Church Cross (51.54226, -9.34343) and bring suitable clothing and a picnic lunch.
BirdWatch Ireland West Cork Branch
For more information about the Branch contact Nicholas Mitchell at secretary@birdwatchirelandwestcork.ie or join our mailing list by sending an email to mailinglist@birdwatchirelandwestcork.ie.