This month, Karl Woods, a long-term committee member of BirdWatch Ireland West Cork Branch, shares his other (non-birding) interest; moths.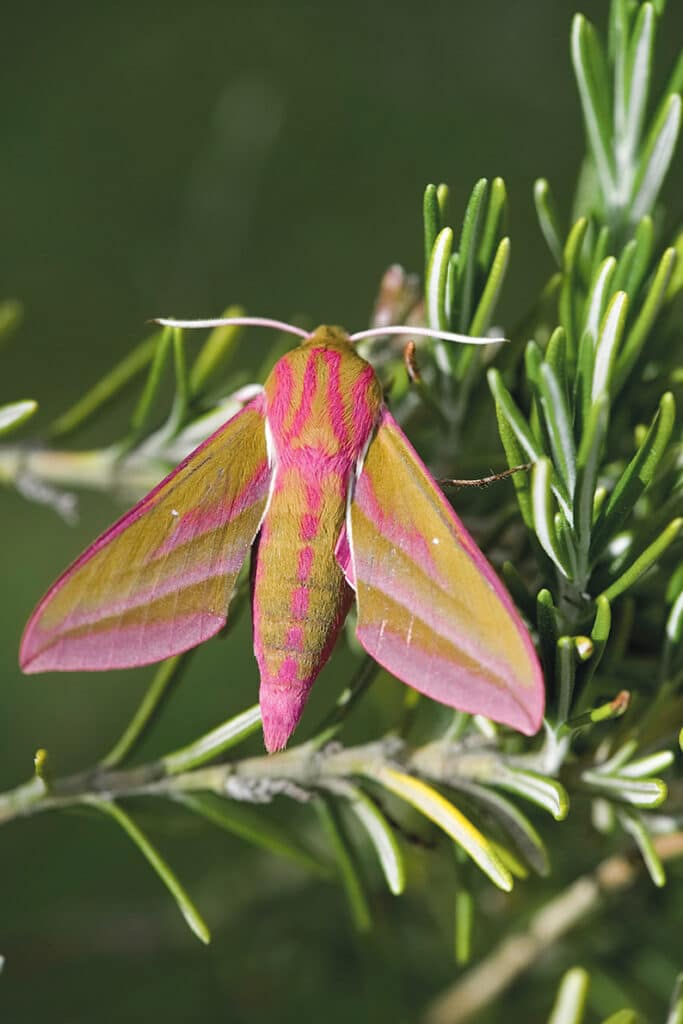 With multiple lockdowns over the last 15 months or so and many confined to the small areas around their houses, people have been looking for new things to get into. The increase in people becoming interested in their garden wildlife has been fantastic. It has opened up a new world for some that has continued, despite the easing of restrictions. For some, it took the form of moth trapping. Together with their butterfly relatives, moths make up the order Lepidoptera, a part of the class Insecta. However, unlike Ireland's butterflies, which only number 35 species, there have been over 1,500 species of moth recorded in Ireland.  With most gardens capable of yielding 200-plus species, it is easy to see why it could be a very inviting pastime.
There are a few misconceptions when people generally think of moths, usually with a comparison to butterflies. While butterflies are the colourful majestic flying insects, moths are seen as boring and drab. A quick flick through a moth guide, or looking at a gallery of photos, will very quickly reveal that this is not necessarily the case. There are many moths with colours and patterns that easily rival any other insect group. Add to this the array of wing shapes and sizes and you can see just how varied and interesting this group can be. Another myth is that moths are the night-time counterpart to our day-time butterflies. While many species of moth are indeed nocturnal, there are also hundreds of day flying moths.
Surprising as it is, adult moths can actually be found throughout the year, with different species having different flight times. The majority, like many invertebrates, prefer the warmer months, with summer offering the largest numbers, both of species and individuals. Spring and autumn, while not as productive as summer, still have their own reasonable selection of species. Winter holds the least numbers of moths but is not completely devoid of them. Certain species have adapted to the colder temperatures during this time of year and can be found during milder nights throughout the winter, with the aptly named Winter Moth and December Moth being two of the species likely to be encountered.
The easiest way to see moths is to bring them to you by providing a light source at night. Even an urban garden is likely to give a nice selection of moths, so anyone can try it. Most people have probably already noticed moths coming to their outside lights or even a lighted window. Before I bought my first dedicated moth trap, I managed to record about 200 species in a six-year period, all attracted by the outside light and windows. A torch left shining on a white sheet would provide a similar effect.
The most effective method is to use a dedicated moth trap. These can be purchased online ready-made or you can build your own if you feel up to it. There are varying types of traps and bulbs that can be used but all follow the same principle: a light suspended over a box/bucket. The moths are attracted to the light, then funnelled down into the box where (most of them) stay until you look through it in the morning. UV light is the most attractive to moths, so bulbs with lots of UV light have better catches.
The easiest traps to use are mains-powered and usually limited to the garden but you can convert these or use battery-operated ones further afield. Once you get hooked on moth trapping (most people do), you can have a go at trapping in different habitats. Different habitats have different food sources for moths and can provide a different set of species. Marshland, dune systems, forests, upland bogs etc. can all provide a unique and different trapping experience.
Anybody interested in moths already or who would like to get involved should check out Moths Ireland (www.mothsireland.com). This group promotes the awareness and enjoyment of all things moth-related in Ireland and co-ordinates the recording of all sightings. The website includes distribution maps and flight charts for Irish species plus other useful information. There is also a fantastic Facebook group (mothsireland) with experts on hand to help with identification and other queries. Anybody looking to submit sightings can send them to either Moths Ireland or National Biodiversity Data Centre (please only send to one to avoid duplication as records are shared).
Please remember that a licence is required to use a Moth Trap. This can be obtained by contacting Moths Ireland and getting added to their list of trappers (free of charge).
BirdWatch Ireland West Cork Branch. For more information about the Branch contact Nicholas Mitchell at secretary@birdwatchirelandwestcork.ie or join our mailing list by sending an email to mailinglist@birdwatchirelandwestcork.ie.