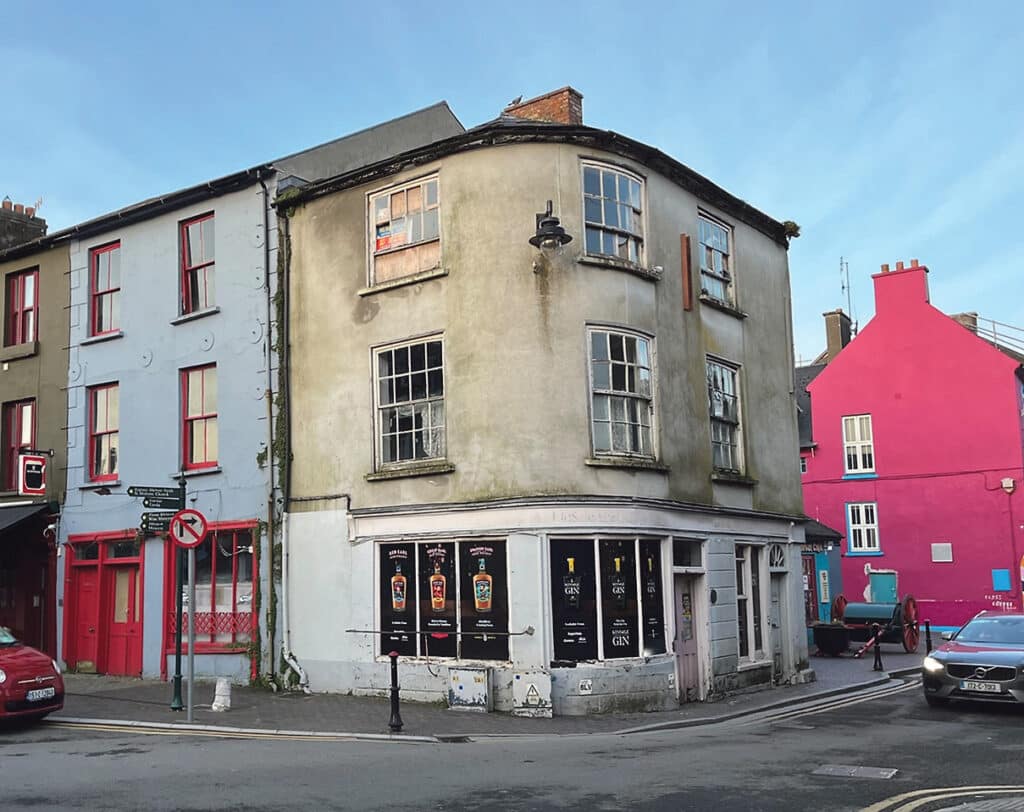 Patsy's Corner at Market Place in Kinsale has been awarded €14k in government funding for works to support it as a local heritage building. In total, 556 heritage projects in 31 local authorities across the country will benefit from a total of €4.5m under this year's Built Heritage Investment Scheme – an increase of 12.5 per cent on 2022, as announced by Minister of State for Heritage and Electoral Reform, Malcolm Noonan TD. 
Works will include external joinery repair, lime rendering, roof repair, structures and coverings including lead work, and rainwater goods repair or replacement.
Marc Ó Riain, Green Party Local Area Representative for Kinsale Bandon welcomed the news.
"Built Heritage has always been a key priority for the Green Party, and with a Green Minister for Heritage, we're seeing increased investment by Government in the protection and preservation of our built as well as our natural environment. Kinsale town centre is an area of Architectural conservation but has seen a lot of dilapidation in the last 10 years. We have seen some action to dress the Folkhouse and the Seaview in the last year and we would love to see both Patsy's Corner and the Silent Banjo being brought back to their former glory."
"This has obvious benefits for our cities, towns and villages, both in terms of preserving the integrity of our historic and vernacular buildings, and in terms of preserving the skills and crafts required for this conservation work. These schemes deliver thousands of hours of professional craft skills, many of which are based in rural communities."
"The Built Heritage Investment Scheme is hugely impactful in this regard because it allows so many owners and custodians of historic and protected structures to complete necessary works to maintain these structures and safeguard them for the benefit of future generations, and this support is not limited to private dwellings. This round of awards is supporting work on a wide range of heritage structures, including landmark buildings and historic churches, mills and castles."
Announcing the funding, Minister Malcolm Noonan said: "Ireland's towns and villages were built around a uniquely Irish vernacular; a style and an approach to craft and design that gave our places their charm and character, and supported the traditional craftsmanship needed to maintain it. We're in danger of letting that vernacular slip away, and that's why it's vitally important that as a government, we support people to protect our built heritage; to choose repair or restore over redesign or replace; and to keep traditional crafts alive.
"It's an undertaking that I know requires significant time, care, expertise and investment, and my department is recognising this with significantly increased investment in 2023. Across both funding schemes, for built heritage and historic structures, we're supporting this work to the tune of €9 million this year – an increase of 12.5 per cent on 2022.