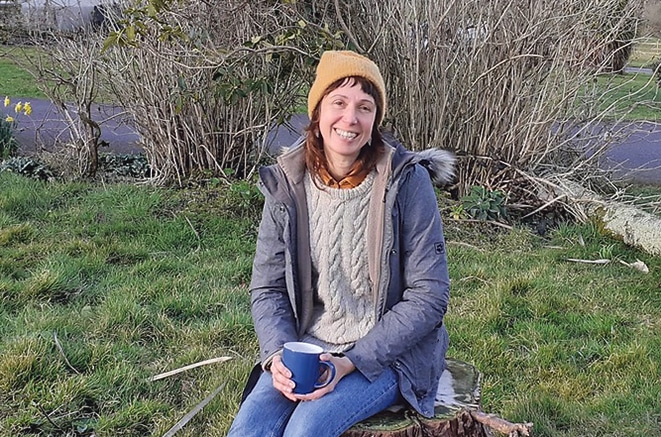 Green Skibbereen celebrated the launch of a new group of volunteers and supporters 'The Friends of Myross Wood' on Sunday, March 13. Over 25 volunteers spent the day learning about the group's detailed development plans for Myross Wood, in Leap; undertaking guided walks and most importantly planting some 1500 native Irish trees to begin the process of the careful restoration of the woodland.
Green Skibbereen was awarded funding from the Woodland Development Fund via the Department for Agriculture, Food and the Marine to undertake the Myross Wood Meitheal project to carefully restore this well loved and historic woodland by involving the community every step of the way.
Green Skibbereen has been delighted to work with the Green Economy Foundation and Trees on the Land, as well as a number of woodland and ecology experts in developing a plan to increase the number of native trees, remove invasive non-native species, protect the wonderful biodiversity of the site and make the area easier and safer to access for those who wish to enjoy the benefits of being in the woodland by restoring and improving pathways.
Trish Lavelle, Chair of Green Skibbereen was delighted with the involvement of so many volunteers from the community. "We had to postpone the event twice due to the recent storms, but the sun shined for us on Sunday and our volunteers worked away planting trees and learning about the woodland from Nikki Keeling from the Green Economy Foundation and Mark Robbins, Ecologist. It was a truly inspiring day and we achieved so much."
Fellow Director Ana Ospina was equally optimistic about the project: "We really didn't know what to expect, but it is such a vote of confidence for woodlands, for biodiversity and for West Cork that so many amazing volunteers have come forward. We have a follow-up day planned for Saturday, April 9, where we will be establishing a tree nursery in the grounds of CECAS. We hope even more people will consider getting involved in such a worthwhile project."
The volunteers present included local gardeners, neighbours, farmers, and people who wanted to learn more about Ireland' precious native woodland.
Reflecting on the day, Trish Lavelle said that, "it actually felt quite emotional to see these first new oak, rowan, hazel, spindle, birch, alder and holly trees planted in an area, which has been so very badly impacted by storms in recent years. Native trees have adapted over centuries to cope with our weather and stand a greater chance of surviving into the future. The fact that they have been planted as part of a collective, community initiative makes today all the sweeter."