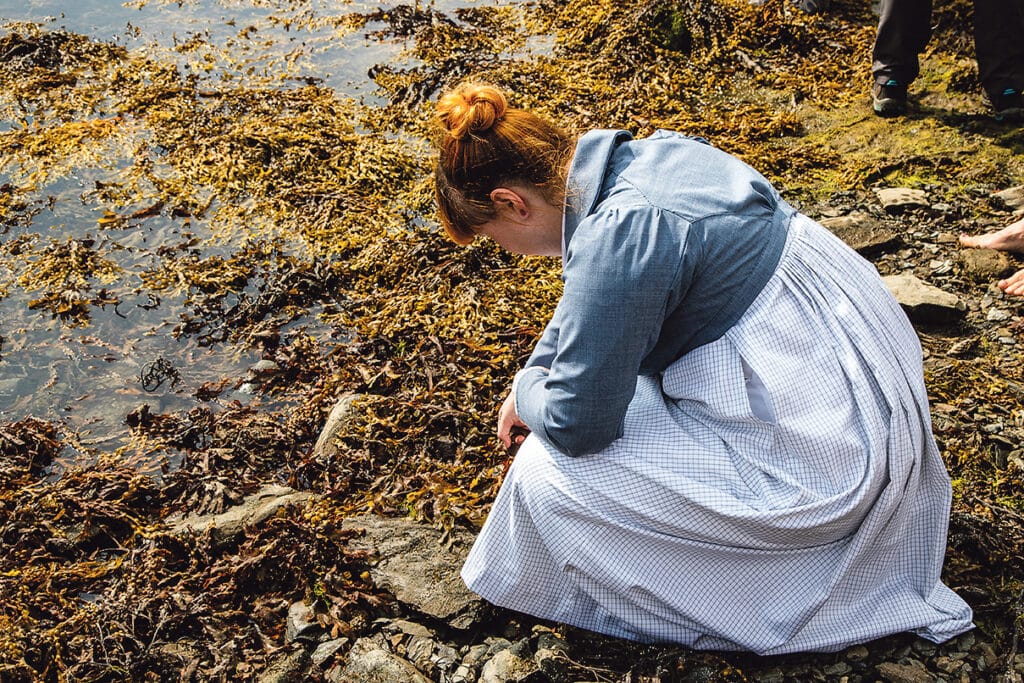 Whether you have been before or it's your first time, the Ellen Hutchins Festival during Heritage Week has a great range of activities around botany, botanical art, the biodiversity of Bantry Bay and the story of Ireland's first female botanist. This year features seaweeds, willow baskets, coastal wildflowers, lichens, and a kayak trip exploring shoreline wildlife. 
Live outdoor events for adults, and families with older children take place from August 19–22, but before these, there is a DIY and Online Festival, from August 14-17, allowing people to take part wherever they are.
Wednesday, August 18 has a wonderful Wild Child programme for children aged six to 12, with a very special moss hunt and a native tree trail in the morning in Glengarriff Woods. In the afternoon the action is in the stable yard and grounds of Bantry House. The gardens are open for free that day, and there is a self-guided trail to trees from around the world. There are free nature art sessions that can be booked, for flower and leaf pounding and making tree ID disks with Etaoin Melville, and creative adventures with leaves and paint with nature artist, Sue van Coppenhagen.
The Coorycommane Loop Walk in Coomhola offers a great range of habitats for wildflowers and beautiful views over Bantry Bay. Clare Heardman, Conservation Ranger for Beara, will guide a group on this walk in the morning on Thursday, August 19. Clare will lead another walk on Sunday, August 22 for coastal wildflowers along the O'Sullivan Mile from Trafask to Faha (and back).
On Sunday afternoon, Neil McAllister of Wild Atlantic Wildlife is repeating the highly successful trip he ran in 2019 from Adrigole Pier, exploring the shoreline wildlife in kayaks. It's a beautiful place to celebrate Water Heritage and see seals, seabirds and seaweed, and learn about water matters and coastal botany.
Oceanic Lichens in Glengarriff Woods and Harbour is the focus on the afternoon of August 19 when Paul Whelan will lead a session exploring the hidden world of this fascinating life form. Hand lenses will be available. Since running a similar session in 2019, Paul has written a book with the same title for the Festival, published last month. West Cork is one of the best places in Europe to explore lichens and there are so many interesting ones to be seen in Glengarriff.
On Friday, August 20, a morning session at Ardnagashel, 'She Gathered Seaweeds on the Seashore' is with historical re-enactor Carrie O'Flynn and aquatic biologist Frances Gallagher. Discover who gathered seaweeds and why and how they did so. Learn about the seaweeds from Frances, make your own seaweed specimen and take a walk back in time in a special place with Carrie.
On Friday afternoon, under a parachute shelter at an outdoor venue in Ballylickey, 'Ellen and Dawson: Seaweed and Sealing Wax' focuses on the letters and friendship between botanists Ellen Hutchins and Dawson Turner. In a session chaired by Finola Finlay of Roaringwater Journal, hear actors Karen Minihan and Mark O'Mahon, read from letters written in Summer 1811, and learn about that period from historical re-enactor, Carrie O'Flynn.
The afternoon of August 21 is 'From Branch to Basket: Willow and other useful trees' at Future Forests, Kealkil. Drop in to see a basket making demonstration by Yvon O'Flynn and a display of baskets, book to take part in mini willow weaving sessions with Ciara Strange, and hear a talk on willow and other useful trees by Mike Collard.
While most of the in-person outdoor events are free, they must be booked in advance through Eventbrite. Numbers are limited and information given about how the events run and the safety measures in place to follow public health guidelines.
For the DIY Festival, each of the four days has a theme and a short video will be released on the Festival website in the morning to introduce this and give DIY activity ideas for the day. The Online Festival has two Zoom art workshops on painting flowers in watercolours, with talented artists, Shevaun Doherty and Sue van Coppenhagen, both also experienced teachers.
Funding from County Cork and Creative Ireland is enabling the Festival to present its programme. The Heritage Council has provided a grant for new shelters as weather protection, outdoor furniture and sound amplification systems to make access easier.
Details of all the events, DIY days and online art workshops are on the Festival page of the website www.ellenhutchins.com with links to Eventbrite to book places.