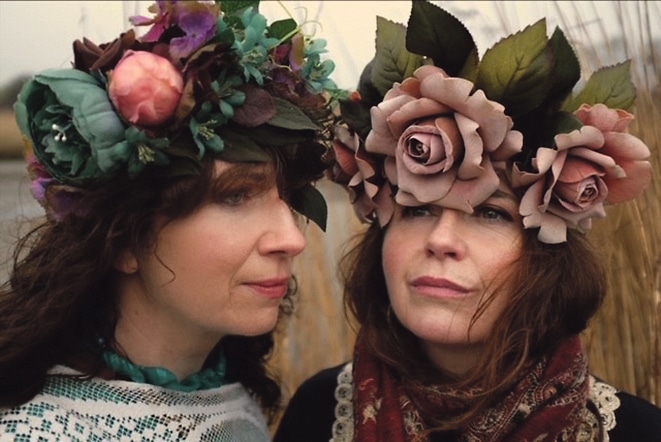 Eurovision hopefuls Victoria Keating and Áine O'Gorman have just released their cover of Johnny Logan's 'What's Another Year' with all funds raised from sales going to the Parkinson's Association of Ireland.
Speaking on the single Victoria Keating says, "It's back to the glory days of songwriting, and we have dedicated it to Shay Healy".
'What's Another Year' was produced, mixed, and mastered by Martin Leahy who also performs pedal-steel, synth, and drums on the single; with Áine O'Gorman performing on piano and strings."
Longtime friends, Victoria and Áine have previously released three co-written songs, including 2020's 'The Poor Ground', written with Jamie Kelly in response to the Tuam Babies scandal; followed by singles 'Brigid' and 2023's 'Sweet Bird'.
The duo were blown away by support recently for their Kickstarter fundraising campaign that's helping them complete recording of their upcoming album. Victoria's cancer diagnosis put an urgency to completing this project, which she says has been a lifeline during her treatment. Anyone interested in finding out more about this can find it on kickstarter.com.
Performed by Johnny Logan and composed by Shay Healy 'What's Another Year' won the Eurovision Song Contest in 1980. It was Johnny's first Eurovision win (out of three, as performer and later songwriter) and Ireland's second Eurovision win. The song went on to reach the Number one spot on the UK Singles Chart.
Victoria Keating has worked with Christy Moore extensively since 2011, providing harmony vocals on five albums. She has toured with both Christy and Declan Sinnott playing sold out shows such as Glastonbury and Vicar Street, Dublin. In 2017, Victoria was thrilled to be asked by composer Mark Wilkins to perform in 'The Madrugada', a song cycle based on the lyrics of Mick Lynch, former frontman of Cork punk band Stump. Victoria is building a loyal fanbase on her lockdown project 'Little Rooms, Big Music'. The weekly online show is live-streamed every Friday from her living room and reaches audiences of over 26,000 viewers. Victoria has steadily been releasing music since November 2020. Her single, 'I'm Not Really Here' was released on Oíche Nollaig na mBan. It's the third single to be taken from her debut album, 'Little Rooms'. A concept album, each song is a different 'room' in Victoria's life; how she lives in or experiences that 'room' and how we all have different 'rooms' to visit, weave in and out of, or sometimes, ignore. Victoria is currently recording her debut album, Little Rooms in Wavefield Studio, Clonakilty which is due for release in September 2024.
Ballinadee singer-songwriter Áine O'Gorman writes songs from a deeply emotional perspective. With two musical parents, her mother a piano teacher, Áine had no choice but to pursue a life of music. A full-time musician, after spending years performing in bands, Áine began releasing her own music in 2019 with her debut single 'Lydia'. Since then, she has released more music including 2021's self-titled EP and her 2022 single 'These Empty Rooms'. 'These Empty Rooms' is a powerful tribute to Áine's late mother Margaret O'Gorman, who died tragically 20 years ago, and is a relatable song about grief and living with the empty spaces left behind. 'These Empty Rooms' has been included in this year's Grammy submissions.