Walking in the footsteps of celebrated street theatre group Craic na Coillte, who brought colour and creativity to Clonakilty in the eighties and nineties is no easy task but a small group of local artists who have created an annual festival around Samhain is doing an exceptional job of filling those shoes. Since its inception in 2017, this colourful event has been curated by Geata Arts, a small collective of 10 artists, give or take, who working out of a leaky old shed with minimal resources, collaborate closely with different community members and groups to bring Samhain on to the streets of Clonakilty in a spectacular fashion. This year, in the theme of 'Listen to the Land Speak', the title of Manchán Magan's latest book, the festival is focused around the ancient myths that have shaped our national identity. Organisers Mark Dougherty and Ciara Heffernan share with West Cork People how over the years the festival has taken on a life of its own and why this celebration of our heritage is so important in the community.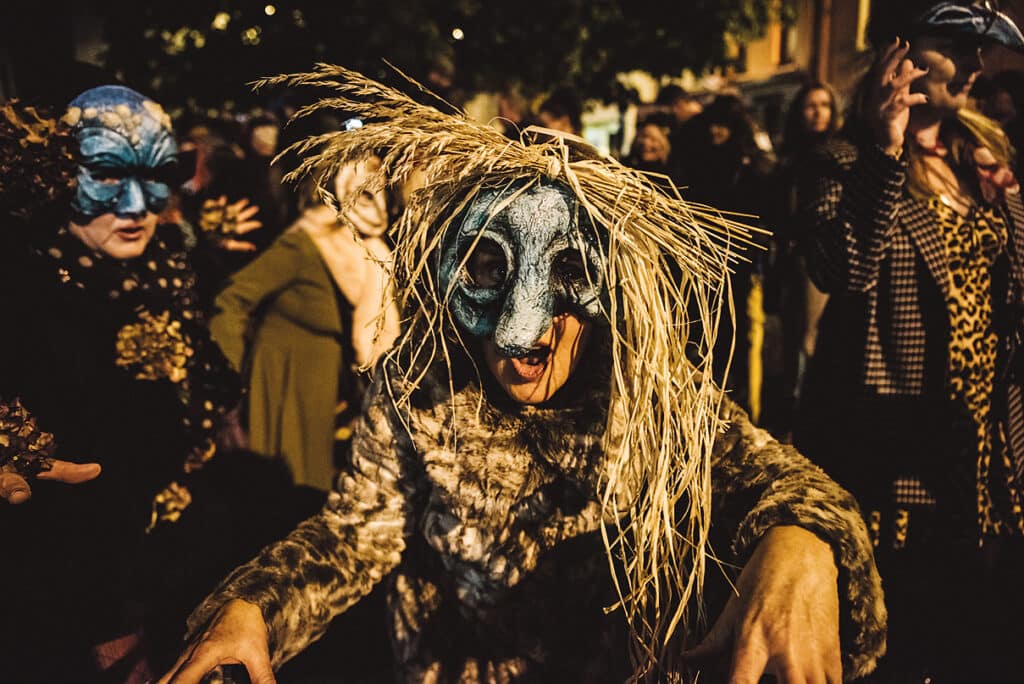 Home to so many talented artists, there is a creative energy in Clonakilty that fosters this type of culturally unique event and expression through art. Relying on grants from Cork County Council, the Arts Council and the support of the general public, the town's Samhain festival is an annual themed event that has grown to encompass free talks, show films and play concerts, culminating in the Púca Parade, which is open to everyone and encourages active participation, from the making of costumes to taking part in the street parade.
"For us, there is something so important about working with the community in a common goal like this," share Mark and Ciara. "There are so many wonderful summer events in West Cork that bring joy, but as soon as winter sets in, people are kind of left to fend for themselves. Samhain is a celebration of that, of the darkness. It's a celebration of the arrival of Winter. Our ancestors celebrated Winter as the first, rather than the last season of the year. The life-cycle began with the winter, the darkness from which all life emerged."
They stress that the festival is exactly the opposite of Halloween, which is the embodiment of consumerism and capitalism. "This is Samhain, which is quintessentially Irish and ancient concentrating on the cultural practices and arts that have vanished or are quickly vanishing in Ireland…We aim to create a waste-free event, in that all the costumes are made of natural materials, which are an expression of the land.
As tends to happen in West Cork, this festival of Samhain has developed organically, taking on a life of its own with each year that passes. "There's no question of it happening anymore, it just does!" says Mark. "I think people are aware that it is a community project in essence and that their involvement is key. If you don't make the costumes and join the procession, who will? Saying that, there are some wonderful talks this year, some live podcasts, incredible musicians and artists, it is going to be wonderful."
Ciara and Mark and everyone who works so hard to keep Geata Arts and the Samhain festival going do it because they believe that the more communities can gather together for things like this, the longer our culture has a chance of surviving.
"We are seeing the world now through a glaring lens, alone in our rooms with pop-up ads…When the songs have stopped being sung, the ancestors are truly dead. When the stories have stopped being told, we all fall asleep. And when we wake up, what are we waking up to?"
The Púca Parade on Sunday November 5 is open to 'your' take on this year's theme 'Listen to the land Speak'. To join, simply email geataartsgroup@gmail.com with the name of your entry and number of participants in your group.
Geata Arts work out of a leaky shed and are constantly on a lookout for a better location, which would allow more people to get involved. If you can help with this or would like to make a donation to the festival email geataartsgroup@gmail.com.
All pics: Anna Groniecka