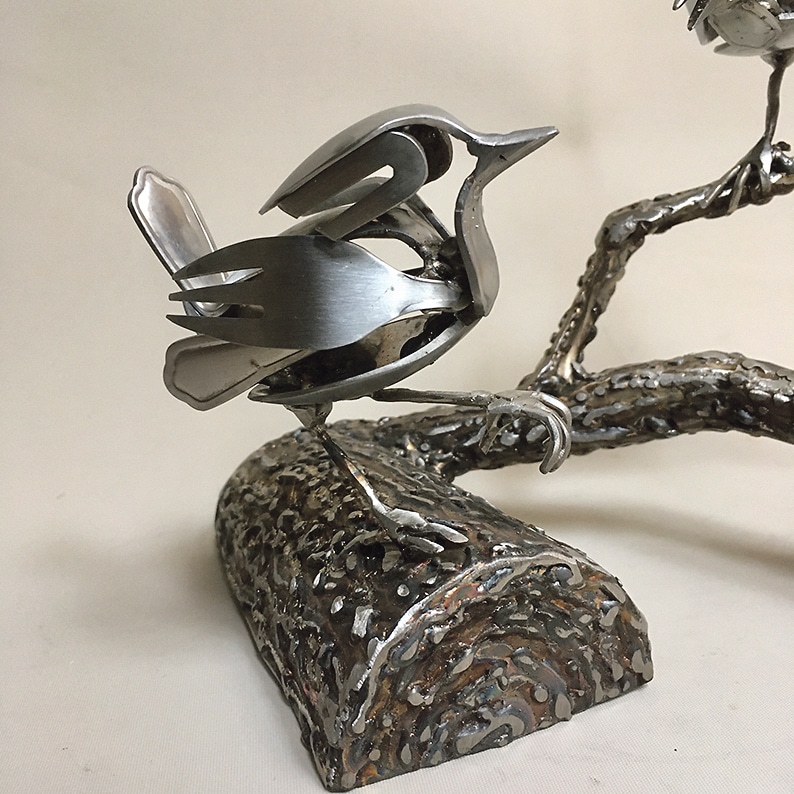 by West Cork Arts Centre staff and artists
A busy programme of events was in full swing at Uillinn: West Cork Arts Centre last March. The thought-provoking multi-media installation, 'Land Walks Land Talks Land Marks', developed over three years by William Bock in collaboration with residents of Clonakilty Lodge Direct Provision Centre occupied Gallery 2. Hovering the James O'Driscoll Gallery walls, were nearly one hundred oil-painted migratory birds by Gabhann Dunne in his delightful installation, 'Committed to Falling'.
Studios bustled with young thespians busily planning their next great performance, children bounding in and out of dance class with Miss Ciara, and a string of budding painters and makers of all ages attending visual art classes and workshops.
Project Assistant Grainne O'Brien recalls the St Patrick's Day Festival project co-sponsored by Field's of Skibbereen. "Lots of the participants had never had the opportunity to be part of a creative process, and it was wonderful to see how much joy and pride they got taking part and producing a costume, prop or mask."
We know now, of course, that there would be no St Patrick's Day parade and that the centre would close to the public due to the Covid-19 pandemic.
Staff and artists rallied under unprecedented circumstances, finding new ways to engage with each other and the public.
Aspects of William Bock's 'Land Walks' project migrated online. Musical director Liz Clark brought young people together in the virtual Quarantíní Choir. Public Engagement Assistant Kate McElroy launched 'Uillinn Connect' – a challenge to social media followers to complete daily artistic activities and also 'Uillinn Coffee Meet Ups' bringing together various artists with a connection to Uillinn from around the world. Uillinn Galleries was created, offering the public opportunities to view exhibitions online, purchase original artwork and support local artists.
"The postal art project with the Art Club kids was the loveliest project!" says Front of House Coordinator Louise Forsythe. For this, poet Pól Ó Colmáin and visual artist Marie Cullen posted a unique poem to every club member. The children created an image in response and posted it back to Pól and Marie who bundled them into bespoke keepsake books for each family.
"The energy has to be released…regardless of the social circumstances," says one of our artists in Residence Tomasz Madajczak, whose project 'No Space' was initiated under restrictions. "The situation made me work remotely in my studio, while contacting artists around the world to open an art dialogue."
Artist Sarah Ruttle is proud of being part of the Arts for Health Partnership Programme and felt the strength of the partnership at work as she and her colleagues persevered in engaging with the residents. Programme partners at Cork Education and Training Board provided tablets to community hospitals so residents could stay connected, which wouldn't be possible without, "the support of amazing healthcare staff at such a challenging time."
The centre re-opened to the public in July. One-way systems, hand sanitisers and other recommended routines and facilities were dutifully implemented and became mostly second nature to staff and visitors. People were happy, excited even, to see each other again; but it was complicated.
Gavin Buckley, Front of House Assistant, explained. "Coming back to work after the first lockdown was tougher than I was expecting. I was excited to be back because I had missed the people and the routine…It was a bit of a shock to be outside and interacting with people again even though that's exactly what I wanted to be doing…I eventually had to take a week off just to adjust…it seems like it was a very 2020 problem."
Just as we were getting back into the swing of things in October news came of the second lockdown. Certainly, the year's ups-and-downs has taken a toll. When asked recently if light could be seen at the end of the tunnel, our team were hopeful yet cautious.
"It's hard to imagine getting to the end stage of the crisis; but I hope that it will help us recognise what is important and draw communities together as we work through it," says Sarah.
Kate McElroy hopes the skills developed this year will allow for new ways to engage audiences, "without replacing any desire for real art events and meet-ups."
Louise sums up best. "I hope I see light! As the mural outside our building says, 'There is a Light' but who really knows!"
As of this writing it's uncertain if Uillinn will re-open to the public again this year. But rest assured that creativity will abound, and West Cork Arts Centre will find ways to share it.
Arts for Health artists continue to work remotely, engaging older Community Hospital and Day Care residents from throughout West Cork in artistic and musical projects.
Uillinn Prize Draw tickets are available online. The draw offers a chance to win 'Sherkin Seas', a magnificent painting by acclaimed local artist Majella O'Neill Collins; a terrific stocking filler.
'Isolation20', a polyphonic voice and photographic installation by composer Justin Grounds involving 20 singers from across the county of Cork in response to the Covid-19 pandemic, launches January 9, 2021.
Siobhán McDonald, a multimedia artist who weaves art and science in meditative installations is due to exhibit in the James O'Driscoll Gallery in January.
---
Cork Artists' Winter Showcase exhibition is now online
Uillinn: West Cork Arts Centre launched the Cork Artists' Winter Showcase online in November. Uillinn Galleries, the new and exciting online gallery is a platform for an extraordinary collection of art by over 60 artists from the city and county of Cork for viewing and for purchase over the Christmas season.
Throughout the year, artists have been forced to operate in solitude with few opportunities to engage with their communities or to exhibit their work. Uillinn is delighted to have developed this online space to promote and support artists in the region.
As Christmas approaches, this impressive exhibition provides a unique gifting opportunity for the community to shop local and support local artists in a very concrete way.
The work on show ranges from oil, acrylic, and watercolour painting, to textile and glass work, to print, photography and sculpture. With the subject matter encompassing landscape, seascape and townscape to still-life, plants and animals, as well as more abstract work that explores light, heritage, history and our current context, there is a large selection of styles and price points to peruse.
"The online gallery was launched this summer and went really well during the Members and Friends Exhibition bringing new audiences from around the world to local artists. We will truly miss seeing everyone at our annual Uillinn Christmas Fair, but this exhibition will provide that space for a wide public to see and support the talented artists who are living and working in this region," says Uillinn Director Ann Davoren. "It has allowed us to showcase an even larger group of artists in one place at one time."
Cork Artists' Winter Showcase will run until mid-January at uillinngalleries.com. Queries can be made to info@westcorkartscentre.com.