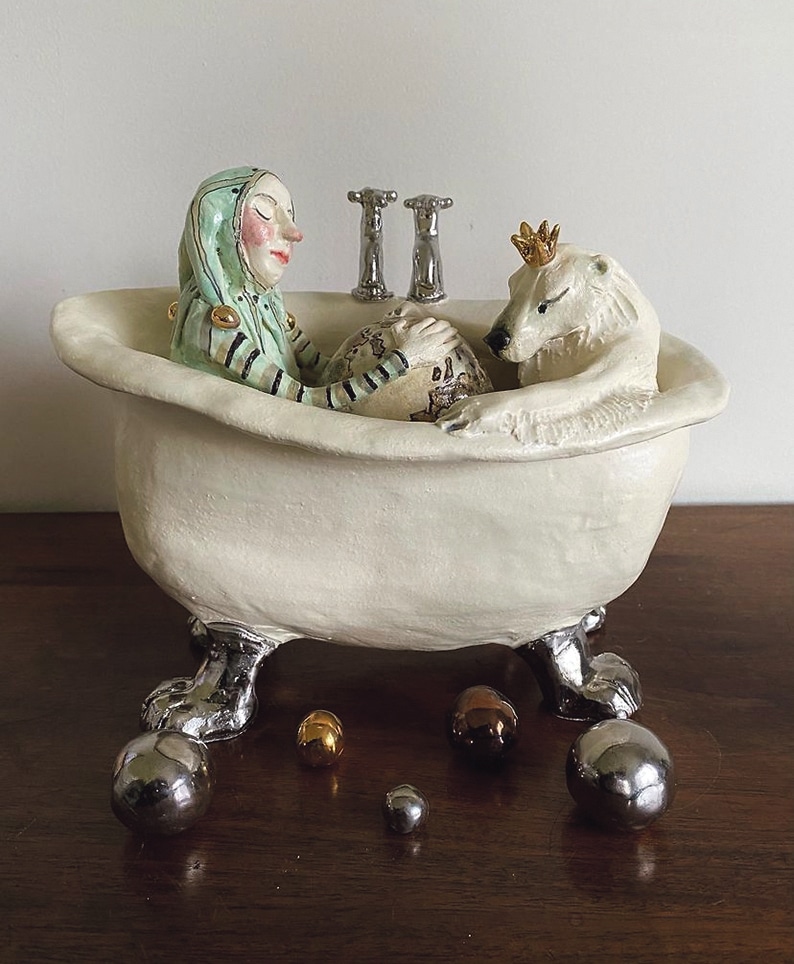 There are few households in Clonakilty and surrounds who haven't had a piece of special artwork framed by The Loft Gallery and Frames, which celebrates 20 years in business this year. With people spending more time at home during the pandemic, the demand for a custom bespoke framing service like that offered at The Loft has been increasing exponentially over the past year-and-a-half. Artist, framer and proprietor Kate Fitzgerald paints a picture of what it takes to run a small creative business successfully in West Cork.
"A frame should make the work sing," explains Kate passionately.
While the main bulk of its clients are artists, The Loft will work with pretty much anything once it fits inside the frame; from photography, kids work, prints, posters and jerseys to ceramics and even cutlery.
In more recent years, the gallery side of the The Loft business has really prospered and there are now a huge number of Irish artists on the books, most of who are based in West Cork. "We started off on a small scale, taking work on sale or return from artists who were getting work framed with us to put on display," explains Kate. There is now a light-filled gallery space upstairs, which regularly hosts group exhibitions and solo shows.
Lovers of fine and beautiful things will find so much to peruse in the way of gift ideas at The Loft this Christmas, where everything stocked is made or designed in Ireland: The shop now carries the new range of ceramics from Etain Hickey and Jim Turner Ceramics, Keiko Ceramics, macrame by BohoKnots by Anna, embroidery hoops by Ciara Chapman Illustration, sculpture ceramic by Joanne Robey and woodwork by Pat Murphy of CK53 Design. You will also find paintings by Peg Quinlan, Judy O'Connell, Celina Buckley, Lesley Cox, Eadaoin Harding Kemp and Louise Manning, to name just a few of the artists.
"Due to Covid we could not run our annual Christmas market this year, so instead I decided to buy craft directly from those makers to sell in the gallery," explains Kate. There are big plans afoot for next Christmas, as Kate hopes to run the market in an outside venue in collaboration with another artist.
Kate's right-hand person is artist and framer Eileen Foley, who has been working alongside her for the past 18 years. "She is the backbone of the framing side of the business and is truly amazing," says Kate, who lives with chronic and debilitating pain. Kate also feels fortunate to have worked with gifted artist Laura Wade and have talented furniture maker Tom Healy fill her place when she made the move to Mayo to pursue working as an artist fulltime.
The real profit in the business for Kate is the friendships she has made with her team and customers. The Loft is not online and yet business has never been busier. "I am always amazed and humbled at the journey some people go to get framing; our customers are from all over Munster some as far away as the UK."
In the future, the plan is to find new makers and artists to sell their work and to get back to holding exhibitions next summer: A group show with Etain Hickey, Eadaoin Harding Kemp and Lesley Cox is in the works and Kate's ambition is to have her own solo show in the near future.
Throughout all the challenges of the past 20 years – Kate's personal struggle with her health, the recession, a major flood and the current pandemic – The Loft has held it's own, an accomplishment that Kate says is due in no small measure to the support of the local community for small businesses like her own.
Kate studied Fine Art in college and went on to major in Printmaking. She joined Cork Printmakers and went on work part-time as an artist assistant to Maud Cotter in the National Sculpture Factory in Cork for two years before moving home to Clonakilty with her now husband and setting up her own framing business.
To celebrate 20 years in the framing business, Kate will be running a weekly giveaway over the four weeks of December. Prizes will include work from Etain Hickey ceramics, Laura Wade Art, Joanne Robey ceramics and Kate's own work.