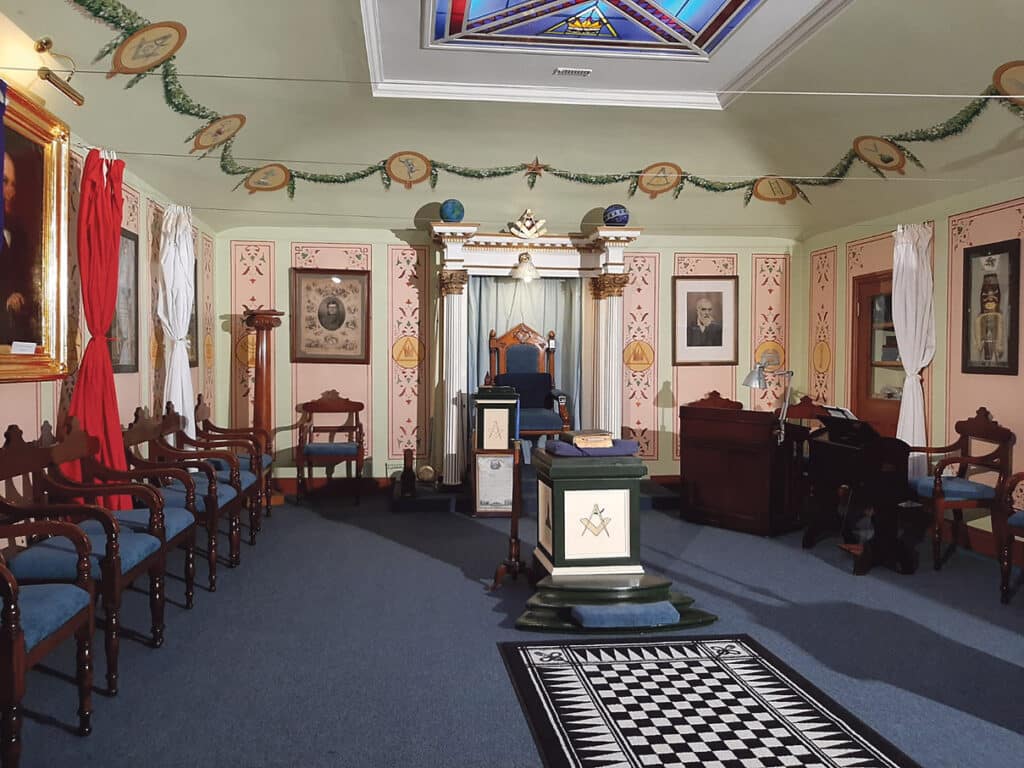 Visitors to Skibbereen are sometimes surprised to come across a building, incongruously tucked away on Mardyke Street, with a neo-classical façade adorned with a 'square and compasses' motif. Locals have ever known it simply as the Masonic Hall. 
But what is freemasonry and what secrets lie within? The present master of the lodge, Pat Evans, a retired HSE manager, is happy to explain.
"Freemasonry is a world-wide organisation that has its origins in the traditions and ceremonies of the medieval stonemasons. Daniel O'Connell, "The Liberator", described it as "philanthropy, unconfined by nation, colour, sect or religion."
"The Grand Lodge of Freemasons of Ireland was formed in 1725 and is a fraternal, non-political, non-religious and charitable organisation that welcomes men of good character to membership. It administers lodges across Ireland from its headquarters at Molesworth Street, Dublin (www.freemason.ie).
"Skibbereen's lodge was formed in 1817. We meet eight times a year, from October to May. Each meeting begins with a formal ceremony, then the routine business of minutes, matters arising, a report from the almoner on members who may be ill or in hospital, and so on. There are sometimes presentations on various aspects of freemasonry such as our history, the ancient origins or our ritual; how men of good character may make a better contribution to the society in which we live. In keeping with the ethos of freemasonry discussions relating to politics and religion are strictly prohibited and no member is allowed to use their membership for personal benefit or gain.
"The meeting concludes with a charity collection and closing ceremony after which we enjoy a small 'festive board' prepared by one of our members.
"Each Christmas we donate to local charities. Over the years these have included the Society of Saint Vincent de Paul (Skibbereen), Cope, Co-Action, Skibbereen Geriatric Society/Meals-on-Wheels, Cancer Connect West Cork, Marymount Hospice, Schull Community Hospital and West Cork Women against Violence. In March this year, we donated €5,000 to local frontline volunteer services helping those most at need in our community due to the Covid-19 pandemic.
"Government Covid-19 Regulations permitting, both visitors and locals will be very welcome to visit Skibbereen's unique lodge room on Culture Night 2020 to be held on Friday, 18th September 2020. To ensure a safe and enjoyable visit, admittance will be by advance online booking only on eventbrite.ie. For those unable to visit, you can still enjoy a virtual tour from your armchair that evening on www.culturenightcorkcounty.ie. If you can't make it on the night you can see our video on youtube. Everyone is welcome on the night, so spread the word- it's not a secret!