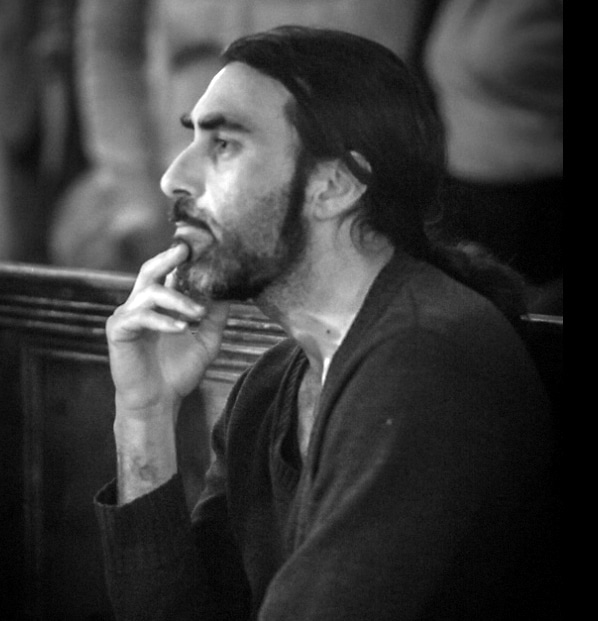 The shape of things
James Waller is an Australian born artist and poet based in West Cork. Through this column James explores the world of art, introducing the reader to major works of art and artists and reflecting on what makes them so engaging.
James offers a range of studio-based courses for children and adults in Classical painting, drawing and printmaking at Clonakilty School of Painting. See www.paintingschool.
jameswaller.org for details.
Every morning my partner and I wake up to a row of three small etchings and two small paintings. I never tire of contemplating them; they are visual mysteries which always seem to hover on the brink of some revelation. Created by the tangible trace of an artist's hand, the promises they offer are, conversely, intangible. In contemplating them, I find myself wondering who 'that person' is, where that other 'figure' is going? 
I absolutely love one beautifully coloured aquatint, titled 'The face of history'. It is of a small supine figure, quite medievalesque, with tiny yellow hands and a bulbous nose. The etching plate was, judging by the impression, cut to the shape of the figure, which itself is quite unusual, and the delicate colours probably required multiple plates or impressions, again going beyond the norm.
I enjoy it for all of these reasons, but also for the hidden history of the printmaker who made it; it came from an artist's print studio somewhere in St Petersburg, where I bought it in 2013, before Putin's new iron curtain blocked Russia's 'window to the West' once more.
I wonder about the artist and his studio, about the imagination that conceived this small, enchanting figure. I wonder about the story behind it, which feels always tantalisingly out of reach. It is not only a reminder of a journey, it is a journey in itself, and through it I never stop travelling.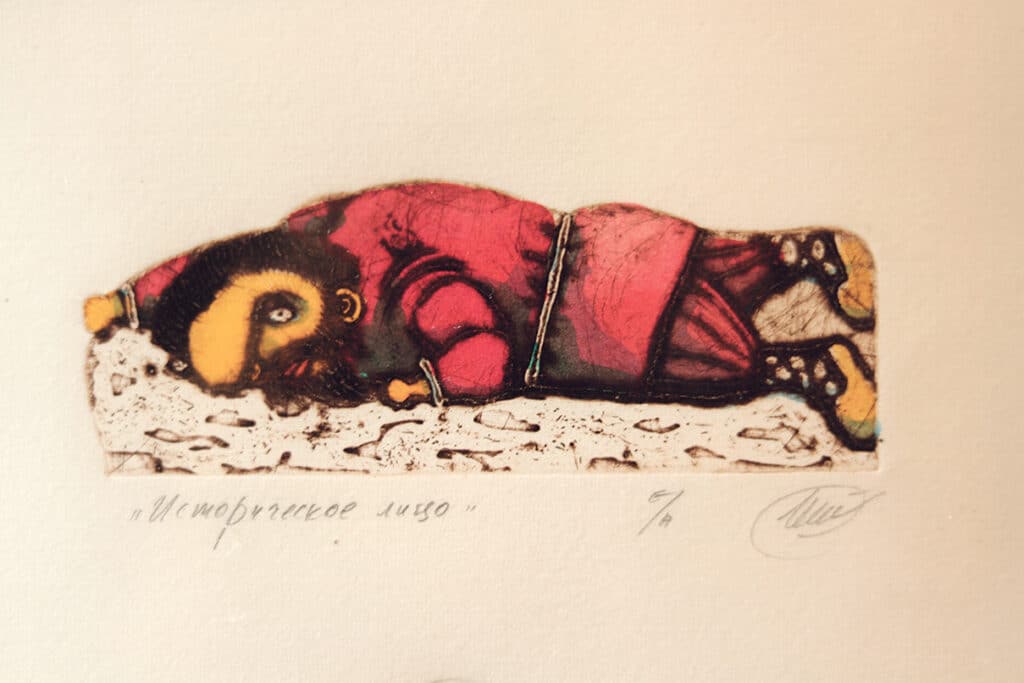 My partner and I have a small art collection of mostly small work, as befits the walls of an old cottage, and every now and then the collection grows. Just this month we acquired a beautiful wood engraving, titled 'Buddleia' by the very talented Niki Tait, whose work has been on show in Gallery Asna (Clonakilty Arts Centre) over the last month. It did not cost the earth, and yet it brings the earth into our home, joining another of Niki's works on our walls.
If you are thinking of starting an art collection, now is a great time to do so, with a plethora of great exhibitions on and opening around the county. It need not break the bank, and all you need is a single piece to start enriching your visual space. Below are a few places you might start.
The Blue House Gallery in Schull has a packed programme through the summer with three concurrent exhibitions at any one time. On view, at the time of print, are the ever-enchanting paintings and ceramics of Etain Hickey, impressionistic landscape paintings by Damaris Lysght and Janet Murran, and a group show of printmakers, curated by Shane O'Driscoll, which includes the magical illustrative etchings of Brid Moynahan.
In Working Artist Studios, Ballydehob, there is an exhibition titled 'Nature Soft and Evil Materials' by German artists Carolyn Liebl and Nikolas Schmid-Pfähler. The work is of kinetic, robotic sculpture, incorporating recycled plastic and electronics. Made for plinths and ceiling suspension, this work is for the more adventurous collector.
The newest gallery on the West Cork scene, Cnoc Buí, in Union Hall, is hosting some exciting group exhibitions through the summer, including an August edition of 'West Cork Creates,' which was a hit over Easter.
Group exhibitions are a great chance to find that special jewel that hits the eye and the heart, and 'West Cork Creates' along with Uillinn's annual members exhibition in Skibereen (June/July) are bound to be good ones to scout.
In Clonakilty, Gallery Asna also has a packed summer programme with a group show by Cork Potters, titled 'Re Imagine' opening on June 3, and solo shows by photographer Stephen Hayes and painter Mike McSwiney coming up in July and August. Also in Clonakilty, The Loft Gallery and Frames carries a constant selection of local artists' work, which can be framed on site. There are gems, small and large, to be found in Clon.
If you're a business owner it is helpful to know that purchasing a work of art can come under 'capital expenditure' if it is viewable by clientele, and thus entitles the trader to the annual wear and tear allowance of 12.5pc (Wear & Tear – Legislation S284 TCA 1997).
All art collections start with one work and gradually grow. Being a painter of frugal means for many years, it was something I never allowed myself until that trip to St Petersburg in 2013. For me, a small etching, grandly or ironically titled 'The Face of History' started a desire to collect other artists' work and to enrich my everyday domestic space with spiritual traces of the many rather than the few.
Collecting art is a journey of riches for which you do not need to be a millionaire. It began, for ordinary folk, with the rise of the middle class in the Renaissance. The Medicis may have had the lions' share of Titians and Raphaels, but with the advent of open art fairs and markets, merchants, and even peasants could purchase cheaper versions of the 'Adoration of the Magi.'
Of course, back then there was no electronic media. Imagine, for a moment, that silent, screen-free, player-free dwelling. An artwork on the wall and a dulcimer in the hall lifted life to another level. It was slower, and ever-present and it can be so for you as well.