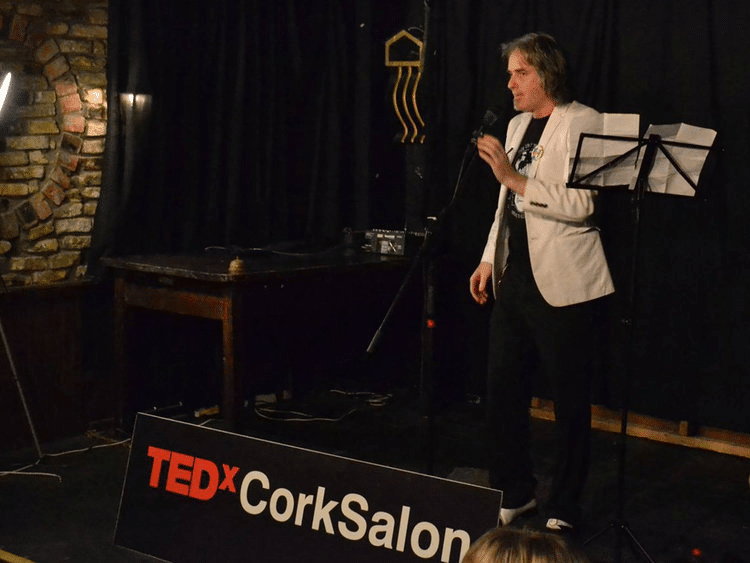 De Barra's Live Folk-Club Sitting-Room session on Wednesday 3rd June, features guest speaker, Stanley Notte.
Stanley is a diverse artist who writes prose and poetry, is a well-known performance poet and creates visual art using a number of mediums.
For the past four years Stanley has been a key organizer of the Regional and All-Ireland Slam Poetry Competitions and, in 2017, he was chosen to perform in the UK as part of the Twin Cities cultural exchange between Ó Bhéal (Cork) and Fire and Dust (Coventry).
His work has appeared in a number of print outlets ('Writer's Magazine', 'The Galway Review', and more), on radio, (RedFM, Cork, Soho Radio, London) and Lagan On-line's Poetry Day, Ireland Mix-Tape.
As a spoken-word artist Stanley often works with music created by The Lost Gecko. Together they have appeared at a variety of festivals and supported Linton Kwesi Johnson to a packed house at Cork's Live-At-St Luke's.
As a mental health advocate Stanley has appeared in the RTE documentary series 'How To Be Happy', and was a guest on the Ray Darcy radio show. Stanley is passionate about raising awareness of mental health in teenagers and offers workshops to this age-group.
He has performed in Cork Prison, at corporate health awareness events, was a featured speaker at 'The Changing Man' Tedx event in Jan 2017, and was a support act for Stephen James Smith on his 2018 UK and Ireland Tour. 2019 saw Stanley write and perform (with The Lost Gecko) 'The Truth Is…' , an hour long poetry performance at the First Fortnight Festival and the Limerick Fringe Festival that dealt with his journey through depression. Stanley also performed the show solo at a number of other venues including De Barra's Spoken Word, Clonakilty, and Tra Tales in Waterford.
His poetry-film "Peter and the Wolf – Aladdin Sane?" (After David Bowie) was shortlisted at the Cork Indie Film Festival in 2016, screened at the Dublin Bowie Festival in January 2017, and long listed at the Rabbit Heart Festival 2018. "Mrs Xavier (after The Frank and Walters)", his most recent poetry film, was placed 3rd at the Doolin Writers Festival in 2019.
Currently, Stanley is working on a children's book, a poetry collection and an exhibition of his visual art and has recently launched a podcast, The Poetry Of Music, that revolves around poems Stanley has written using song titles.
Stanley is the co-founder and curator of Soltice Sounds, a bi-annual magazine that is Ireland's only regular spoken word publication.
The evening promises to be rich, diverse and stimulating with access LIVE on Wednesday, June 3rd, 8.00 pm, on De Barra's Folk-Club Facebook Page.